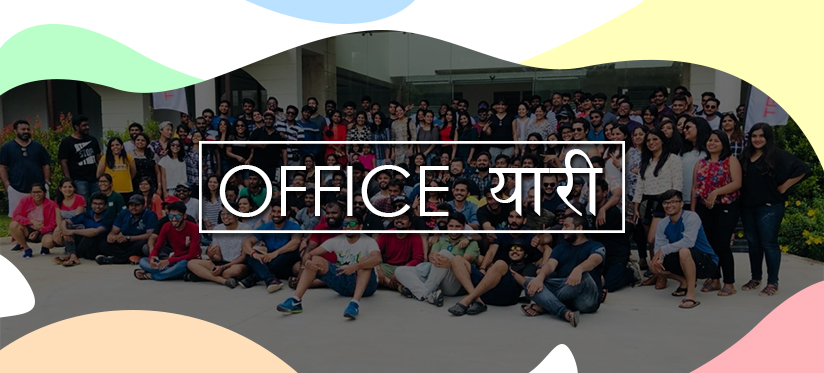 'Colleagues like Friends', 'Office Yaari' and 'Best Friends Forever'! There is nothing more 'fun-filling' than having office colleagues as our best buddies!
We asked BYJUites to share their work friendship stories and what makes it so special. We received a lot of entries filled with sweet stories about amazing friendship formed at work. Thank you BYJUites!
Choosing the top 4 was definitely not an easy task but here are best ones that totally warmed our hearts!  
Friends like Family

A shy and aloof person, I received a lot of advice and warnings from my near and dear ones when I began my work life. Some were on the lines of "don't trust everyone at work, it's a competitive world!"… "your colleagues can never be your friends" and others.
For the 1st half of my time at BYJU'S, while moving from BD to mentoring, I met many friends. Also, at the back of mind, I was scared to open up and be myself with everyone, yet I was eager to let go of the fear and make friends.  
That was when I met PAYOJA! Her bubbly, bold and independent nature took away all by inhibitions and I found a lifelong friend At BYJU'S. Our collective love for CHAI and chatting soon made us best of friends.
From being a complete stranger to becoming my best buddy who gossips a lot, takes post lunch walks and solves all my problems, Payoja is there for me always 🙂

I'm glad that I found a friend who is more like a FAMILY to me.
Friendship Day Stories  
We are colleague by chance but besties by choice! From Home to Work, from sober lunches to mini coffee breaks!
From impromptu gateways during off days to making meetup plans after work.
From being each other's back during the bad days to the most inseparable members of the team.
We never thought we would find a friendship so special in the corporate world. We clicked faster than we would've expected. Mostly because of the strong bond we share. We are each other's companion sharing kindness and love, and believing in each other. Perhaps the reason what made us the best of friends at BYJU'S! I must say I am lucky!

It is true that once in a lifetime, do we meet that person who knows all our flaws and yet love us. We should cherish that friendship forever!
Thank you BYJU'S for making me meet my best friend – Shraddha Kharad
My Buddies @ BYJU'S 
The GRE marketing team spends a lot of time traveling together to colleges across India. Our work is such that during peak seasons we have hectic schedules and a lot of travelling with a short notice period. But what keeps the team's energy level high is the bond and understanding among each other. Everyone – from the manager to the team leads share a unique bond of trust, which creates an inclusive environment for all of us to grow together. We are like one BIG FAMILY!
I don't think I have seen any other Business development team, where despite the competition, the team always looks out for each other. We have definitely made some really good friends here.
I found my best buddy @ BYJU'S 
We meet many people in our lifetime. Some stay for a short period while some refuse to leave, making us realise that life is beautiful when surrounded by friends like them. They are the ones who make our lives happening, filled with emotion, drama and memories! At BYJU'S I found a handful of them whom I call my 'best buddies'.
And they are – Triveni ,Ankit, Bhavesh, Sonam and Shobhit. Although by default, they are BYJUites, but they are actually the key to my happiness. They are always there to support and help me- be it through  their never ending tales or their pranks. From dancing to funny songs to daring each other at an open mic contest, we have come a long way!
So just to sum it up I would like to say that we choose our friends and I have chosen mine! I am blessed to have like minded buddies with equal level of insanity.
Hope you enjoyed reading it!  Help us spread the word – Read, Share and Contribute ?