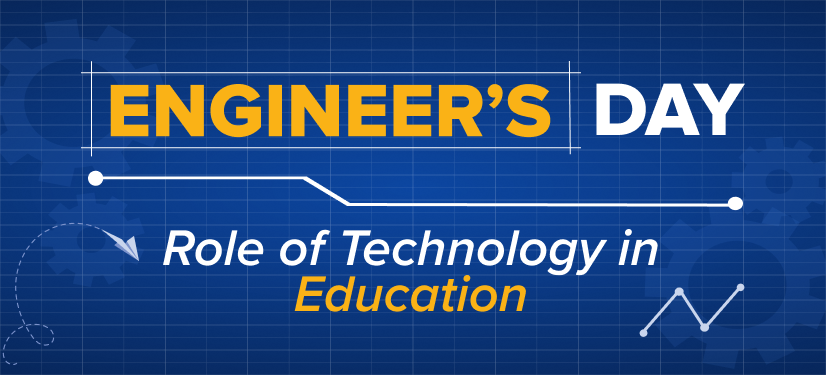 On the occasion of National Engineer's Day, BYJU'S hosted a panel discussion on the role of technology in education. The panel featured Senior Cloud Security Architect, Aditi Lath, Engineering Manager, Chetna Priyadarshini, Principal Engineer, Aswin Chandrasekaran, and Senior QA Engineering Manager, Deepa Reddy. The discussion was moderated by Shikhar Sharma, Senior Technical Product Manager.
Aditi kickstarted the discussion by exploring the several ways in which the use of technology has enabled a paradigm shift in education, making it more student-centric. She also spoke about the use of knowledge graphs at BYJU'S which reflects a seamless blend of tech-driven education with traditional classroom learning. Technology, today, has enhanced traditional learning pedagogies through the use of 3D visualisations and gamification thus making learning a more tangible experience.
From one-size-fits-all to a tailor-made approach
While technology in education has several facets to it, one of the critical aspects is its ability to caters to every student's unique learning needs thus making the learning process more personalised and effective. Talking about the customisation of learning content, Deepa said, even a decade ago education meant only physical classrooms, but today the dynamic has radically changed, all thanks to technology. By leveraging technology we can ensure developments in the education ecosystem that prevents it from becoming redundant. For example, the BYJU'S MentorConnet allows parents to keep track of their children's learning journeys and helps students talk to their peers and teachers thus enriching the entire learning experience and making it more efficient and interactive.
Offline Vs Online; the never-ending debate
Addressing the issue of which is better, online or offline learning, , Aditi said, we need to look past the idea of one is better than the other and focus on how the marriage of both these channels can ensure the  most effective learning experience for students. The only way to create a knowledge-driven learning format is by giving students an ownership of their learning journeys and this can only happen when each student has a tailor-made academic content that caters to their interests and needs and grows around it. To this, Chetna added, by bringing the personal connect of a traditional in-person class and the effectiveness of tech-driven learning, BYJU'S Tuition Centre seamlessly blends offline and online educational tools to ensure students benefit from the best of both worlds. The use of online tools for learning also generates personalised insights which helps educators analyse the individual strengths and weaknesses of the students, Aswin said.
Making education more affordable
With regards to using technology to make education more affordable, Aswin shed some light on how affordability continues to be a major barrier to accessing quality education in the country. This is where BYJU'S is making impactful change by using technology to democratise education and widen its reach. Today, students are learning several different topics at the same time. Traditionally this would require a large administrative team which would raise the cost of education. But through the use of technology, all of these administrative tasks can be done with the help of AI and various other tools thus increasing the efficiency of these tasks and reducing their cost.
Content development and classification for different age groups
The process of categorizing different learning content for the different student age groups namely, K-3, K-12 is a very interesting process, said Chetna. As a student progresses from one age group to the other, his/her interests also change so the content needs to accommodate these changes and ensure that it is still age appropriate. A big success among students of the K-3 age group is the Disney Early Learn offering which includes various Disney movie characters in educational videos and games thus making the content entertaining and immersive.  
The session came to a conclusion by exploring the possibilities of a future classroom. Simple technological tools like the biometric system can be used to recognise a student's physical and emotional needs and help adjust the learning content accordingly, Aditi said. For example a student wearing AR glasses will be able to talk to Thomas Edison about invention. This technology will also allow students to collaborate with their peers across the globe through multi-touch surfaces, she added. We have only scratched the surface when it comes to using technology to enhance learning experiences. The scope for disruptions and developments in the education sector are limitless. And we need more engineers and innovators to create digital learning tools that will shape the minds of tomorrow's leaders. As our panelists agreed, 'An engineer can pretty much do anything!'