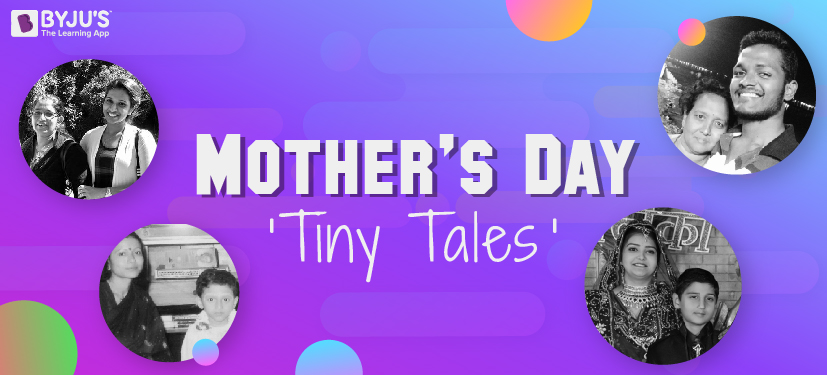 It's out BYJUites!!! A special column, where you can contribute your thoughts in the form of stories, photo documentaries, poems etc.
We all have a little writer inside us who usually sits quietly until stirred. This Mother's Day we invited BYJUites to share their 'Tiny Tales' about their moms. The BYJU'S' 'Tiny Tales' contest received a lot of sweet and heartwarming tales. Here are top Tiny Tales' by the talented BYJUites.
Mom: Wake up.


Me(*rubbing my eyes*): It's just 7.
Mom: Yes, you are already late for school. (*Stroking my


hair*) Hurry up.


Mom: Wake up.
Me(half-asleep): I don't want to go to class today.
Mom: You must. (*Stroking my hair with the same affection*)

You are the teacher.

"She just got home from work — tired! 10 PM. Her daughter slept blissfully in the warmth of her embrace. She tied her hair up in a bun and deftly snuck away from the bedside. Unwashed dishes, piled away, made an Eiffel tower on its own. Her work had just begun."

"One more bite, this one's for papa,
This, for dadi,
Last, for dadu,
Else he'll feel left out."
"And magic! An empty plate"!!


Maa exclaimed.  

A SUPERWOMAN! She is a Teacher. Being a working woman, not once has she made me feel I have missed anything. She's always there as a pillar of strength. As her name suggests- KIRAN- beautiful moments shimmer through my life as she continues being my ray of light!!!
Hope you enjoyed reading it!  Help us spread the word – Read, Share and Contribute 🙂