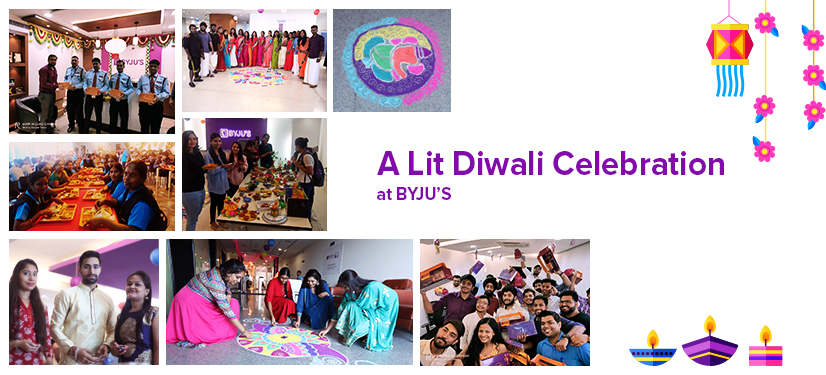 What does Diwali mean to you? 
Is it about bursting crackers or lighting lamps? Or is it about gorging on homemade sweets with family and friends? Yum! Whatever may be your idea of Diwali, the festival never fails to bind us all together in the wave of happiness and good feelings.
Something similar was the vibe at BYJU'S offices this festive season. While the sight of colorful lanterns and fairy lights brought Diwali cheers to work, it was the BYJUites dressed up in their ethnic best who were the real eye-catchers. 
Here's a glimpse of Diwali at BYJU'S
From offering prayers and feasting on yummy food to painting the floors with beautiful rangolis, BYJUites celebrated the festival of lights with great pomp and splendor. At the HQ, BYJUites DIY'd beautiful candles at the workshop. They also got a chance to take home the Diwali diyas hand-crafted by the students as souvenirs. Other offices chose to pep up Diwali vibe with desi music and dancing. An elaborate special lunch was served to our support staff to spread the festive cheer.The real fun was watching the folks at BYJU'S unwrap their Diwali Gifts. Catch a peek into their amazed reactions!
This was BYJU'S way of celebrating a noiseless and eco-friendly Diwali.  May you find the light within you and let it shine forth.
Happy Diwali, everyone. Cheers!