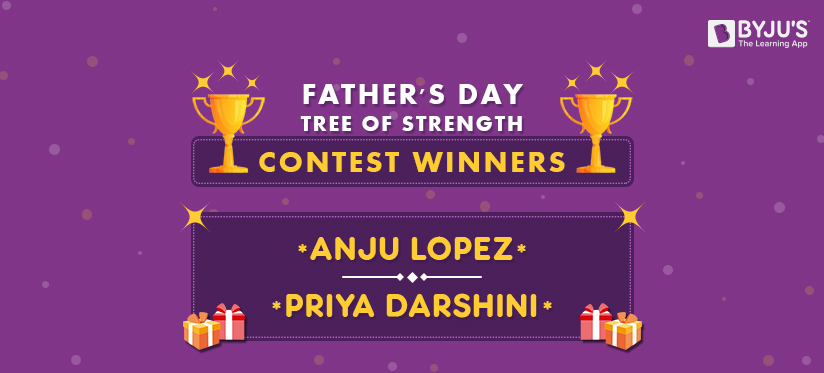 Father's Day at BYJU'S saw a celebration, little different from the usual celebrations in office. Giving all fathers the role of The Tree Of Strength, BYJUites were asked to put up their wishes, messages and stories about their fathers on giant cardboard trees put up across offices. The plain and empty trees were soon filled with green post-its that carried the messages of all BYJUites to their beloved fathers. 
A Father's Day Contest was also run, asking BYJUites to share pictures and stories of their fathers on social media pages like Facebook and Instagram, the winner being the post with the maximum likes and shares. The two winners with well deserving posts were:
ANJU LOPEZ 

PRIYA DARSHINI
Anju Lopez : Happy Father's Day! I have had this most treasured photo of my Father(Pappa) and my Father-in-law(Daddy) for a while now. Luckily, I got to use it for the Tree of Strength Contest @ Byju's. I always wanted to write something about my Pappa and Daddy. This contest was just the motivation I needed. These are my random musings and are not poetic in any way. Here's my humble tribute to my fathers.
"Thank you for telling me that it's Okay,
Thank you for telling me that it's Possible,
Thank you for teaching me that 'Family comes First',
Thank you for shedding a tear, every time you hear something good about me,
Thank you for believing that a daughter's education is more valuable than all the gold that money can buy,
Thank you for teaching me that, your time, is the greatest investment that you can make for your children,
Thank you for teaching me that human lives are more precious than money,
Thank you for telling me that I have greater heights to conquer,
Thank you being my hope and my strength."
Priya Darshini : Celebration, Happy Kids, Life as a teacher. So many Happy Faces and love!
Congratulations to the winners and all the participants. The overwhelming response and the multitude of messages was a true depiction of why fathers are the Tree of Strength in every family.
Commemorating fathers all around, father at BYJU'S were also given a special treat – A Movie Day Out with their children with free tickets to watch the all-time favourite "Incredibles 2". We wonder if there was any other movie that could be more fun to watch with family!