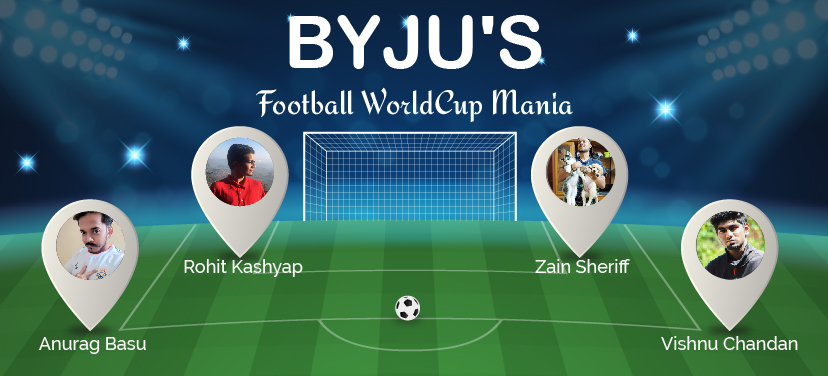 Heroes…Legends…Gods! the football players not just represent their team or nation. They carry the emotions of millions who are glued to the screens when their 'Gods' play. We asked our BYJUites this FIFA WorldCup season to share their memories about their favourite footballer. We received a lot of interesting pieces. Thank you BYJUites.
Choosing the top 4 wasn't definitely an easy task. Here are the top stories shared by our talented BYJUites.
Didier Drogba – the living Legend!

Didier left his home (Abidjan, Côte d'Ivoire) and parents at a tender age of 5, forced to stay as an immigrant in France for years, moving every few years within the country. Nobody could have predicted back then the success he'd go on to achieve against all these odds. He was a beast on the field in his golden years.
The boy started as an apprentice in the French second division club Le Mans. A late bloomer, he eventually moved up the ranks in the French league through Guigamp and Marsielle. Then Chelsea came calling, the club where he went on to become one of the most prolific goalscorers the Premier League has ever seen. From helping Chelsea win multiple league titles and cups, to helping them secure their first Champions league-he was termed as the 'Ultimate Big Game player'. His name was chanted the loudest by the crowd as the 'King Drogba'. So many players (Ngolo Kante, Diego Costa and others) have stated that the inspiration to their success at Chelsea was none other than Didier Drogba.
Many great players have graced the game of football, but hardly anyone can match Didier's football brilliance with his humanitarian work off the field. From working extensively towards the downtrodden (individually and through his charitable foundation), to playing a major part in stopping the civil war in his country (Côte d'Ivoire). They said only two factors could unite Ivorians then – Music and Football. And, of course, Didier Drogba.
CR7 – It's Not Just A Name; it's an emotion
Cristiano Ronaldo is not just a player, he is an inspiration. He was, is and always will be a true example of 'never give up.' A man with flaws, a dreamer and a believer. Someone whose hard work had paid off by slaying each and every competition that came to his way.. someone who never gave up, no matter how many times he faced defeat.
A conqueror .. A beast.. A god-slaying benchmark..
It doesn't really matter in which club he plays, I will always support him for who he truly is. You might mock and laugh at him but the truth is, he is not just a man that I support, he is my ultimate motivator- someone who gives me a reason to dream big, someone who teaches me everyday, not to give up no matter what happens. And that's something which seems like traits of a fictional superhero, for whom, I will be his proud fanboy till I die.
My Favorite Football  Memory!
Football  has always had a special place in my heart, coming from the quaint little town of Srinagar; running along with all my friends chasing a ball in the blistering cold is my favorite memory related to this beautiful game. In Jammu, we have a popular dialogue; "Work and Play until you feel the drops of sweats in the coldest of winters". This has always been my motto.
One of my favorite moments took place when we were playing a friendly match with another school, near Dachigam National Park which is quite far from Srinagar, where I stayed. The match was going really well and my team and I were intensely focused on winning the game for our school, when suddenly we heard screams and a lot of shouting. I was so deeply immersed in the game, that it took me a while to comprehend what was happening around me.
It was a snow leopard, with skin so white that it could have hid itself in the snow; however it's golden,pale,shimmering eyes and sharp teeth would have made anybody jump out of their skin. It came from the forest, as it was curious about the commotion and noise that we had created. I remembered that in school we were taught on what to do while approaching a leopard, the trick is to stick together and huddle up as this signals the leopard that there are many of us and only one of him. So we all huddled together, both the teams and our coaches as well and for that moment, all the rivalry was gone.
The leopard ultimately lost interest in us and slunk back into the forest where it came from, however I still carry its memories with me to this very day. That day I realised that football is a game that unites us together and brings out the innermost better qualities among us as well. Thus, this was my favorite football memory.
Andres Iniesta Lujan – The God!
"If you don't know INIESTA, then you don't know football." This is the phrase I would like to add about my favorite football midfielder. Ever since a La Masia player ( Barcelona youth club ) I have been adding up memories of what he creates on and off the pitch. Iniesta was an integral part of the Barcelona sides that won two historic trebles in 2009 and 2015 and his 33 trophies make him the most decorated Spanish footballer of all time. He is most renowned as a one club player. The most memorable moment about Iniesta and Spanish football is the 2010 WC , wherein he secured the winning goal against Netherlands in the finals hence bagging the 'Man of the Match' title. Iniesta to me is the best player of his generation and one of the greatest midfielders of all time.Sadly, he confirmed his move to Vissel Kobe which broke hearts of all the Barcelona fans and also mine. I wished he had a Ballon D'or before he finished his career.
Hope you enjoyed reading it!  Help us spread the word – Read, Share and Contribute ?