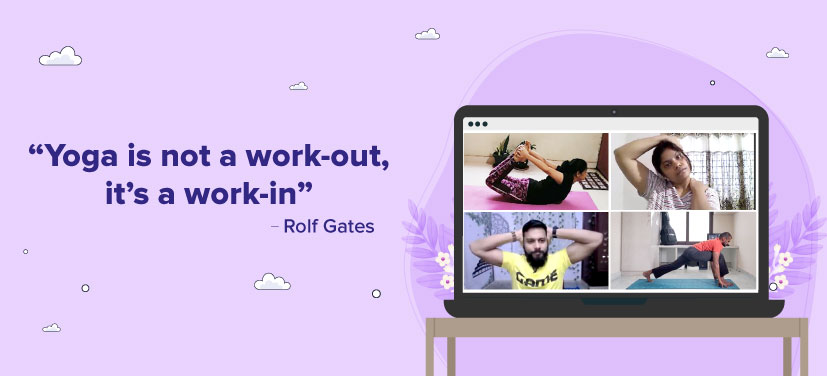 Yoga is more than just a practice – it's a way of life. With consistent practice, it can help replenish and re-energise the inner and outer being. This year, BYJUites celebrated International Yoga Day virtually with two relaxing power-packed yoga sessions.
Read on to know more about what we had in store
What can be better than starting your day with a fitness routine? Add to this, a power-packed session of Surya Namaskar, and you are set for the week!  
Yoga Day celebrations at BYJU'S took off with participants practicing the 12 powerful postures of Surya Namaskar. Also known as sun salutation, the ancient practice is not just a great cardiovascular workout but also has an immensely positive impact on the body and the mind. It was wonderful, having BYJUites make time on a Monday morning and participating in the session with much gusto and energy!

Know more: Surya Namaskar: Everything you should know ??‍♀️
A perfect end to a long day at work
Bringing the long day at work to an end, BYJUites  joined virtually for a relaxing session of desktop yoga, spine and shoulder care, and mindfulness. And the best part? They joined from across India along with their families. The simple and easy to perform yoga exercises, designed by the experts from Art of Living, helped BYJUites relax, recharge, and rejuvenate. Participants also learnt about the various benefits of mindfulness and meditation during the session. 
Talking about the benefits of practicing mindfulness, Anand Narayan, trainer for the day said, "'Meditation is like soap for the mind. It's the best way to clean our minds and get rid of the underlying stress. He insisted that everyone practice at least 5-10 minutes of meditation especially during these times to stay in a good mood and have a positive outlook towards life."

These are undoubtedly unique times. Our lives are confined to our homes right now and physical movement is minimized. It is advisable to add some kind of fitness regime to your routine especially during these times. And what could be easier than yoga? Not only is the practice beneficial to the body but also calming for the mind. Our Yoga Day celebration was just the perfect reminder to pause and stretch it out with friends, family, and fellow BYJUites.
How did you celebrate your Yoga Day? Let us know in the comments below!