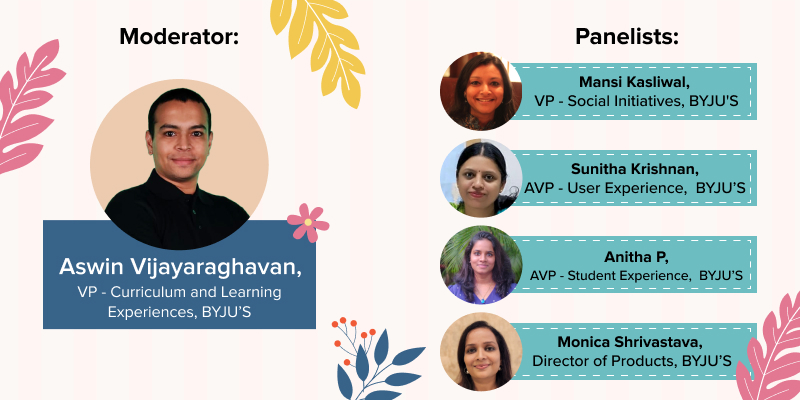 In a special panel moderated by Aswin Vijayaraghavan, Mansi Kasliwal, Sunitha Krishnan, Anitha P and Monica Shrivastava came together to make the most of Mother's Day 
Motherhood does not have  one single definition; it is a confluence of emotions and experiences and every mother's route to motherhood is unique. To celebrate Mother's Day,  BYJU'S organised an interactive panel discussion to highlight the lesser-discussed aspects of motherhood and uplifting working women towards an elevated, modern vision of it.
Moderated by Aswin Vijayaraghavan, VP -Curriculum and Learning Experiences, the session brought forth a panel of BYJUites who shared personal stories that continue to drive the change for working women. Redefining motherhood through the eyes of the BYJU'S ecosystem and beyond, the conversation was propelled by inspirational women, with motherhood in the workplace taking centre stage. The panellists included Mansi Kasliwal, VP – Social Initiatives, Sunitha Krishnan, AVP – User Experience, Anitha P, AVP- Student Experience, and Monica Shrivastava, Director of Products.
From multitasking, facing working mothers' guilt, and experiencing challenges in the workplace, the insightful discussion highlighted some of the pivotal moments in the lives of these women who have redefined traditional moulds of motherhood in their own unique ways.
Letting go of 'working-mom guilt'
Working mothers often strive to strike a balance between having a career that they enjoy and being the mother that they've always wanted to be. When things don't work according to plan, many women experience 'working-mom guilt' — a sinking sense of disappointing their families, colleagues, or employers, as well as shame about practising self-care or embarrassment about admitting their stress.
"Mother's guilt is very real," Mansi said of her experience with this emotion. "If you're at work you might feel guilty that you've left your child at home, and if you're at home, you might feel guilty that somewhere you're not being fair to your work. Traditionally, that is how we've been brought up. It is something very solidly ingrained in us. For me, what has really helped is deciding that I don't want it all. I know that I might feel guilty and I'm okay with that. I've made peace with it. So I think that comfort with discomfort is the first thing I decided I'm going to live with," Mansi added.
Work time blurs into family time, and  missing out on important time with family (or vice versa) can make some women feel like they're failing at both. Anitha shared her thoughts on combating this phenomenon stating, "What I have tried to manage is — When I am with my child, I am just a hundred percent with her and that is something that has eased the guilt a bit. I don't multitask and vice versa. And she also ensures that if I pick up my phone, she will take it from me and toss it away. Secondly, I also try to ask for help. There are tasks that can be done by family, help, or others. Initially this was a bit difficult because as mothers we think that we are the only ones who want the best for our children, but getting into that understanding that everybody in my child's life wants the best for her was really important for me to understand over time and has helped me tremendously."
However, asking for help is one of the most difficult things for many mothers to do. Instead of seeking support, a working mother could be exacerbating their stress by attempting to handle everything by themselves. Monica shared her thoughts on this saying, "It's the result of a social conditioning that all of us have gone through as women. We fail to realise that this is in our minds because of years of conditioning. But today, the way it often goes is that two individuals decide to raise a family while also following their individual careers and passions. When the partnership is considered, it takes away a lot of the guilt.That said, as I mother I still suffer from occasional bouts of guilt. But if we try to internalise the notion that it's not just the mother's sole responsibility to parent, it really minimises the guilt."
Challenges in the workplace
While several women have broken the glass ceiling in recent years, the disturbing truth is also that many women are stepping back or losing employment. According to a recent finding, only 9% of Indian women are employed or looking for jobs. Though women represent 49% of India's population, they contribute only 18% of its economic output, about half the global average. A lot of this stems from the challenges faced by women at the workplace. Working moms often take on a greater share of tasks at home, face challenges in terms of their mental health and careers and find difficulty in setting boundaries and communicating their needs to their employers or support network. 
Talking about how BYJU'S tackles potential challenges mothers face in the workplace, Sunitha shared, "Over the past two years, I spent a lot of time at home and this got me closer to my son and my profession. He learned how I would work by sitting in close proximity to me. He understood my profile and how critical it is for me to handle those teams. He slowly began accommodating a lot of requests. He began acting on my behalf, letting people know I am busy and allowing me uninterrupted work time. The flexible work model at BYJU'S over this period really brought me closer to my son and I'm sure it gives confidence to mothers who don't have to worry too much about always being present in the office to work. You want support from your family so they understand what your job is and how passionate you are about it. Likewise, you should also ensure that your colleagues understand how you prioritise your family. At BYJU'S, we have had that support."
Companies have a responsibility to their employees who are parents, particularly mothers who often struggle with work-life balance. BYJU'S has introduced holistic policies prioritising employee happiness, work-life integration, flexibility and workplace sensitivity. Employees with children aged up to 12 years are eligible for seven leaves annually. The leaves can be availed on multiple instances and can also be split into half-day leaves. Meanwhile, under the Maternity Leaves policy, in addition to the 26 weeks of paid leave, BYJU'S offers its employees an additional 13 weeks of unpaid leave. For new fathers, the number of Paternity Leaves has been increased from seven to 15 days.  This policy allows new parents the assured flexibility and security to bond with their children in the early years of life.
Signing off, the panellists emphasised on how, with empathy and support on a personal and organisational level, we can rethink, reinvent, and reimagine a more sustainable world for working mothers everywhere.