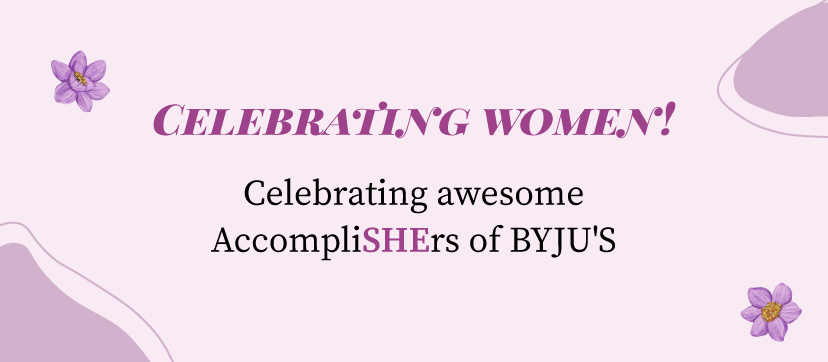 Love , laughter and lots of learning – Women's Day this year was all about celebrating the awesome accompliSHErs of BYJU'S. 
Celebrations for Women's Day took the digital route this time around. Women from across the cities and departments joined us virtually, to celebrate everything that makes being a woman a cause for celebration. From an Olympic swimmer sharing her story of representing India internationally to a fun DIY workshop and an evening roaring with laughter, the week was inspiring and filled with powerful lessons and learnings. 
Watch: This Women's Day, We Asked BYJUites How To Be A Better Ally? Here's What They Said
Here's a glimpse of the celebrations, honouring the awesome accompliSHErs of BYJU'S:
Women's Day week at BYJU's started with Nisha Millet, an ace swimmer and Arjuna awardee, talking about her journey to success. Her anecdotes truly encouraged us BYJUites to realise the importance of hard work, perseverance, and never giving up on our dreams.  This talk was, in fact, a great opportunity to understand how everyday changes could pave the path towards bigger goals. 
On day 2, however, the keyword was "fun"
The celebration began with an exciting and interactive Shibori Tie and Dye workshop during which the participants got to indulge in  their crafty side. The one-hour-long DIY workshop was all about learning to use natural pigments like Haldi, coffee etc. to unfold stunning patterns on fabrics. It was indeed a sight for the eyes, as BYJUites unleashed their creativity, exploring colours and natural dyes.
The week ended with learnings and laughter galore
Pumping up the excitement and speaking to BYJUites on day 3 was Divya Gokulnath, our Co-founder. Divya, addressing BYJU'S open door policy, urged every woman attending her talk to build and nurture a support system comprising strong women role models.  "When they see you confidently juggle responsibilities, it reinforces their belief that someday they can do it too", she said, speaking to those in leadership roles. 
During the session, Divya also took part in an 'Ask me Anything' session. A session that turned out to be a great hit. From balancing work and home to the company's vision for gender diversity and inclusion, BYJUites posed all sorts of questions during this AMA. And Divya candidly answered them all, leaving us with interesting insights and some useful advice. 
The fun-filled Women's Day celebration at BYJU'S came to a close with a special performance by the ever funny Sumukhi Suresh. The talented comedian, who is known for her wildly popular shows like Comicstaan and Pushpavalli, brought the house down as she served humour and laughter in her signature style.
It was thrilling to see all the amazing women who took time out of their busy schedules and  came together to celebrate each other. After all, it's international women's day, and if not now then when to celebrate all the reasons that make being a woman so special.
A very Happy Women's Day to all the incredible ladies out there!
Tell us how you are celebrated Women's Day in the comments box below.