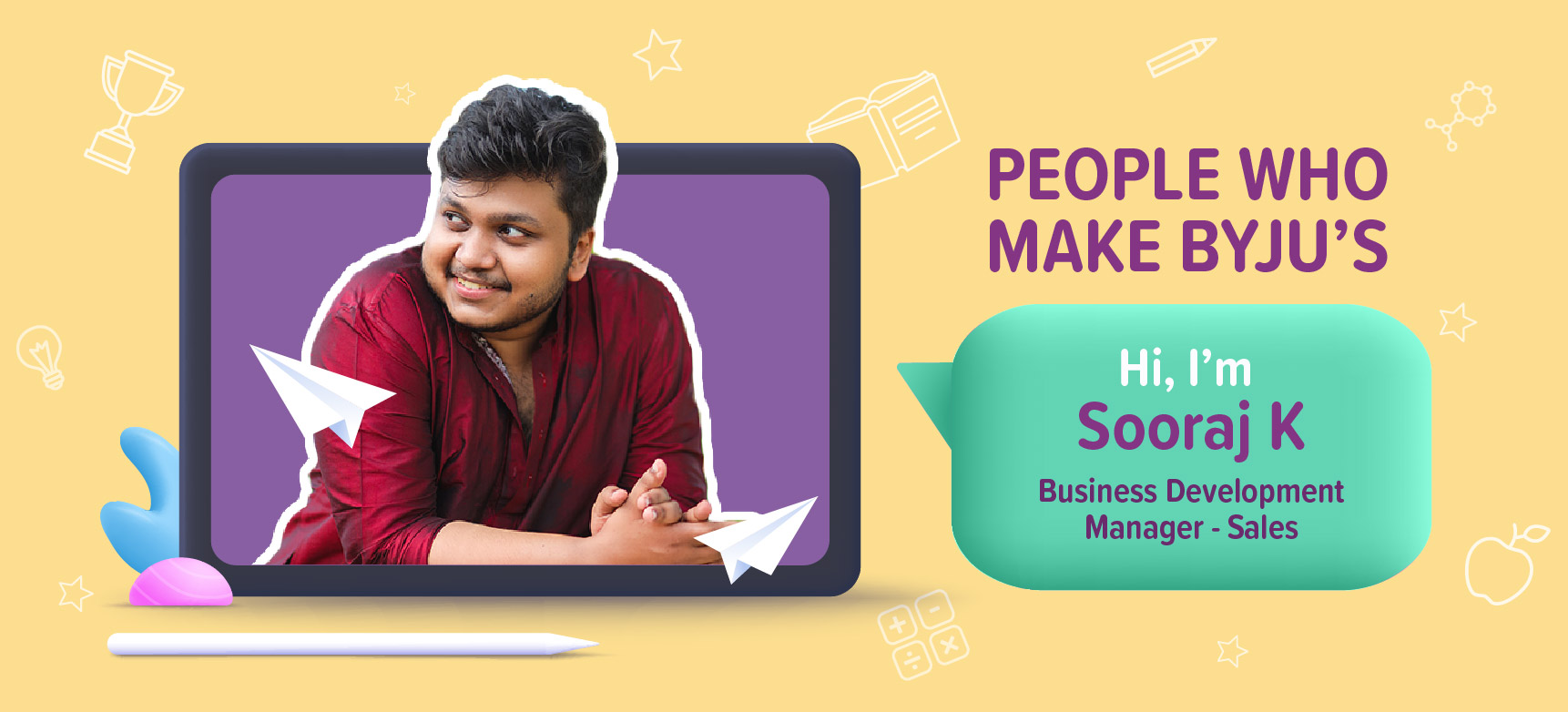 It doesn't matter where you start. What matters is your end goal and the path you took to reach it. This holds true for Sooraj K, a Business Development Manager (BDM), Sales, who has been a part of the BYJU'S family for close to 4 years. "I lost my father when I was 19, an age when you want to explore, and lay the foundation for your career. My family lost its biggest support and I had big shoes to fill," says Sooraj. 
"I joined BYJU'S Kochi team in 2019 as a Business Development Associate and with ample opportunities and support, I progressed to a BDM role. Now, at the age of 27, I've bought the house of my dreams and brought a smile to my mother's face. I could not be more proud to be a BYJUite."  
In this edition of People Who Make BYJU'S, meet Sooraj K from Kerala's Palakkad district, who overcame personal obstacles and built a home and a successful Sales career at BYJU'S. In a candid conversation, he takes us through his experience as a BDM at BYJU'S Tuition Centre, the Sales culture at BYJU'S, and how BYJU'S supported him on a professional and personal level. 
Also read: How BYJUites are empowering girl children through education and volunteerism | International Day of The Girl Child
Being a part of BYJU'S Tuition Centre
Sooraj talks about how the tuition centre concept is transforming the future of learning and enabling a healthy employee-customer relationship. He quips, "It's encouraging to watch the impact our products and services have on learners and their families, before our very eyes." 
"Parents who want to visit,  book an appointment with us and then our team invites them. Here they have a chance to experience and learn more about the tuition centre concept. What I like the most about this approach is the face-to-face interaction with parents who want to find out more before they enrol their children. I feel honoured to see them impressed with our state-of-the-art and tech-abled classrooms."
Healthy Sales culture at BYJU'S: 
When it comes to describing the overall dynamic of the Sales team, Sooraj believes that three key ingredients bind his team:  
Effective collaboration

Trust 

Common vision  
Describing his experience in Sales, he says, "When I joined BYJU'S as an associate, I was passionate and hungry to learn. I was provided development and learning opportunities with my manager's guidance. The knowledge that I have acquired here, will stay with me forever ." 
"Now that I am a manager myself, I help my team focus on their goals, and maintain the same trust I had in my manager when it comes to professional development. We take after our managers, who have been great mentors and guides, hence making the team culture collaborative and wholesome," he adds. 
Sooraj believes that the key to getting results, whatever your role or domain, is consistency and giving your 100%. "Being curious and open-minded when interacting with parents and learners can teach you a lot about yourself. As BYJU'S is growing from strength to strength over the years, it is important to embrace and adapt to the evolving learning styles." 
Also Read: It's okay not to be okay: BYJUites on their mental health journey and breaking stereotypes
BYJU'S: My support system
Sooraj strongly believes that BYJU'S came into his life as a blessing in disguise. "I wanted to pursue filmmaking and was actively involved in making short films. But I  had to create a successful career path for myself, just like my father, and getting an MBA degree was the best way to do that. If I had not taken this decision, I would never have reached BYJU'S and my life would never have been as wonderful as it is now." 
"Today, I'm married, blessed with a beautiful nine-month-old daughter, and living in my own house. BYJU'S has supported me in every way possible, making me a better individual and helping me achieve all that I hoped for," Sooraj signs off with a gleam in his eyes.
Like what you read? Head to Life at BYJU'S to learn more about our work, people, and the stories that make us unique. To explore job opportunities, check out Careers at BYJU'S.