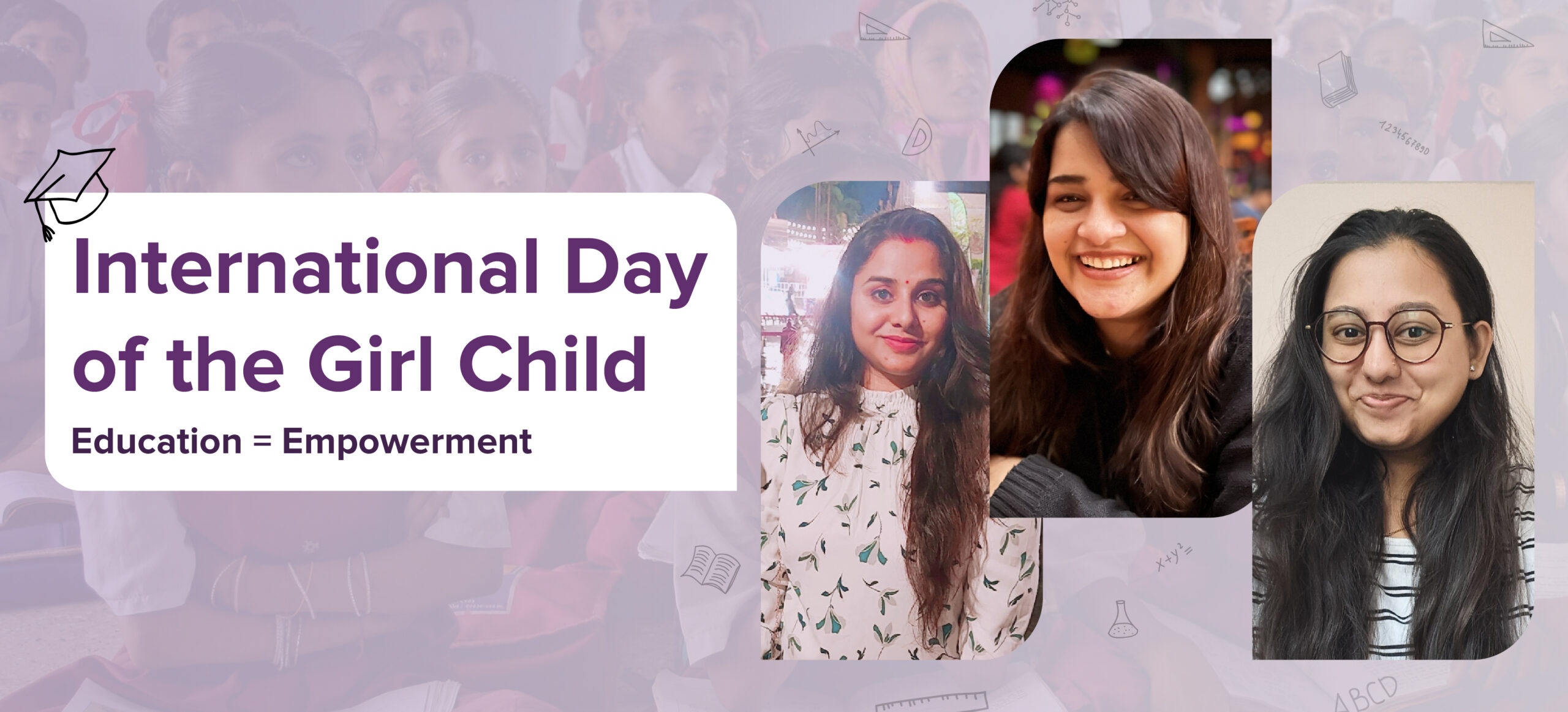 Education is the building block of society. At BYJU'S, we firmly believe that education is the best tool to tackle gender stereotypes, build every girl's confidence, and equip them all with the skills they need to lead. With this aim in mind, our Education For All initiative was launched to ensure inclusive, equitable, and quality education, along with lifelong learning opportunities for all.
"We continuously strive to harness innovation and technology, to reach children from underprivileged backgrounds from the remotest parts of the country and improve the quality of education for all. So far, we have impacted 3.4 million children including 1.7 million girl children across 26 states and more than 350 districts in the country," says Ankita Mhadagut, Assistant Manager – Social Initiatives.
While our Education For All initiative is a crucial step in this direction, it is BYJUites who are leading the efforts to educate and empower girl children to learn, lead, and thrive. This International Day of the Girl Child, read how BYJUites are leading the crusade to educate every girl child, through volunteerism.  
Empower through education
"From a young age, my father stressed the importance of obtaining an education and always told me to be financially independent. I would constantly think of my father and how much harder he had to work to get me into the best school and college. His philosophy always stayed with me and I was motivated to give back to society by educating a girl child. This also led me to join BYJU'S Social Initiative Team, as my purpose aligns with the company's vision," she tells us. 
Through our NGO partners, says Ankita, our initiative continues to provide quality education to millions of children from rural areas to give them an equal opportunity to learn with BYJU'S learning content, free of cost. 
"While we aim to provide the right resources and support to make learning accessible for all, it is BYJUites who are leading the efforts to educate and empower girl children through volunteerism. We have a three-month programme where BYJUites from different teams like Tech, HR, Student Experience, and Content Development, are volunteering to teach spoken English to children from government schools. These volunteers are really passionate about teaching and are strongly advocating for equal rights to education," she explains. 
Also read: How BYJUite Anjali Gupta's career is a journey of diverse opportunities and continuous learning
Addressing language gaps
When Jyothi Ashwani joined BYJU'S as an Academic Specialist last year, little did she know that she would become a part of something bigger.  "When I came to know about the volunteering opportunity, I said, 'I want to take it up'." BYJU'S dedication to cultivate an equal opportunity education ecosystem, she said, is what made it an irresistible opportunity.
 "It was exciting to see the company prioritise efforts that enable all girls to have access to quality education and develop the knowledge and skills they need to lead. I am part of the Right To Live NGO, where I help children with doubt resolution in maths and science, as well as teach spoken English. Though our learning content is available in 11 vernacular languages, we wanted to address the English language gaps in government-run schools and help students improve their proficiency in spoken English," quips the BYJUite.
The best part of the programme, says Jyothi, is that only one student is assigned to each mentor so that they can track the progress of each child. "With individual attention and effective teaching methods, students can feel confident and speak English fluently," she adds. 
Build girls' confidence
Marudwati J's path into teaching is guided by a lot of dedication and hard work. The Academic Success Lead joined BYJU'S in 2019 with a common purpose: to keep learning and sharing knowledge. This led her to partner up with the Right to Live NGO to help students with basic communication skills. 
"The aim is to make government school students well versed with English and build their confidence. We have adopted a very unique and creative way of teaching, to make them passionate towards learning  English. Each mentor converses with learners, asks questions pertaining to their daily lives, listens to answers, and provides feedback. This helps learners learn at their own pace to gain proficiency," she explains. 
Girls have shown time and again that given the skills and the opportunities, they can be the changemakers driving progress in their communities. At BYJU'S, we will continue to stand with and for girls – to invest in a future that believes in their leadership and potential.
Like what you read? Head to Life at BYJU'S to learn more about our work, people, and the stories that make us unique. To explore job opportunities, check out Careers at BYJU'S.