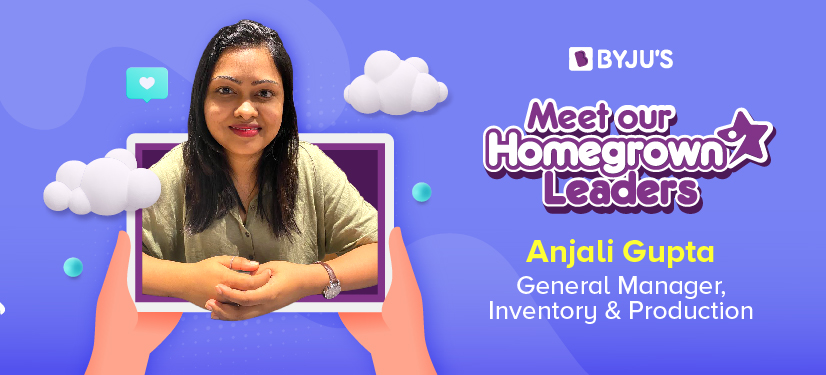 "I joined BYJU'S as a fresh graduate in June 2014. And after working briefly as a Business Development Associate, I moved to Supply Chain when the team was in its formative stage. I realised early on that this role was a chance to work with multiple teams, combine my technical skills and creativity, and generate meaningful strategy and groundbreaking innovation for our users." 
Meet Anjali Gupta in Homegrown Leaders – our brand new employee series, where we spotlight some incredible BYJUites who have been with us for a while, learnt the ropes at BYJU'S and taken charge as leaders. In a quick chat, they give you an exclusive glimpse into their leadership journey; you can take notes on what makes a better leader! 
In our first instalment, Anjali, General Manager – Inventory & Production, tells us how she's been blending her unique skills in supply chain and people management while taking advantage of the many opportunities here. She also talks about how she found her calling at BYJU'S and how she is charting her own path. 
Eight years, countless highlights
When Anjali joined BYJU'S, what stood out for her was the company culture and its values. She also found the career opportunity compelling. "My work at BYJU'S involves overseeing our inventory, production, and reversal management systems. As the General Manager – Inventory & Production, I also help in devising strategies to optimise operations and improve procedures of supply chain logistics," she tells us.  
It was while coordinating with multiple teams, Anjali understood the nuances of people management – a skill that came in handy when she took on managerial responsibilities.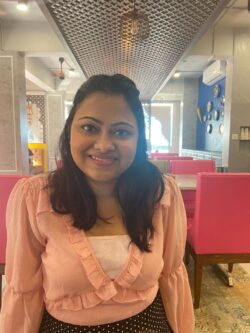 When it comes to managing a team, says Anjali, good leadership is about listening and understanding people's strengths and weaknesses. "It's about challenging your team to be the best that they can be. It's also about mentoring and supporting them and letting people chart their own paths. I try to balance what's best for our learners, our people, and the organisation so that we can work towards a common goal," she explains.
Eight years on, one thing Anjali has gained through the experience is, the exposure to showcase her skills to senior leadership. "It's not often that you get to interact and engage with the leaders when you're at a junior level. While it felt a bit intimidating initially, I received a lot of support from managers, who even offered to mentor me, and made me feel more confident and secure. Throughout this journey, the potential for professional growth has been fantastic," quips the BYJUite. 
Also read: A vocal advocate for neurodiversity, how Shreya Jain is helping build inclusive education with BYJU'S
Embracing challenges
While being surrounded by ambitious and creative people motivates Anjali, she believes that getting to solve a new challenge every day keeps her driven and on the move.
"Recently, my team and I faced a hurdle that we crossed using sheer hard work and effective teamwork. Our logistics, production, and inventory teams had to move from the IBC office to the Indospace Fulfillment Centre. It required meticulous planning and seamless execution, to ensure the process of dispatching products is smooth while also moving to a new place. During this time, everyone worked hard and not a single dispatch was delayed due to the shift," she tells us proudly.
Finding inspiration at home
For this BYJUite, another motivating factor has been her family's support throughout her career. 
She shares, "I grew up in a joint family with six sisters, in a small town named Giridih, in Jharkhand. The women in my family have always inspired me. My working mother and aunts have, in fact, pursued their careers while juggling family responsibilities; this paved the way for me and also motivated me to keep doing what I love." 
At every step of the way, Anjali has been encouraged and supported by her mother to follow her interests and shape her career around her passions. Now, she aims to inspire other women to pursue their ambitions fearlessly. 
"We are creating a workplace where everyone feels like they belong. All through my journey at BYJU'S, I've had fantastic opportunities to learn from industry experts, and now I hope to empower others to achieve their goals," she adds.
Like what you read? Head to Life at BYJU'S to learn more about our work, people, and the stories that make us unique. To explore job opportunities, check out Careers at BYJU'S.