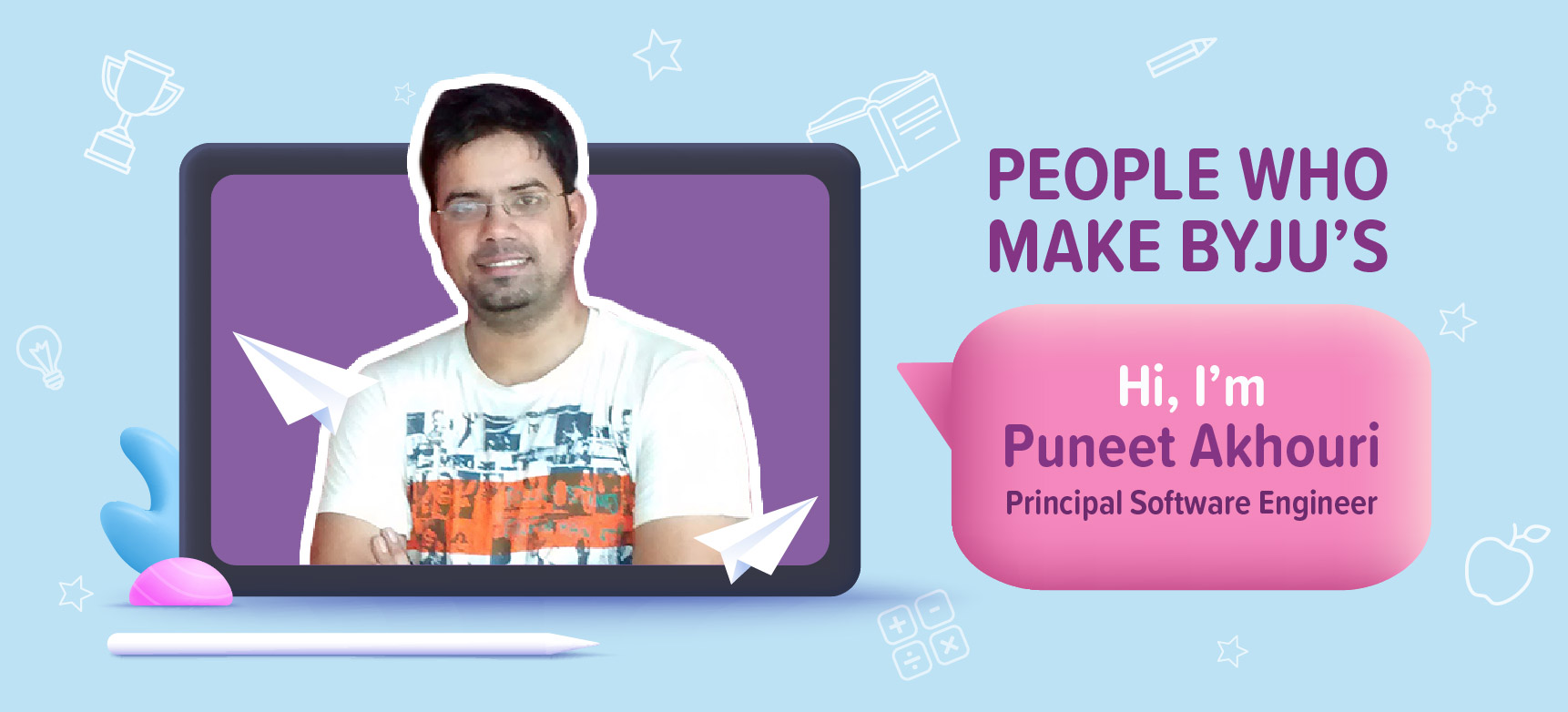 Growing up Puneet Akhouri was always passionate about technology. As a kid, he was obsessed with vehicles and would spend long hours tinkering with computers. Flash forward to today, Puneet still loves working with cutting-edge tech, and he now channels this passion into building personalised learning products for young learners across the world.
"Ever since Class 6, I have been interested in computers," shares the BYJUite, "so studying computer science in college was a natural choice. After completing my graduation, I joined an MNC in Mumbai where I was working on products on the server-side along with their mobile applications.  After this stint, I worked with two data analytics firms in Mumbai before landing the job at BYJU'S."
As a Principal Software Engineer at BYJU'S, Puneet is a part of the BYJU'S Classes team where he is responsible for overseeing the design and development of the product. "We solve software challenges and work with different teams to improve the functionality of our products. We oversee various things, from design and bug fixes to performance optimisation, which makes everyday feel different," he explains.
Also read: 'Being A Software Engineer Is Much More Than Just Coding': Alka VN on What It's Like To Be A Techie At BYJU'S
For the love of music
While working with the latest tech is an exciting part of the role, there is another aspect to the job that makes it more rewarding. It's working with a diverse team that is passionate about giving learners the best experience possible. "It is a great feeling to work with so many smart people. It provides incredible learning and growth opportunities, and drives my daily energy," quips the BYJUite.
If the culture of teamwork and collaboration fuels his passion at work, Puneet is equally driven by his love for music. Sharing a fond moment from his college days, the self-taught guitarist says, "I, along with my musician friends, used to jam together during our college days. We were all a part of a band and we would never miss a chance to perform in our college fests and events." 
"But my biggest music milestone was after college, when I got the chance to play for a music director in Versova (Mumbai) at his studio," adds Puneet. "More so, because it's been a while since I strummed my guitar."
Also read: Filmmaking to BYJU'S: How This VFX Supervisor is Channelling His Experience Into Cutting-edge Learning Products
Life is a balancing act
At this point in life, this BYJUite is enjoying his job as a techie and being a new father. In his words, finding the right work-life balance since becoming a parent has been both a rewarding and learning experience for him. 
"Being a new dad has made me a lot more patient as a person and a leader. Prioritising your work and having the flexibility and support from your colleagues to have your performance measured in output rather than the hours clocked in a week, was a game changer for me," he explains. 
What has also made the transition easier, says the techie, is having access to parental and child care leaves at BYJU'S. "It was truly amazing to have some breathing room and figure out life as a new dad. And the Child Care Leave policy helps with just that, giving parents some much-needed flexibility and support. Since we all have different needs and priorities, to have that support in your workspace is empowering for working parents like me."
In a way, it all comes down to striking the right balance. And in doing so, the first step is always an open discourse. 
"Talking about being a new dad can help your coworkers see that your responsibilities are a bit broader these days. Prioritise work when you need to get things done and choose to spend time with your family at every chance you can," adds Puneet. 
Three tips from Puneet on work-life balance as a new parent:
Ask for help from your partner or coworkers when needed.

Create a culture that makes working parents feel comfortable at their work.

Don't forget to set boundaries. Communication is key when it comes to setting right expectations at work. 
Like what you read? Head to Life at BYJU'S to learn more about our work, people, and the stories that make us unique. To explore job opportunities, check out Careers at BYJU'S.