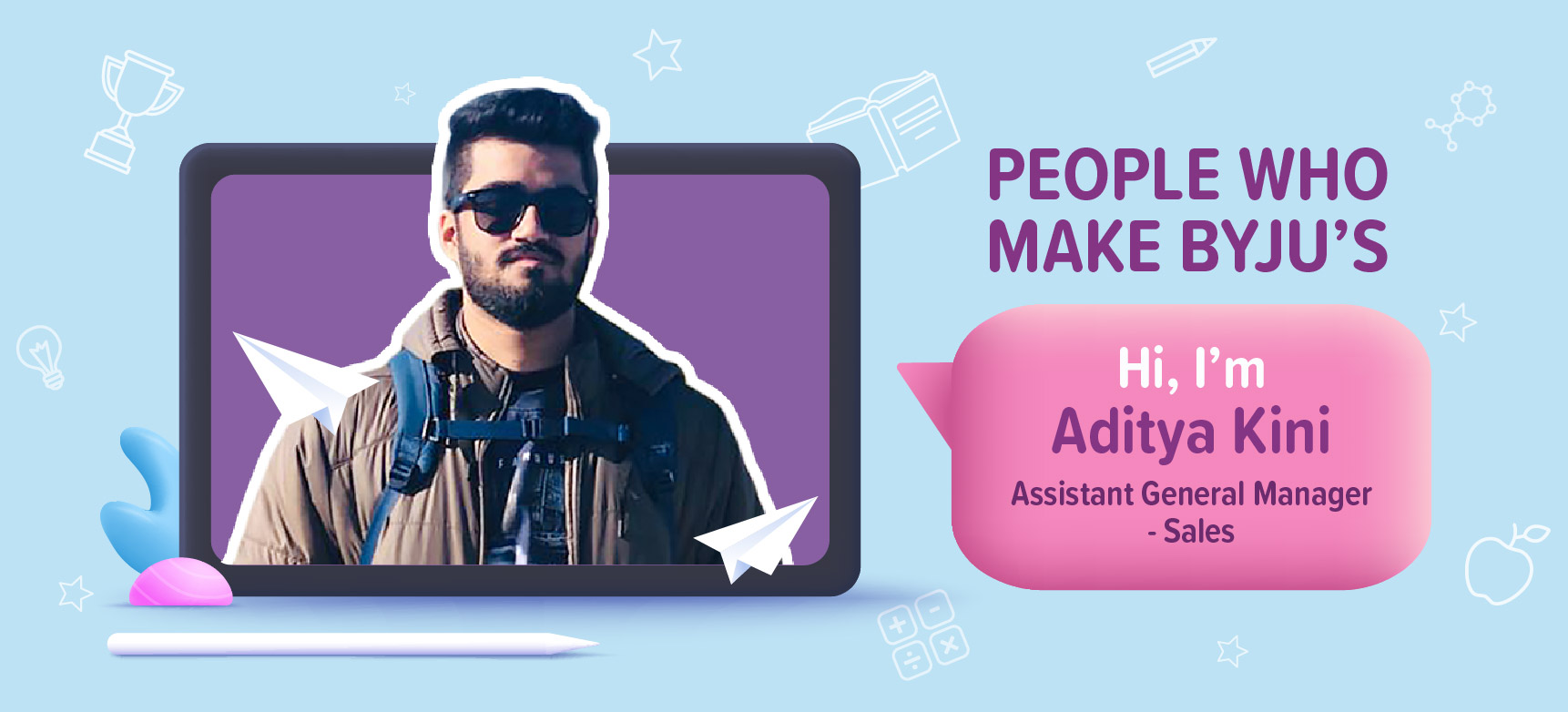 "In 2016, when I set foot in BYJU'S as a Sales intern, I was taught the nuances of Sales by the best in the industry. I have learnt so much from my seniors; they have played a major role in shaping my career. THAT for me is the power of teamwork at BYJU'S." 
Aditya Kini, Assistant General Manager (AGM), Sales, is a Mechanical Engineer by education, who was fascinated by Sales because of the growth opportunities at BYJU'S. In this edition of People Who Make BYJU'S, the BYJUite takes us through his journey from intern to AGM, sharing his significant learnings, responsibilities, and vision at BYJU'S. 
Also Read: Compassion meets solidarity: BYJUites who volunteer for cause, not applause
Journey from intern to Assistant General Manager 
"When I joined BYJU'S as an Intern, I realised Sales here requires a sound knowledge of technology and its overtones. And that's where my background helped me. I not only utilised my sense of how tech functions but also developed knowledge in Sales ." 
After being a part of BYJU'S for five years, the AGM's transformation from individual to team contributor was a welcome challenge. He quips, "The people around me, coupled with my dedication, have made all this possible. What keeps me on my feet is a need to innovate constantly, which ties in harmoniously with our core values. Our leaders at BYJU'S always have our back and are a constant source of encouragement."   
Talking about his learning curve, Aditya says, "When I moved to a management role, I faced challenges that helped me shape and understand my responsibilities better. I absorbed team management skills, realised the organisation's goals, and worked towards bonding with the team and getting an insight into the organisation's requirements."
Also Read: National-level archery to Academic Specialist: Journey of BYJUite Athul Krishna | Sports Special
On work culture and teamwork in Sales
Aditya considers teamwork the most significant contributor to his Sales career. "At BYJU'S, a team is a closely-linked cohesive unit that brainstorms together, innovates together, and moves forward together." 
What floats Aditya's boat and keeps him motivated at BYJU'S? It is the success story of BYJU'S (as an organisation). He adds, "BYJU'S journey from a startup to a full-fledged edtech company has always been a huge source of inspiration. This feeling got stronger once I started working here and interacted with some of the brightest minds in Sales." 
Apart from having a supportive team, he believes that BYJU'S not only acknowledges employee inputs but also addresses them. 
Sales as a career prospect
Aditya believes that Sales is not just an exciting domain to work in, but also a growth-oriented career at BYJU'S. Here are a few learnings from the AGM's journey, for anyone who wants to succeed in Sales:
📌Initial months as an Associate are crucial, so give it your all
📌Stay open to feedback and new learnings
📌Understand the larger purpose and work towards it 
📌Always prioritise your team, whether in Sales or any other department 
📌Beat the existing benchmark and set a new one
Like what you read? Head to Life at BYJU'S to learn more about our work, people, and the stories that make us unique. To explore job opportunities, check out Careers at BYJU'S.