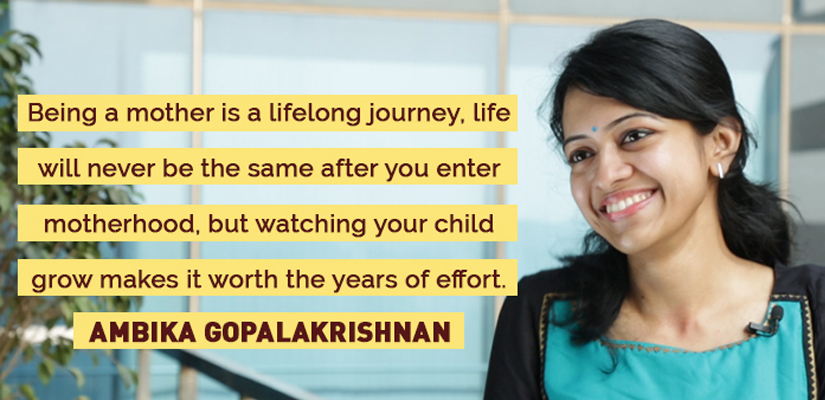 "Alivin thelinaalam amme nin hrudayam"- Ambika Gopalakrishnan and her husband, composed this song penned down by a famous Malyali musician on the eve of mother's day in 2014. The song is a dedication to mothers and their glorious and selfless love for their children. A passionate singer, a doting mother, a devoted teacher, and a caring wife- Ambika's dreams of becoming a teacher, her life as a mother and content creator and her love for music, form an amazing story of passion and grit. As mother's day comes closer, another of our amazing mothers at BYJU'S shares her experiences as a working mother and how she manages it all flawlessly.
As a young girl, the days used to seem endless. We had so much to do, but our young, distracted minds would wander, making us restless. I spent most of my days tied to music- with a family tradition of enrolling children at a young age, I discovered the beauty of Carnatic music at the tender age of five. Since then, I was accompanied by the art at every step of life. From family gatherings, to school competitions, to college festivals- music became a part of my life. It brought a new world to me, from reality TV shows, to my husband and my little daughter Aaradhna.
The days now are filled with laughter, tensions, travelling, teaching and work, with not a minute to sit down and contemplate or be gloomy. For a working mother, the days can often seem stressful, with almost no help; but losing faith in myself was never an option. With a spark plug of a daughter, and doting husband, I have found that I am capable of much more than what I imagined several years back when in college. My daughter my world as a bundle of joy. She maybe a tantrum throwing toddler now, but I imagine all children to go through different phases in life like her. When I first entered the professional world, I did so as a Zoology teacher. After working for about a year, I left the job to go home to Kerala where Aaradhna was born three years ago. I started working from home after she was a year old, taking care of her and managing Biology content for BYJU'S at the same time and life went by smoothly.
The challenges began when we decided to drop her off at her first daycare. Aaradhna had always been an active child at home, but had not met children outside. For a mother to leave her child in an unknown place, in unknown hands, can be the biggest fear. The first three days saw me sitting in the daycare for hours with my daughter on my lap, not budging, or even looking interested in things around her. We had almost lost hope when finally, on the fourth day she crawled out of my lap on her own and started looking at a few toys and playing with other children. I left her there, crying harder than I ever did before. Life became a little more organized after that. She loves her daycare and the friends she has there, it is almost like a second home to her.
With my daughter taken care of, I had the chance to dedicate myself to my work at BYJU'S and pursue my love for music. A regular day goes with me multi-tasking with cooking, sending my husband to work and daughter to her daycare, finishing my own work at office and then heading home after picking up my daughter. My husband, Nikhil and I manage some time every month to compose and record a few songs at the same time. Without his support, and my love for my daughter, I would have stayed a regular, bathroom singer. But over the years we have recorded several songs, composed a few, and also had a few hits on Youtube. All this started from a reality TV show on Asianet many years back where my husband and I were contestants on the 6th season of Idea Star Singer. We found our love in each other and the music that we shared. Our first composition together was during my pregnancy- a song on the beauty of motherhood and how a mother's heart is the epitome of kindness. "Alivin thelinaalam amme nin hrudayam"
I hope to see my daughter follow in our footsteps someday for generations of our family have been attached to music in a soulful way. My mother was the first person to put the world of music before me and my sister. She used to work before either of us were born, but left her job to handle household work. She had the dream of taking up work after we grew a little older and could take care of ourselves, but for her that day never arrived. She made me realise, that no matter how old the child, to a mother, it will always be a baby to be spoilt and taken care of. My mother's support and loving hands have followed me at every step of my life, holding me when I fall and praising me when I shine from amongst the crowd. Her love has been so boundless that she has more than enough to share with her granddaughter now, who she spoils with hugs and kisses all the time.
I still remember the day I realised motherhood to be the best gift for a woman. Aaradhna was eight months old, a sprightly toddler, playing with her toys in her own happy world. I never knew if she knew it, but she suddenly said the word 'Amma'. My joy knew no bounds as I gathered her in my arms and hugged her. I realised that day, that with a child, especially a daughter, these tiny nuances and moments hold so much value- but they happen and are gone in a glimpse. For a mother, they are precious. Though different mothers have different definitions of motherhood, I am sure they derive joy from the same things. Some prioritize family over themselves and devote all their time to taking care of the house, some are more ambitious and work, leaving their child in the care of trusted people- they have different beliefs, but they all love their children.
Having a girl child in this world is often a fearful experience for parents. We are scared for them when they step out of the house, when they enter school, college or start working- we are scared for them constantly. That's why, the only dream I have for my daughter is that she grows up to be a confident, young woman, ready to face all challenges in the world. I can't control how her life goes or what decisions she takes in life, but I hope to be the right role model for her and teach her good values in life. I also want her to know how much of a challenge life is for a working mother, and respect that. To the other mothers- Go out and pursue your dreams now, if you wait for your children to grow older, it maybe too late to enter the field and you will find that you have lost your will. Start with a job that gives you the best possible options and make use of that to push yourself forward. I was lucky enough to get a job which allowed me to follow my love for teaching and Biology, there will always be some job available which will fit a mother's interest. Effort needs to be made in being patient and waiting for the right door to open.
Children adjust and learn a lot faster than parents, so give them the chance to explore the world and learn on their own. They watch and learn from everything around them, so as a parent, we should be the best role models possible for our children. If you have a son, make sure to teach him the importance of letting a girl follow her dreams. Teach him to respect her and treat her with kindness. After all, most of these young girl will grow up to be the future mothers of India. They will be the next generation's SUPERMOMS, setting examples and inspiring people everywhere with their talents, strength and devotion to both family and work.
Like this story? Read similar stories on BYJU'S blog page. Follow @lifeatbyjus on Facebook.