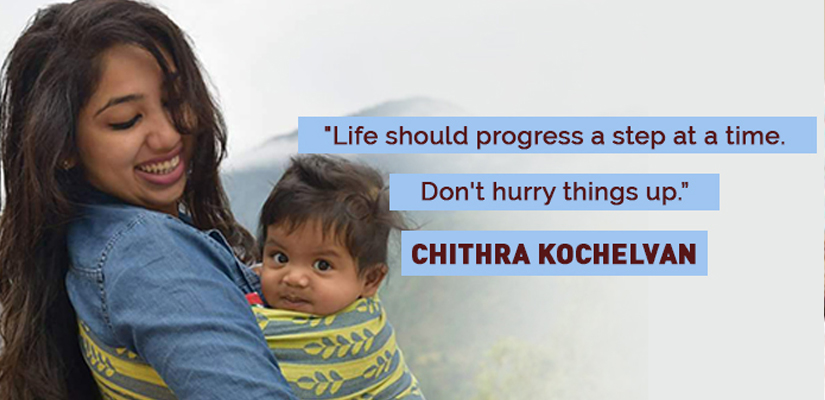 Motherhood – The joys, mayhem and a constant juggle
Meet Chithra Kochelvan, a mentor with BYJU'S under the Mothers for Mentors initiative – A work-from-home program for mothers who want to restart their careers after a break. "A mother's work never ends just outside her office space- she has a full-fledged job back at her home too. Be it my work at BYJU'S, or taking care of my baby or shopping for household items, I try and manage everything seamlessly", claims Chithra.A young mother and wife of an army officer, Chithra's journeys and the life after her baby, make up a very inspiring story to be told.
The question that pops up in our heads every time is- "How does she do it". To which ChithraKochevlan answers with a smile – "A step at a time."
A Travel Addict
Chithra experienced the first whiff of travel when her family moved to Coimbatore from Kochi. She moved back to Kochi for graduation, post which she got married to Major S Kochelvan. Since then the journey has been a roller coaster ride, shifting from Secunderbadto Tenga, Mhow, Patiala, Calcutta, Delhi, Agra and Haryana. Chithra and her husband's love for travelling however did not end there. They have traversed around 25 cities. At the tender age of three months, little Akshaj was taken to the China border- "We love to share our joys of travel with our little boy too. There is so much life and purity in Tenga. Unlike popular belief, taking babies to such places at a young age actually builds up their immunity and endurance," states Chithra.
When inquired about her love for Tenga, Chithra exclaims that if she had the chance, she would go there every year with her baby. "We were stationed in Tenga for two years. It is one of the most gorgeous places I have been to. I am actually surprised that it is not a usual vacation spot despite its natural beauty. With no internet, electricity and cellular connections – I was terribly homesick for the first few days. But I was soon riveted by the vastness of the mountains and quaint meadows. I specially remember my first few days in Tenga –  it was freezing cold and the heater in our house wouldn't work. To top it all, the place is infamous for its wild black cobras."
A Military Wife
When stationed in the army community, she had not felt the need to work, as army communities hold regular welfare meets and functions for the Jawans and their families. Chithra divulges that with the busy schedule of the welfare associations, she was constantly on her heels, interacting with the other ladies, having regular dinners and cook-outs. "We are like an extended family; it is extremely challenging to be an army officer's wife, one has to be very strong emotionally. But the burden of this challenge is reduced considerably with the respect and love we all have for each other. We propagate independence and community strength as these keep us going."
After moving to Bangalore, and with her husband stationed abroad for a UN Peace Keeping Mission, Chithra spent her days with her baby and her mother. She soon realised that despite the fact that she loved spending time with her baby, she had to make time for herself too.
According to Chithra, an idle mind wanders to unnecessary thoughts and fears, but knowing that her husband is in a battle-ridden zone has not burnt out Chithra's spirit. Her decision to take up a professional life helped her keep negativity at bay. When she started with her job hunting process, Chithra had never imagined that the chord she would strike with BYJU'S would give rise to a relationship that could help change her perspective of work culture. Having joined the organization in the month of March- Chithra was given the opportunity to work from home, managing work and her baby simultaneously.
A Mother's Counsel
A lot of women go through postpartum depression after their delivery. This depression can prove to be permanently damaging for the mother, affecting the child as well. A happy and relaxed mother can share her happiness with her baby, therefore mothers should make time for themselves- pamper themselves, visit parlours, and indulge in hobbies.
Managing time, keeping oneself busy and patient, according to Chithra, are the key elements of the balancing act. Adding to that, Chithra feels that there is no shame in talking about the mental trauma a mother goes through. "I never shy away from taking my mother's help, no new mother should. Though I feel she pampers Akshaj a lot more than she did with me, she shares the responsibility of taking care of him when I am working. This way he has started trusting her too. He no longer feels lonely or flustered if I leave the house because she is there with him and he is very close to her," stated an elated Chithra.
Chithra also believes that it is important to let your child be independent to a point. She lets him eat his food on his own as she puts it on his plate. "Don't let them obsess over gadgets from a young age, let them play and explore the world outside," is her word to young parents.
According to Chithra, life should progress a step at a time. Worrying too much about small burdens forces us to ignore the smaller elements with family and friends around us. Work is not a hobby that can be pushed aside at whim, but it should be taken up with enthusiasm and certain amount of sobriety to keep life in track. It is what equalizes women, makes them independent, and gives them the superpower of multi-tasking at all steps of life.
Like this story? Read similar stories on BYJU'S blog page. Follow @lifeatbyjus on Facebook.