Great inventions don't happen overnight. They are made possible by enterprising people with innovative ideas. At BYJU'S, this translates into a culture of diversity and infusion, with people from different backgrounds and varied skills coming together to revolutionise the learning experience for students.
People Who Make BYJU'S – our brand new series on employee stories – spotlights these people and captures their stories of learning and growing with BYJU'S.
It wasn't just the team that was taking shape when Sarvjeet Singh, Lead iOS Engineer at BYJU'S, joined the organisation back in October 2015. The product was also in its initial phase. BYJU'S, incorporated in 2011, was taking steady steps at the time towards becoming the edtech maverick that it is today; and 2015 marked an important milestone in this journey with the launch of BYJU'S – The Learning App.
Sarvjeet, who had come on board as a Software Engineer, was in charge of overseeing the design and development of BYJU'S iOS applications. Over the years, as the brand grew so did his roles and responsibilities. The techie, who has close to 8 years of experience in iOS Development, now co-leads an 8-member team, responsible for the development and support of all the iOS applications of BYJU'S.
"All the features that have been rolled out till now – we have some 20-30 odd features that have been released – and everything that is native to iOS or any iOS device, that comes to our team," he tells us.
Sarvjeet is also responsible for the smooth functioning of all apps under the BYJU'S umbrella on the iOS platform. He and his team provide all iOS-related support, right from new products and feature development to the enhancement of the user interface (UI) and user experience (UX). A responsibility that the BYJUite shoulders with a think-outside-the-bubble approach.
"If I am just working with my team, I won't get another's point of view. I will be thinking in my own bubble and I will see what's right according to me," Sarvjeet explains. "But when I talk to folks from the other teams regularly, it gets easier to understand different perspectives. We can discuss and work smoothly – this is one of the things, I believe, I bring to the table."
"I can unblock things easily," he adds.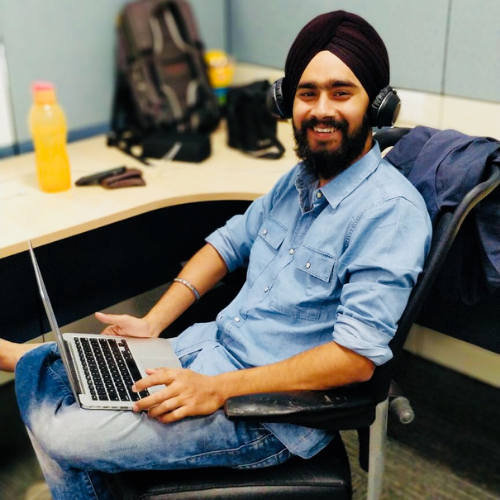 Innovation in times of Covid-19
This outside-of-the-bubble approach has been vital to cater to the students on BYJU'S – The Learning App. More so, amid the Covid crisis, when the shutdown of educational institutes has impacted the education of children across the globe.
A report by UNESCO suggests that the pandemic and resultant health crisis has left nearly half of the world's student population locked out of schools and universities. The report further indicates that the sudden closure of educational institutes has posed a challenge for the education sector at large.
To address this sudden downturn, BYJU'S as a leading edtech provider has taken proactive steps in offering remote learning solutions. "This was the whole genesis of the 'learn from home' experience," explains Sarvjeet. "To provide our students with access to regular lessons and introduce a schedule to their learning, we came together to brainstorm and launch BYJU'S Classes."
But this is just the tip of the iceberg. BYJU'S tech team is working on several other features as you read this. Says Sarvjeet, "some of the other exciting technologies that we are working on currently involve augmented reality, machine learning, and computer vision."
Read more: "It's All About The Journey and Not the Destination": UPSC Mentor Kavya Rajendran
Real-time impact
While tinkering with the latest tech is the exciting part of the role, there is another aspect to the job that makes it more rewarding. It's related to the impact BYJU'S learning programmes have on the end-user i.e. the students.
"This is what excites me the most," quips our BYJUite. "Whatever I am doing, whatever I am building, it has impacted the students. I can see the results immediately – people are using the products we build for them."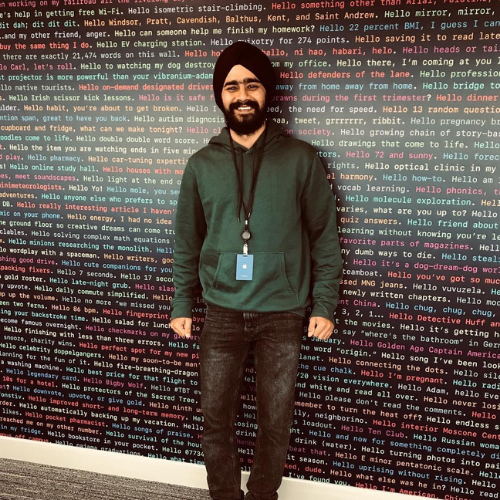 However, the direct impact also means the need for timely and frequent user research and feedback. It is critical to understand how the learners are actually feeling about a new feature if they really want it or not, explains Sarvjeet. He says, "Sometimes, I would test a new feature in my neighbourhood itself. There are children in and around my building, I would get them to try out the prototype, and make note of their reactions."
This, according to the techie, is a useful tool when it comes to garnering honest user review. "Children are brutally honest with their opinions, if they don't like something, they would just say it," he laughs.
Read more: Meet Karthick Chinnathambi, the Techie Coding for Impact
Learning happens over time
Sarvjeet's candour is unmistakable. Whether it's his approach to tech and product development or his reflections on the changes he has noticed in himself in these past five years, the BYJUite doesn't hold back when he talks about the learning curve. He admits that the growth over the years has been rather personal.
"In terms of the tech, of course, you will learn while working but there are other things that have changed a lot in me," he tells us. "I am more confident when it comes to voicing my opinions or making decisions now. And it's because I get to interact with so many folks on a day-to-day basis."
"This learning doesn't show in a day, but it has definitely happened," he adds.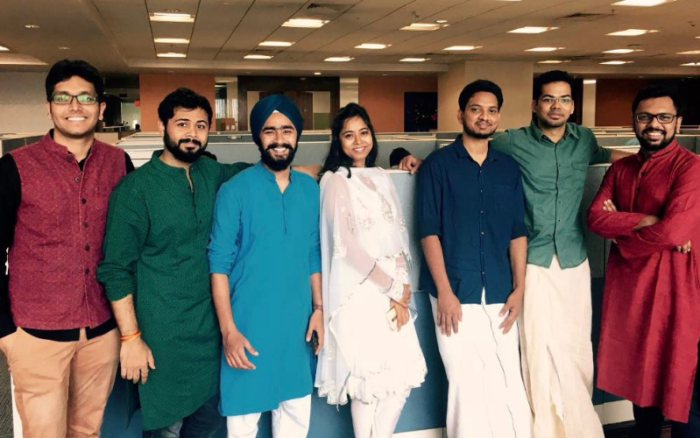 There is another advantage to this style of collaboration. It enables an individual to push their own capacities and learn from the exchanges with other teams and people. At BYJU'S, this also translates into getting to interact with a smart bunch of people, says Sarvjeet adding, "when you talk and work with smart folk, you get smarter."
But it's not all work and no play at BYJU'S, assures the techie as he leaves us with two quick recommendations: Naval Ravikant's podcast and Israeli author Yuval Noah Harari's book 21 Lessons for the 21st Century. Two suggestions that, interestingly, he picked up over the numerous conversations with fellow BYJUites.
Watch: Happy 9th anniversary, BYJU'S: Here's to Reimagining the Future