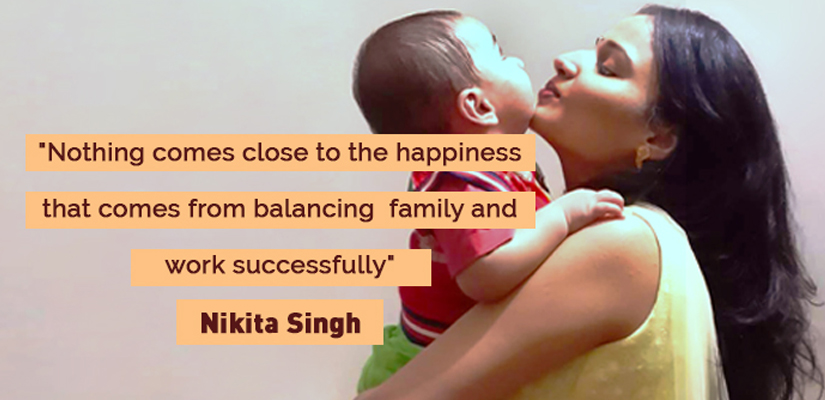 Mothers are the greatest gifts that life has to offer us. They are the definition of the purest and selfless form of love. At BYJU'S we understand and value the role a mother's plays.  On the occasion of Mother's Day we spoke to Nikita Singh – a supermom and a loving mentor at BYJU'S about life after her baby, family support and how being a working mother helps her strike a balance in her life.
 Q.1 Born in Agra, studied in Delhi and now in Bangalore. Tell us about your journey so far.
 Living in different cities gave me the opportunity to experience multiple cultures and absorb the best of it. For me, Agra will always be home as my extended family is still there and I have the most beautiful memories of growing up in the 'City of Love' or the home to one of the Seven Wonders of the World. I love the fact that I am from Agra; its rich cultural heritage and the close knit fabric of the society have taught me the importance of love, care and being earnest in life.
I have always been an ambitious child, so after school – the most natural progression was to shift to a bigger city like Delhi for my higher studies. Moving from a small city like Agra to Delhi wasn't easy, but my parents decision to relocate along with me made the entire process easy and comfortable. She was living in the sheltered care of her parents through her college days and independence was new to her. Shifting to the south of India after marriage was a completely new experience for me. I moved away from my parents and started a life of my own. It was a bittersweet experience at first, but the city grew on me and after the birth of my son, Aayansh things just settled in. (A warm smile spread across her face as she said this)
 Q.2 You started working after your marriage. How did you manage work life balance, especially after the birth of your son? 
 Being a working woman is very important to me, as it feeds my passion to be independent and be my own person. After marriage, I was working as a marketing professional in a leading bank. After Aayansh's birth, managing work, home chores became a little challenging due to which I quit. But, I always knew that the day Aayansh is ready to be on his own, I will get back to working. Luckily, I got to know about the BYJU'S 'Mothers For Mentor's' campaign and today I am a proud working mother as well as a mentor to children across grades.
 Q.3. It must have be a phenomenal feeling to watch your son grow in front on you. Tell us few a incidents you shared with your son?
Since the day I held Aayansh in my hands, I have learnt something new every moment. From being a daughter, a wife, to a mother, the arrival of my son transformed me into a whole new person. Aayansh is very active throughout the day showcasing sudden bursts of energy in the late hours of the night (Nikita laughs). What's more interesting is that both my husband and I love to play and tire him out so that he can have a peaceful sleep.  His smiles, loud laughs and playful acts make our day wholesome and complete.
Also, you will see children stick to their mothers more than their fathers. When Aayansh was born, we took a conscious decision to teach him about equality and make him understand the importance of both his parents. This has helped me and Aditya (Nikita's husband) form a close bond with him. Additionally, we share all our responsibilities which is a great help for me.  Eventually he learned not to only stick around me but also spend his time with his father. We have shared the responsibility of taking care of him equally so he knows that parenting is a job for both parents. So from his childhood, he learned to respect both his parents equally and is quite sensible in that way.
Q.4 You joined BYJU'S after four years of career gap. Was it a new feeling all over again?
Getting back to work after a break was challenging at first, but I believe that – "We should take up all challenges in life with open arms." Restarting my career was full of doubts and inhibitions but my 'never give up' attitude really helped me usher in new experiences in my life.
I could never imagine getting back to a 9-5 desk job since I didn't want to miss out on seeing my son grow up. That's what I like about my mentor profile at BYJU'S. It offers me the flexibility to work from home, bundled with comfortable timings. Being able to mentor other children is very satisfying and this new experience has instilled my lost trust again.
 My passion for teaching, supporting and guiding students and also being around my child was quickly merged by allowing me to work from home. Since then, it has been 4 months of working with BYJU'S and I have never been this happy before. I will always be grateful to Divya Ma'am for her constant efforts to bring a change in working mothers' lives and for her endless appreciations on a regular basis. Now I can work from 11 A.M till 7 P.M, mentoring and helping out students while doing my daily chores, running errands and even dropping off my son to kindergarten school. I love working here because BYJU'S understands the psychology of working mothers and the culture they have to adhere to. Here, other mentors are not only my colleagues but we are such good friends to visit each other and share a tip or a memory of our children. It is fun as well as very relaxing in that way.
Q.5. So how do you spend your weekends with your family?
 I am a big foodie and my taste buds tingle for different cuisines – from continental to the home cooked 'dal chawal'. On weekends, we mostly go out for dinners and long drives. Our favourite place is Rasta Café, which is a few kilometers away from the city. On a regular day, we blow off some steam with a badminton match in our nearby park while Aayansh plays around with other toddlers of his age.
Q.6. You are a source of inspiration to mothers everywhere. Any tips for the other aspiring mothers?
I will keep it short and sweet –  Be strong, patient, dedicated and compassionate. It is a wise decision to stay close to your child in the initial months as a child's need for the mother's love is more during his/her infant stage. And yes, a supporting family is always an added bonus for every working mother.
Like this story? Read similar stories on BYJU'S blog page. Follow @lifeatbyjus on Facebook.