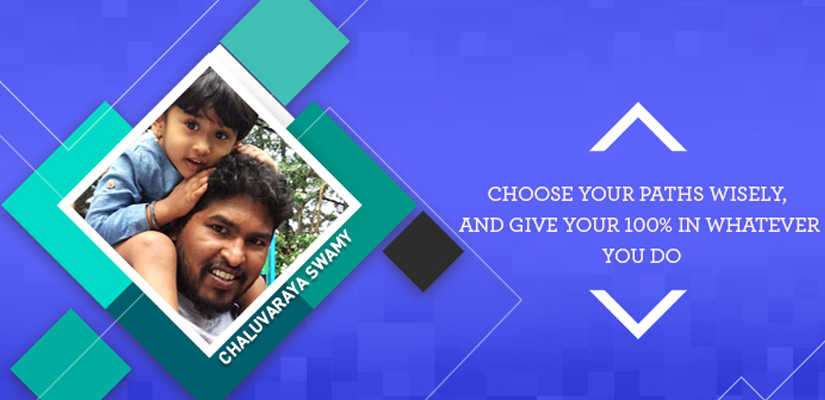 I was reading Walter Isaacson's famous biography of Steve Jobs, while waiting to interview Selva as part of the Team StoryWeavers. The book deals with the concept of how an individual can shape his/her own life; we can either choose to be happy and grab every opportunity or just be sad and label it as fate. I was lost in my thoughts, when my cell phone buzzed, giving me a sudden gust of reality check. The screen prominently highlighted the name of my interviewee. A quick realization made everything clear to me; how both their persona and the zeal to achieve something in life criss-crosses each other at a certain point.
Steering along the gungy arteries towards the anonymous dreaded roads of Bangalore that puncture the hazy skyline of Bannerghatta road, Chaluvaraya Swamy (popular as Selva) drives Byju Raveendran and Divya Gokulnath to work each day. While his stereo plays old romantic songs of Kishore Kumar and Mohammad Rafi his caricature is more on a Rock & Roll based. "I like to dress up well, it gives me an air of confidence and most importantly, my daughters love it."
Selva is happily married to Roopa and they have two daughters. Both Parinitha and Deepthi are their lifelines. 4-year-old Parinitha is the older one, who is a bundle of energy and loves to play all games.  
"Parinitha loves to play with her group of friends in our locality and she reserves her weekends to play with me. A game of carrom is must between us on weekends. Her eyes lights up the moment she sees me set up the carrom board on a Saturday evening. In fact, I purposely let her win every time to see her smile cheek to cheek," (he smiles). He further adds, "She is also a studious and obedient girl who dutifully listens to her mother. My younger one is still a toddler, but she is a handful. She has just started walking and ensures that my wife and I get enough exercise running after her in the house. After a long day at work, seeing both of them melts my stress away."
A resident of Karnataka's toy town – Chennapatna, the mainstay of the penurious family was solely based on the small piece of agricultural land. It was difficult for his parents to gather enough resources to send him to a private school. Even though Selva had an expeditious inclination towards sports over studies, his family's nominal financial situation couldn't help him bag a sit in any sports academy. But his appetite to learn and his passion for playing helped him to quickly pick sports like cricket, football and kabaddi. Continuing his love for sports, Selva often plays football with the colleagues and friends whenever he gets time.
"I wish to inculcate the love for sports in my children too. Unlike other parents, I won't coax them towards engineering or medical, rather I'll give them the freedom to choose their own path."
During his school days, Selva like most of his peers did not understand the importance of education in an individual's life. Today, he is a strong advocate of the fact that education can change the way people think and shape their lives. For both his daughters, he has already made plans for their education so that they have all the luxuries which he missed out as a child. "I want my daughters to get proper education and have a bright future. I want to teach them how to balance well between their passions and priorities."
Selva's current lifestyle did not come easy. Marred by failures and deceit during his initial professional years, he never gave up. In 2009, he met Byju, who gradually became a friend and a guide to him. From there on, life never dug any residual from his past.
"After meeting Byju sir, I realised I could do more in life then accept failure. I have learned a lot from him especially about how to manage any situation in life and how to give the best to other people. He is my mentor and guide for life."
"People say that Byju sir drives the business, but I drive him to business everyday"- Selva jokes
When we asked him the values that he wants to pass on to his daughters, he said, "My father taught him to follow the right path in life. He used to tell me that the right path might be perilous but it is the best way to live life. I strongly believe in this and try to imbibe it on his children. I often tell my girls that you have the freedom and choice to decide your future. Choose your paths wisely, be sincere and give your 100% in whatever you do."
Like this story? Read similar stories at Life At BYJU'S. Follow @lifeatbyjus on Facebook.