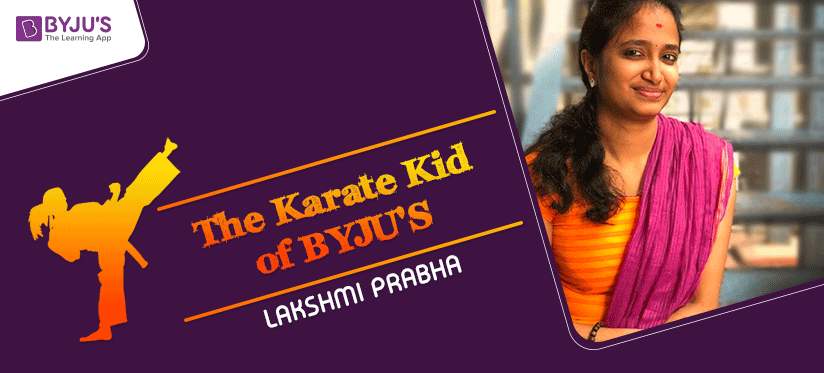 This International Women's Day, BYJUites shared a whole range of interesting stories women who inspired them, women who have been their support and a few stories on their own life journeys. And hence we stumbled upon Lakshmi Prabha's story who had penned her own life story with elements of determination and bravery, opposing all social hues and difficulties.
A karate champ since her young days, Lakshmi's contribution to the society and women specifically is marvelous. Team StoryWeavers caught up with Lakshmi to know more about her passions, dreams and how her life experiences have shaped her personality.
"I believe in staying prepared – all the time! Be it at work or outside. I am always up for new challenges! I feel that my parents confidence in me and Karate has helped me become the strong and independent woman that I am today." (flashes a confident smile)
The girl who fell in love with martial arts!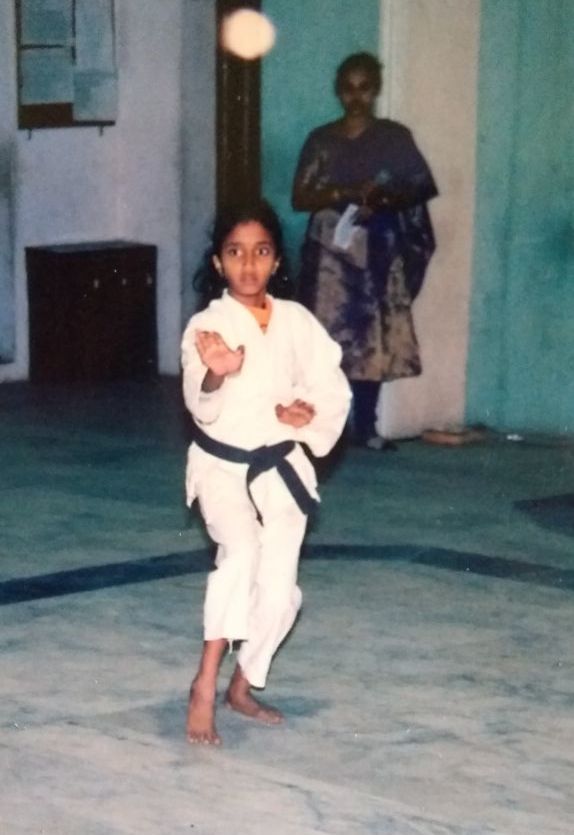 "Coming from an otherwise conservative family, I was fortunate to have such supportive parents who stood by me during those crucial days, allowing my curious mind to conquer over the social norms!"
The youngest in the joint family of 12, Lakshmi love for adventure started early on from playing cricket under the scorching Coimbatore sun to taking up Karate at the age of five.  She had a chance encounter with Karate at one of the school sports camps.
For Lakshmi, it was love at first sight with Karate. "I was in 1st grade when P.K.Kathiresan (Vice President of All India Karate Federation) came to our school and brought with him the Indo-Japan Karate style. We, as kids were fascinated with the crisp white uniform and even more excited to learn how to fight with each other," she burst into giggles.
She continues, "I was one of the three girls who continued to learn as we moved to higher grades. By the time we reached class 3, we moved to a real dojo called Indo-Japan shito Ryu Karate Do. It was an opportunity to learn under a great master who encouraged young children, especially girls to take up martial arts and learn self-defense. Coming from an orthodox neighbourhood, it was a bold step, both for me and my parents to continue nurturing my passion."
At the age of 12, she took part in her first national level competition; the only girl to represent Karnataka that year. By the time she was in 6th grade, she bagged her 1st gold in nationals and then there was no turning back. Success kept meeting her throughout her school days and simultaneously shaped her into a fearless lady. By college, she was already famous in her city and the favourite of her sensei (master)
Shaping her future
While growing up Lakshmi loved her brother's companion and often spent summer vacation learning to ride a bike. "My brother's first bike was a Bajaj Pulsar and we used to ride off to Ooty so often. In fact, I learned how to control bike movements during these trips to the Nilgiris. Even now, whenever I visit home, I ensure to ride his bike and roam around the city." Lakshmi giggles. "They still call me a tomboy at home."
Along with playing with her friends and learning Karate, Lakshmi always managed to add her name in her school's rank holders' list. After completing her high-school, she enrolled for an ECE course in KPR College, Coimbatore, with the aim of staying close to home and her dojo. During her engineering final year, BYJU'S visited her college for recruitment. Lakshmi was one of the first few candidates to be chosen during that campus drive!
Fairy tale rendezvous with BYJU'S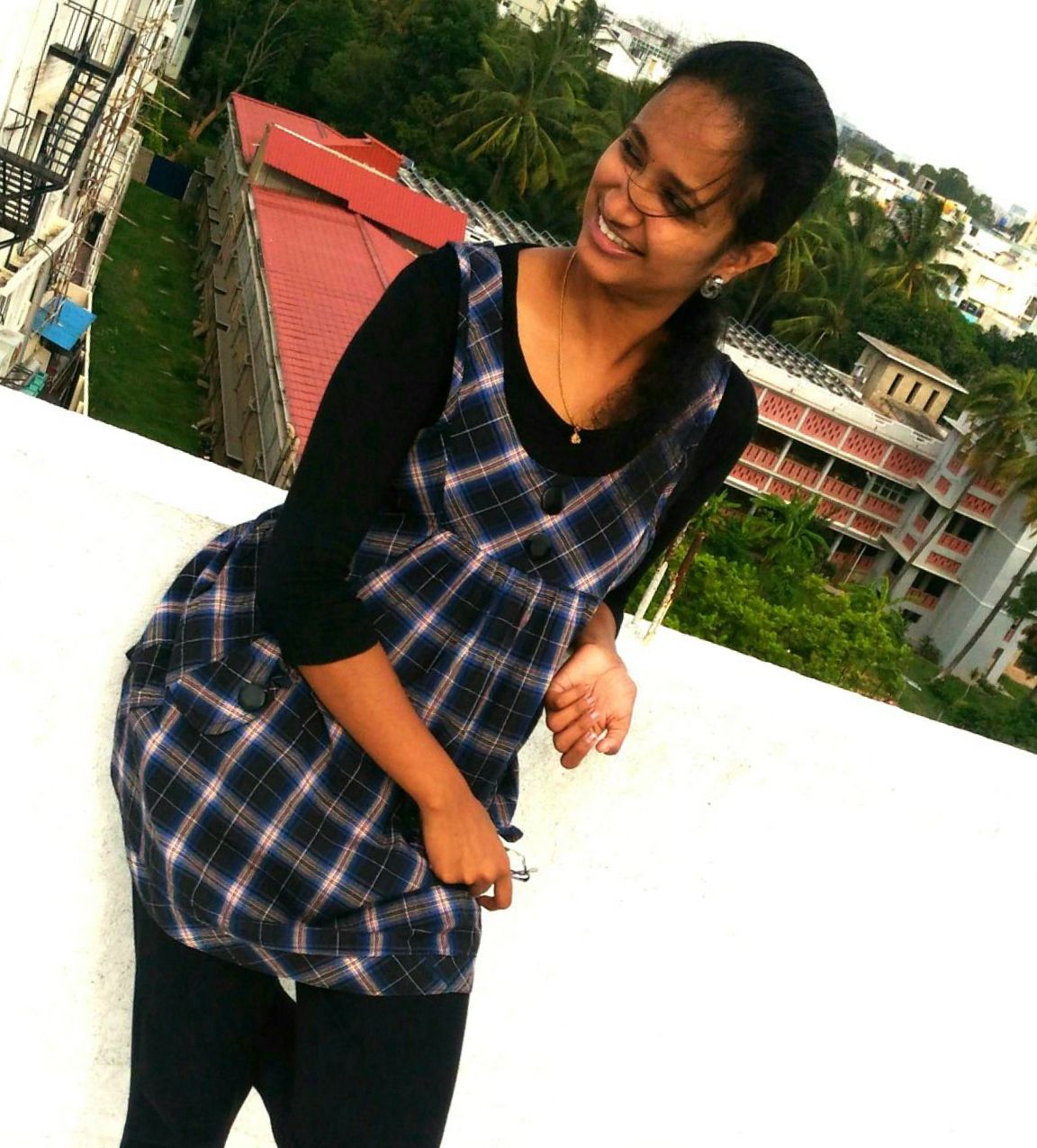 Lakshmi started a whole new chapter in her life when she shifted to bangalore to join BYJU'S. Parking a promising career in the field of Karate, she dived into the exciting field  of sales and marketing at BYJU'S.She joined the sales team under Mr. Venkateshwar, right before the 'Home Demo' campaign came into play.
"I was lucky to be accepted at BYJU'S. My team is amazing and I love the work culture. Days at BYJU'S are power packed with interesting conversations with students and their parents topped with the thrill of making a successful sale. I truly cherish the fact that everyone is treated with equal importance – irrespective of their tenure period. It's very encouraging to know that we are valued here and our individual work creates an impact. This motives us to push our limits and give the best."
A dreamer and an achiever Lakshmi harbours the desire to open her own Karate dojo in the near future and help make the future generation strong.
"For me, we are all fighters who challenge every step of life while crafting it into beautiful stories. Although martial art was a foggy idea at the beginning, but with the course of time, it had taught me many valuable life lessons. Most importantly, it made me strong by boosting the confidence in me to overcome any hurdles of life. Thus, I always encourage people around me to join martial arts and challenge their inner fears!" says Lakshmi, flashing her usual confident smile."
Like this story? Read similar stories at Life At BYJU'S. Follow @lifeatbyjus on Facebook.