From teaching in IITs to working as a chef, Abi Paul has donned several hats. And that, he says, has helped him shape his career for the better. Currently working as the Principal UX Researcher at BYJU'S, Abi is an NID graduate in Toy and Game Designing. 
Having joined BYJU'S as the Game Designer in 2018, his work now entails overseeing the User Research Lab — a department for children-centric research that is dedicated to complement product development. It helps the developers better understand what the children's needs and expectations are. 
Abi says, "We collect qualitative stories on a daily basis for different projects. So a typical day starts with sharing all these interesting 'user stories', where we try to understand what is happening with kids, what is the current system that is running for them, what trend they are into and the like."
Game development is more than what meets the eye. It's about play, learning, psychology, behavior and a lot more. Taking us back to what led him here, Abi recalls, "I was one of those people, who after getting an engineering degree, didn't know what to do next. Deciding to do my masters in Toy and Game Design was a turning point. And I believe that's where my enlightenment started. I started to be more confident on the subject and was quite excited to explore the field." 
Learn and let learn
Abi's work at BYJU'S requires him to interact with not just kids but their parents and teachers as well. And for that, he says, the experience of working with different sets of people comes in handy. 
"Each and every child is unique. How they are growing up is very different from what we have seen. So, my previous experiences helped me understand them from different lenses. If I want to think like a manager, a game designer, or even a content person — all of that's possible because of my previous experience exploring those domains."
Abi also lets us in on the team's culture and dynamics that make his role at BYJU'S all the more exciting.
We have a mixed bunch here. It's not just people from design research, but also from fields like psychology, trend forecasting and new media design. All of them come from different backgrounds, which makes it so much fun to understand concepts from each and everyone's expertise.
Since every new project the team handles requires the User Research Lab to interact with several kids, Abi reiterates the need for staying up-to-date with the trends. He shares, "Every time I speak with kids, I feel like I should update my knowledge. When you're speaking with the Gen-Z kids, everything from the way they speak to the way they use technology is surprisingly different. All that makes us want to expand our knowledge."
Mastering it all
When it comes to broadening his horizons, Abi has treaded on some unusual waters. Besides teaching in prestigious institutions and working with food, an interesting snippet from his life is from when he spent his time farming. As a part of his college project, Abi had come across a village along the Kerala and Tamil Nadu border that fascinated him. After learning about the place, its people, their food and culture, he decided to join them in farming.
Taking us through his journey, Abi elaborates, "I was treated as a part of their community. It made me realise that I can also give something back. So I started teaching there. It was like a circular economy where they would give me food and they would take care of me. And I was doing my part by teaching the kids and giving them exposure toward different things."
Taking examples from his own life, Abi tells us that more than the experience, it's the exposure that gives one knowledge. In his words, "Trying something new will make you unlearn whatever you had learned from the previous field. You can't use the same process in every domain, you will need to tweak yourself, update yourself. And that will allow you to see things differently."
The way forward
Talking of staying motivated during this pandemic, Abi tells us that it's the simpler things in life that matters the most. From looking forward to watering his plants in the morning to enjoying the time he spends for his breakfast, he swears by the simple pleasures that come with being mindful of even your mundane tasks.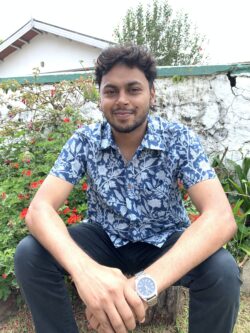 He stresses on the importance of empathy during this time, as he shares some tips for a healthy work culture. Since several members of the team are finding it hard to cope with their family being affected by Covid, it is necessary to build a culture of sharing.
He adds,"In our team, we do simple exercises like an online brunch once in a while. We sit in front of our computers and have our meal as we have conversations. From people to food to history, we keep the session going and it does feel good. Everyone feels a bit lighter by the end of it. So like that, we should all be more considerate and listen to one another. That's the only way to come out of this stronger." 
Like what you read? Discover more such stories about our work, people, and teams on Life at BYJU'S. And to explore roles, check out Careers at BYJU'S.