One of the best things about being an artist is the ability to create different renditions of the same object. This phenomenon is also known as an artist's impression which can only be mastered through years of practice and patience. A few weeks ago, when BYJU'S conducted Etch a Sketch Day, a day that celebrated the in-house artist talent pool, we stumbled upon the artwork of a young Assamese aspirant called Jyotishman. Going through his creative work and his quest for perfection made us realise one thing, art is much more than just an occupation, even though several such highly imaginative artists slip through the cracks, unnoticed. With Jyotishman, we were pleasantly taken aback by the in-depth ideas behind each painting; portraying human emotions and expressions.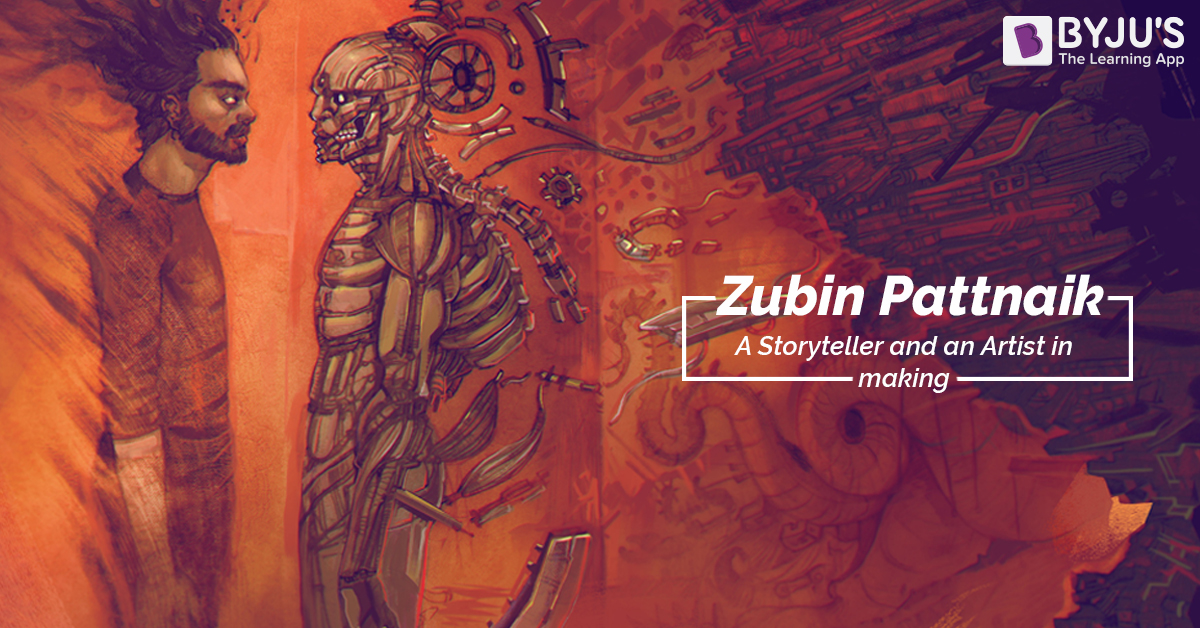 Jyotishman Saikia, 24, is an upcoming artist who has been trying to give new meaning to the whole idea of concept themed art by drawing familiar faces and localities with a new twist. "My art is my way of celebrating life. I try my best to bring emotions alive through my sketching."  Some of the themes are inspired by snatches of images from vivid dreams of his childhood. Taking off on Sundays from his otherwise busy schedule, he endlessly endeavours to master his hands on human anatomy, free hand styles and dreamy landscapes thus filling his lifestyle with fun activities each day. The other day, Team StoryWeavers interviewed him to know what drives him.
Tucked down a small alley in Golaghat Town, brushing aside the hurly-burly of city life, bounded by extended tea gardens and the river, a small village named Senchowa nestles in tranquillity. Apart from scads of trees, noise of children playing and sometimes a man from a distance cycling his way, the village is known for its calmness, cleanliness and its spectacular beauty. Coming from such a place, it is easy to notice Jyotishman's candour as his best charm coupled with his insight for details. In short, he is a man whose work talks about perfectionism. "I can't let my mind rest in peace if my artwork doesn't turn out according to my imagination. If needed, I will redraw a particular painting a hundred times until I am satisfied." (he smiles politely).
This craze for perfection began during his sophomore year when he made his first attempt to capture the portrait of a young girl. Unable to get his sketch right, he left his classes' midway and travelled 55kms in search of a local artist from his village. His keenness to learn made him sit with the artist the entire day and exacts the technique of that sketch.
"As a kid, I was very rebellious. I had an itch for almost everything attractive. Moreover, if I wanted to know about something, I would find out every possible means to know, be it studies or painting. Somewhere down the lane, that rebelliousness supported me in my future pursuit of art as a career."
When it comes to learning a new art form, his aggressive determination does not let anyone stand in his path. That aggressiveness to achieve something was even more prominent during the Durga Puja days of his childhood. The celebration of Durga Puja is one of the biggest and most enthralling events for the people of Assam. During those five days, one can notice the festive mood in the air, of people rushing to light the holy lamps and distributing sweets amidst the hubbub of laughter and shouting. For young children, those days are the best excuse to get away from their textbooks and run with excitement across the congested sweet stalls, playing with their toy guns. Jyotishman reckons a funny incident from those days when he used to sneak out of his house during the festive session to explore his painting skills. "I had a sweet tooth and a huge craving for jalebis. (he still does) In order to get hold of some, I would go around all the hawkers and offer to paint their stalls before the festivals. In those days, I never looked for any kind of appellations or tips but would just demand 1-2 kilos of freshly made jalebis." (he laughs)
A hard-working person, Jyotishman had seen all the phases of life which only pushed him further towards the field of art. Wrapping up his school days where he preferred to visit Moina Parijat (art school for kids) in the evenings instead of playing football with his friends, his love for sketching helped him choose to engineer over commerce and shift to Delhi. He flashes his innocent smirk when he says, "I spent hours and hours sketching instruments and Mechanical drawings. The shadow-distance, the object-car-building distance turned into my playthings, where instead of learning the physics theorems behind them, I alluded more towards the mechanism, perspective and shadows behind it."
His engineering days turned out to be more of art and caricature virtuoso with the endless morale-boosting support from his Physics teacher.
"Looking at my artworks and my interest towards shadow drawings, my physics teacher encouraged me to take up my passion as my profession. Taking that as a cue, I left my engineering and joined Animaster Academy, Bangalore, to pursue my future in animation." The perspective towards his life's goal clubbing with art as a whole took over a new chapter thereafter.
The Animaster Academy served as a beacon for Jyotishman carrying multiple opportunities. Since then, he made it a want to paint every day. Be it capturing the ageing wrinkles of a woman's face or the dire expression of the busy vendors; he ensured to experiment with innumerable human portraits and new techniques of art through shadow sketching. "I made a deal with one of my buds from the Animaster Academy to visit Majestic bus stand every weekend. The purpose was to go there with a stack of rough papers, sit the whole day and sketch random pedestrians. While others may point out the necessity of attending professional model posing classes for perfections but it wasn't important for us at all. To look about, everyone posed for us unknowingly, by standing, sitting or just waiting. All we had to do was to capture that pose on our papers. Sometimes we would practice stick figure art style and the other times we would try out shadows. It was very compelling for us as we raced to sketch about 100 portraits a day." Those joyous experiments made him an expertise in 'line of action' concept and developed his confidence in sketching human actions.
Stepping into the world of his own was a big challenge for him; he tried to earn a living while retaining his passion for sketching. After fleetingly working at a few start-ups and designing houses, he finally landed up at BYJU'S as a 2D graphic designer. Obtaining the privilege to work as a 2D artist as well as honing his talents for sketching, Jyotishman started observing and absorbing new techniques and styles on 3D illustrations, abstract wall art and crafting.
His close-knit friendship with the BYJU'S in-house artist clique gained him ingress to numerous other art techniques; together who often collaborates and pitch in their individual ideas to come up with massive creativeness. "Getting to know the art team guys and learning new styles and techniques to work on the cintiq tab, I have seen constructive progress in my own style of painting. These days, I doodle a lot, like faces, comic characters and natural elements; whatever appears appealing to my eyes."(he laughs)
Next time you meet Jyotishman, don't get astounded seeing him doodle Narendra Modi or Byju Raveendran. And if you ask nicely, he might doodle you too!
Like this story? Read similar stories at Life At BYJU'S. Follow @lifeatbyjus on Facebook.