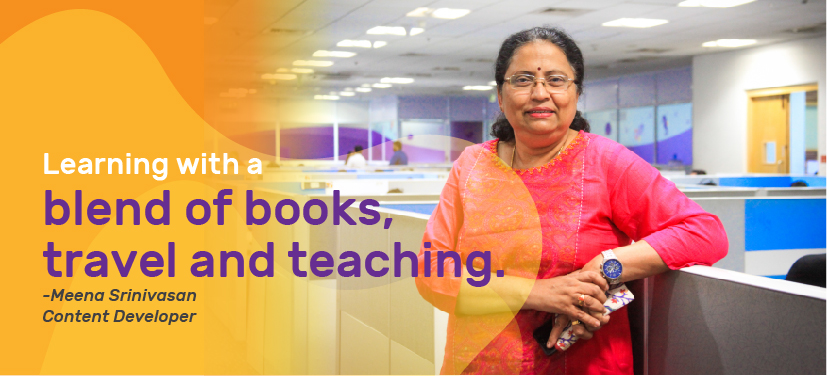 It is often said that, 'Learning begins at home' and 'Parents are a child's first teacher!' Parents have a very special and personal way of teaching their own child which a school may not be able to exercise.
Meena Srinivasan understood this while teaching her own son and daughter. That's when an idea incorporated her head and she decided to take up the role of a parent to many kids and help them with their studies from the basement of her house, teaching with the same amount of love and care which she does with her own children.
The role of a teacher is of paramount importance both for the present and future of a student. And as a teacher it is our responsibility to take up that role carefully.
A teacher for the last 26 years, Meena joined BYJU'S three and a half ago as a Subject Matter Expert with the hope of reaching out to more students and helping them enjoy learning. At BYJU'S, she uses her own innovative styles of guiding students in understanding their topics better.
We, the team StoryWeavers had a chance to interview her on her ideas of empowering women, her utmost love for helping children become better learners and what spurs her on.
TSW: You have been teaching for over 26 years. What spurred you to pick it up as a career?
MS: Married to a Navy officer, my life was always on 'hop-skip-jump' mood until one day I decided to make Bangalore our family base while my husband travelled for his work. I took up the responsibility of looking after the house and teach my children before they commenced their preschool. During one of those days, I realised that they enjoyed my animated style of teaching and learned better at home. That sparked an idea in my head and after few months, I opened my own home tuition centre called 'Adrithi'. My forte was specifically the slow learners. Since, it was a part time role, I could easily switch roles – from a homemaker, a mother, to a teacher – managing the household chores and simultaneously teaching those young children.
I believe that a child can understand better if as a teacher, we feed their inquisitiveness with practical examples. When I started my tuition classes, I assured to provide education based on practical knowledge, citing examples from the everyday life so that the students can relate easily and understand better.
TSW: Biology is considered to be a complex subject. What made you choose that subject?
MS: Well Biology has been my favourite subject ever since I was a student. I always enjoyed spending more time amidst nature, understanding various species and plants and discovering my own ways of learning their biological names. We are so lucky to have been born in a country like India that is blessed with rich and diverse flora and fauna. Just look around and we can find 10,000 different varieties of species and plants.
When I started teaching Biology to my students, I realised they could easily grasp my teaching techniques and that inspired me to continue with the subject. At BYJU'S, I get to connect and guide students of different age groups, coming from different backgrounds with different comprehension levels. At the end, it is very satisfactory when a student walks up to me with a thank note or a smile of gratitude and share their future career dreams in the field of Biology.
TSW: You have an interesting style of making students understand you. Tell us something more on it.
MS: I have always taught my students to approach concepts from a practical point of view since learning can never happen if one memorizes lines from their textbooks. Also, change in nature or style of studying is always refreshing for the mind.
My daughter has always enjoyed her studies while travelling, especially when she is preparing for subjects like science and history. That little change in environment never fails to uplift her mood and understand concepts better. I remember the time when she was preparing certain biology chapters for her 9th final exams and she was completely stressed out. She reached a point where she was about to give up and not write that paper. Then I realised that force feeding her mind to just sit and study will not help her at all. Rather a change in environment can boost her up. So I packed a bag with few eatables along with her biology books and drove her all the way to Ooty. On our way, we stopped at several points to show her examples of plants and species from her book and explain the related concepts simultaneously. By the time we reached Ooty, we could finish almost 70% of her syllabus, where she registered everything she saw with a peaceful mind.
TSW: From a teacher to a Subject Matter Expert at BYJU'S. Tell us about this transition in your career.
MS: I was already working with BYJU'S as a part time subject matter expert for a couple of years. Hence, joining BYJU'S as a full-timer felt like the most natural next step. I was aware of the work culture and thus was very excited with the new twist in my life. To add in, when I met Vinay and learnt the vision of the company, I immediately got motivated and the next thing I did was join BYJU'S. There was absolutely no second thought involved. [smiles warmly]
It's been a year and half as a subject matter expert at BYJU'S and the learning has never ceased. At BYJU'S, the students join us with the hope of enjoying learning and gets satisfied by developing a burning desire to learn more things. As I keep telling my students, 'the world is your oyster'.
TSW: You have been working for woman empowerment on your own wee ways. What triggered you to take that initiative?
MS: I believe that from being a daughter, a wife, a mother and a homemaker – the social demands are never-ending. I feel a lot is expected out of a woman at every stage of her life both at the personal and professional front. Many a time, we see women struggle to balance and land up  sacrificing work for personal life or vice versa. Thus, we need to take a serious stand on educating girl child and make them strong enough to stand on their own feet and strike a positive balance in their lives.
Teach one girl child – you teach the entire generation.
The incident which triggered me to think deeply about this  was when I took my son for his driving class and witnessed the discomfort the young girls felt during their driving classes. I spent many sleepless nights, thinking about ways of helping them learn to drive without any discomfort or hesitation. Few weeks later I decided to open my own 'Ladies Only Driving School'. With a driving license and 32 years of experience, I now provide driving classes to women during my week-offs and gazetted holidays. Their faith and confidence is so infectious that watching them take control of the wheels within a week under my guidance and gaining that self confidence satisfies me a lot! [smiles broadly]
Meena has been adding sprinkles of positivity to many lives – sometimes through her extended helping nature and rest of the time by making young kids fall in love with education. The team BYJU'S thanks her for her immense contributions in the field of education!
Like this story? Read similar stories at Life At BYJU'S. Follow @lifeatbyjus on Facebook.