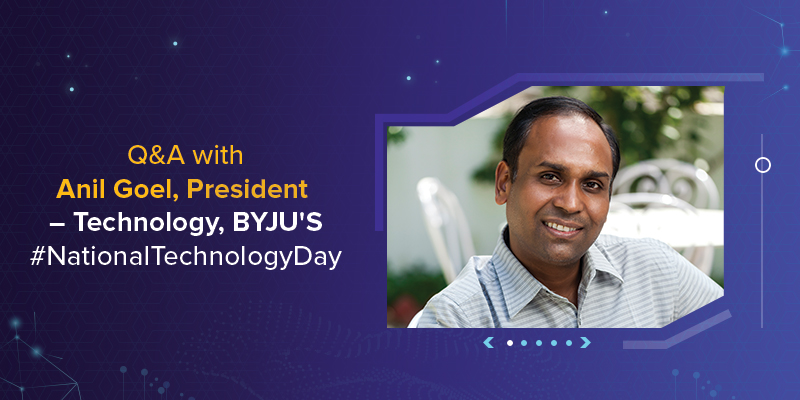 On the occasion of National Technology Day, our President of Technology, who helms BYJU'S tech efforts, outlines the innovative systems that bring BYJU'S unique offerings to life 
Over the last two decades, India's technological ecosystem has grown at an exponential rate, propelling the country closer to becoming a global powerhouse. On this path, the edtech sector is ushering in the next generation of disruption by leveraging technology to empower both educators and students, bring about positive systemic changes, decentralise education, and erase access barriers, among others. BYJU'S, with its blend of cutting-edge technology with world-class pedagogy, is leading this revolution from the front, providing learning solutions made in India for the world. 
But, what goes behind building these global learning products that offer personalized, immersive and effective learning experiences to students across grades and locations? 
Anil Goel, President – Technology at BYJU'S, discusses the intricate technical mechanisms that power BYJU'S products and enable them to transform education to help build a community of active learners worldwide.
We start with the big question: How would you describe BYJU'S tech philosophy? How are you building a culture of continuous innovation within this always-on and robust team?
AG: At BYJU'S, we learn to innovate and innovate to learn. We keep students at the centre of everything that we do. Our focus is on understanding students' learning needs and innovating solutions to help them become better learners.
We leverage industry expertise and deep technology at scale to transform education to create better, immersive, and active learning experiences. Inspiring and nurturing excellence, one learner at a time is what motivates our pursuit of continuous innovation. Our technology team innovates to learn and learns to innovate. 
By blending cutting-edge technology with pedagogy, our team provides unique learning experiences to students to make learning engaging, personalised, and relevant.
Can you give us a brief understanding of the workings and functions of the tech team at BYJU'S?
AG: Tech lies at the core of BYJU'S and innovation is part of our DNA. Having a culture that is highly geared towards experimentation makes us an extremely future-ready team 
Our tech, product, and design teams work in tandem with each other and every new idea is encouraged and discussed at length. 
We believe that having diverse perspectives is key to building world-class tech solutions. Over the years our end-users i.e. our students have been some of our biggest co-creators as well. 
Their input plays a crucial role in guiding our decisions right from prototyping to post-production.
Personalisation of education is a key tenet of BYJU'S. How are you bringing personalisation into learning? 
AG: The right blend of technology and vast content enables us to create personalised learning paths for our students, offer highly relevant recommendations and predict and solve their learning challenges. Our adaptive learning platform creates a detailed and dynamic learning profile for every single student by using deep tech, AI and data science. This in turn helps us create highly personalised learning recommendations for each student. We also provide the learner with a whole variety of products, both synchronous and asynchronous, so they can choose a method of learning that fits them best.
By using data at the most atomic level, recommendation engines create a learning pathway unique to each user while considering the inputs related to user performance, time, and other student data such as grade, proficiency, type of errors made, etc. The student is set on a learning path which is optimised for her and the questions presented are also adaptive.
The inputs that go into creating the recommendation engine can range from subject affinity to chapter recency to topics trending in the region to present the most relevant pieces of content for each student. The app essentially understands the student's learning needs and leads them on a personalised journey. If they go wrong, they are taken on alternate learning paths until they are able to pick up the concept. 
Thus, personalisation is ingrained in designing the learning paths as well. This forms the bedrock of all learning processes and hence is a quintessential part of every course. Learning paths maintain a mix of both standardised and individual ones as the objective is to find and cater to the right fit.
Speaking of data, how are you leveraging technologies such as AI, ML to predict and solve students' learning requirements?
AG: Our underlying consideration for investments in technology such as Artificial Intelligence (AI), Machine Learning (ML), Analytics, etc. is how to better personalise learning and help better gauge engagement levels. We are constantly innovating along these dimensions to help better our product offerings for students.  By using AI and ML, BYJU'S is deep-diving into the learning needs of every individual student. Changing what is offered and updating recommendations is an integral part of customising the learning process. 
A large part of our existing algorithmic structure is based on AI and ML that understands a student's learning needs, as they use the app, to build contextual and personalised learning recommendations for them. 
In addition, our innovation centre, the BYJU'S Lab, is bringing together the best minds in tech specifically to push the boundaries of emerging and existing technologies like AI and ML in creating better educational products. 
Each student's need is different and can be challenging. In your experience, what is the biggest challenge in building products for children? How important is their feedback?
AG: The best way to create effective learning products for children is by listening to them and including them in the process. Student feedback forms an important part of our product-building process. Inputs from students start as early as the pre-production stage and go on well into post-production too. We have multiple touch-points for feedback built into our pipeline. 
During our concept stage, we do a lot of user research and cognitive focus based testing. We also have early beta versions during which we collect extensive feedback from both students and parents. Our group of in-house mentors are also in constant contact with students once a product is deployed. They collect and disseminate important feedback throughout the organisation. 
Within the products themselves, the detailed knowledge graphs created for every student help us understand how the student is progressing from a learning perspective and what their needs are. The entire system accounts for ample qualitative and quantitative feedback to help us craft the best learning solutions possible.
As the world slowly returns to normalcy, what does the future of education look like? How are you and your team working towards ushering in this new era?
AG: The future of education is headed in a dynamic direction. Emerging hybrid formats will offer students the best of offline and online experiences. Disruption in education will surge as learning rapidly moves from cognition to immersion. In the next decade, with blended learning and the convergence of synchronous and asynchronous mediums, students will become active, lifelong learners through tech-driven problem solving, discussions and simulations. Acquiring knowledge will become age agnostic as types of learners expand. This will truly put students in the driver's seat, and keep them in charge of their learning journey.
Students will have the flexibility to choose what concepts they want to learn and in what format they want to learn them. This will further push students to become self-learners.
As technologies evolve, so will learning experiences. By leveraging data, AI and deep learning, learners will have access to personalized guidance and support tailored to their specific needs, stages of learning, and preferences. They will be able to immerse themselves in sensory, visual, and true-to-life simulations using VR, AR, and Computer Vision for learning and skilling. These will be strengthened further through several layers of data and insights which will enable students across the globe to co-create in real-time. 
Advancements in technology will make education more accessible to sections of society that were previously marginalized. Students with learning disabilities and sensory impairments will be welcomed back into the fold as tech-driven advancements bridge learning gaps and break barriers. 
At BYJU'S, we believe in 'learner first, learner always'. We are entirely student-centric at our core and that is the principle that we prioritise while designing learning solutions for the future. Understanding our students' needs and the issues they encounter, as well as how technology can be leveraged to scale the product to the masses, is the key to successfully building product, tech, and design to create compelling learning solutions for the hybrid environment of the future. 
Great products and made by great teams. Please tell us about your team's future roadmap. What's the key to motivating them?
AG: The pandemic was an inflexion point for the edtech sector, enabling online learning to become an integral part of mainstream education. During this unprecedented period, we were fortunate to be a part of a sector of positive relevance. That's one of the best things about working in edtech, every feature or product that you build is experienced by millions of students. What you create, is an impact that touches lives. That's been one of the driving forces behind our team's momentum.
Secondly, there is never a second of complacency at BYJU'S. We're constantly innovating and our teams get ample opportunity to push their boundaries technically and creatively. A love for problem-solving fuels our teams. 
We also onboarded a number of industry experts to scale up different verticals to minimise the impact of the pandemic on learning. These teams worked hard to ensure that students were able to receive high-quality teaching without interruption.
At BYJU'S, technology and innovation are at the core of everything we do. While we want students to take charge of their learning journey and embrace making mistakes, we are continually adjusting our courses and the way we present our modules to ensure that students are getting the most out of each course. 
Our motivation lies in creating value – each day, every day – as we build an equal and accessible learning environment for all. 
On National Technology Day, what is your advice to students or young tech professionals about the future of this sector?
AG: Technology is inspiring. When we consider how far humankind has come in the past few decades, or even just the past couple of years, it's hard to not marvel at the progress achieved by the unique combination of technology and human insight. 
My advice to aspiring tech professionals and students is two-fold: First, follow your passion and try and understand how you can best utilise your skills to help others. And second, always endeavour to nourish your inner learner. Being a lifelong self-learner will not only prepare you for the unseen future, but it will also instil a natural thirst for knowledge, which will lead to new opportunities and possibilities, and help build confidence through mastery.