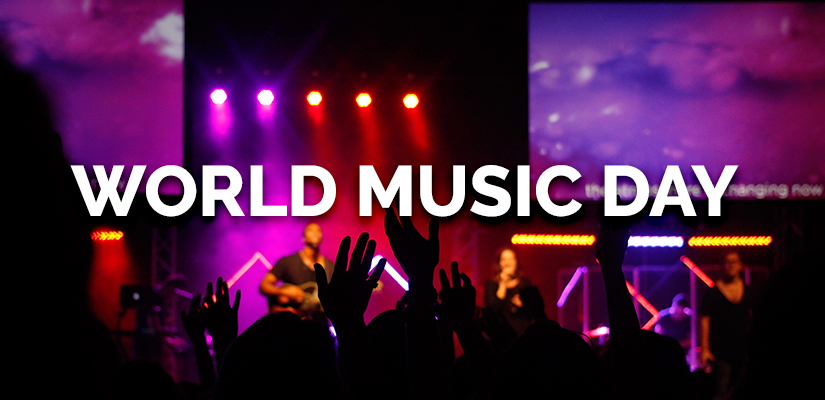 It was a usual busy Tuesday afternoon, half of the office crowd had skedaddled their way towards their afternoon munch when we (The Team StoryWeavers) made our expedition towards BYJU'S sound room. Well, that room was (and always will be) very different from the rest, as some exceptionally exuberant youngsters challenge the core of lifestyle there. You couldn't call them hipsters or yuppie, neither you could make any conclusion with their Sennheiser and AKG headphones, yet they swept off our feet and left us in awe with their mind-boggling jamming session. Their tepid conversations in-between, rattling subwoofers, the carefully engineered sound of basses and Shankh's well-tuned Cort guitar, it was all very resonant and a flawless half an hour that we enjoyed!
The best part about it is that these jamming sessions happen every day, which as per the team is one of the best ways of brainstorming ideas for the app. Coming to which, BYJU'S is probably the only or one of those rare Education companies where everything starting from the engaging and personalized ways of teaching to creating music for the videos is totally done in-house, which is a bit challenging for these bunch of experts. And the leader of this bunch, Karthik, famously known as 'KK' is no less and has a flair for good music just like an austere for perfection!
With KK spearheading the team, these eight young and enthusiastic engineers run the show when it comes to creating sound and music for every learning program at BYJU'S.
"Ranging from the digital audio workstation, the audio interface to Virtual Studio Tech Plugins, fender, nektar and novation we have all the latest instruments and the technology to design sound, since we produce it in-house and not outsource it from anywhere else," quotes KK.  
 The instant you play any of the videos from the app, you get to hear some amazingly well-synchronised music and foley sound effects. This blending of videos and sound with the action effects, itself stands as an ammunition that they have a penchant for perfection. What emerges out of it is completely unique, 'never heard before' music in a video.
"We use a lot of foley sounds and SFX (sound effects) when it comes to creating sound for any gestures or bustle actions in a video. It's very entertaining because each time, we need to grill our imagination power" laughs Vibhuti. She is one of the young additions who landed up in this creative team immediately after her engineering. Vibhuti is a cherry on top who brought fresh ideas and classical touch in the melodies they create now.
So how did BYJU'S sound team come into existence?
As KK reminisces – It all began one fine day in the month of July of 2013, when team BYJU'S was in its early days. KK joined the team as product development manager and took the floor by storm. The initial products were CAT and GMAT focused with no background score." It was a hurricane amount of work that needed to be done. I started adding sounds and effects to make the videos appear more interesting. At that point, I realised that instead of being a one man stand, I needed a team to bring these ideas to life."
Eventually, new members like Prashant, Amar, Richard and Shankh were prepended while the decision was made to record live, add music, enhance the sound and make it public. Surprisingly, the newly added sound foleys to the pre-existent video lectures were well received by the aspirants who were preparing for all sorts of competitive exams. Thus, taking this as a cue, KK marshalled his troop to add music for all their video lectures, a phenomenon which was never seen before in any app based education. Thus, they reached the point of no return from where it was a journey of mix and match, research and forge new sounds and mostly jam, for fun and work.
"It was a big challenge for us. We were very few in numbers and the workload was way too much. There were times when we stayed in the office overnight to complete a given task. It was all the way fun because we were doing what we have the passion for." quotes Prashant.
With young and energetic people like Amar, Shankh, Richard and Vibhuti filling in, the workload lightened up and the jamming sessions increased. "We often go to 6th floor to jam and meet people who could give voices to our recordings. We have also formed our own band since we have people with different taste in music," says Alamsha, the youngest addition and one of the best composers when it comes to using Presonus Studio One.  
What makes them stand out amongst the sea of musicians is their 'to the hilt' effort to make music from the scratch.
"We try our best to enhance music to such a level that each piece sounds different and unique. The main point is to diversify music so that the viewer finds it interesting. In order to keep every byte of music original, as a team we don't loop them or take from online sources. For instance, if there is a scene of pouring water from a mug or the sound of footsteps, we go and film the entire scene for the sound effects, rather than 'stealing' it from YouTube" grins Arunavo, the chill-out artist turned musician.
When we asked how long it takes to add music into a video? The answer was surprisingly jiggling of heads. "We do not have any fixed time or formula. Sometimes it is half a day and the other times it even takes a week. Be it for a video app or a game, adding sound to it acts like a prodigious tally to it. Thus we keep on improvising on melody all the time."
Leaving this aside, the best part which makes them hone their talents is the opportunity to jam for better music. The room which they call as their magical harbour has an aura of its own. The metamorphosis shift from a collective noise outside their cabin to something mellow and tuneful motivates these musicians to think differently from the rest of the BYJUites. The electronics, the ambience and the latest recording equipment draw from tributaries all around to give the feel of vehemence. If that is not enough, KK and his team come up with new melodies for their band every time there is a social gathering, or sometimes even without any! In short, it is a room filled with fun and jamming. From outside, one can only take a wild guess until they get an opportunity to dig in.
Their constant effort to design music while crisscrossing in between recording sound, enhance audio, placing foley for animations, helps these masterminds to compose and try out new pieces of melody. "We are all here with a common passion the love for music, so it doesn't matter what educational backgrounds we have. While hiring someone, we only check their interest and their gusto to produce something new."
We asked if it is an easy cup of tea for anybody to get in the team – to which, both Prashant & KK smirked. Even if it is everyone's whim to be a part of this dream team as it is very rewarding for anyone's career, it is really exigent mixed with fun at the entry level. The team does not believe in the long interview processes; instead, they let the newbie fit in by giving them to work on any on-going project. But it's not that simple as one must work really hard to achieve the qualities they look for in a newbie. In short, if a person has the right attitude, passion and the exact zeal to create something new, BYJU'S is the place for them!
Like this story? Read similar stories at Life At BYJU'S. Follow @lifeatbyjus on Facebook.