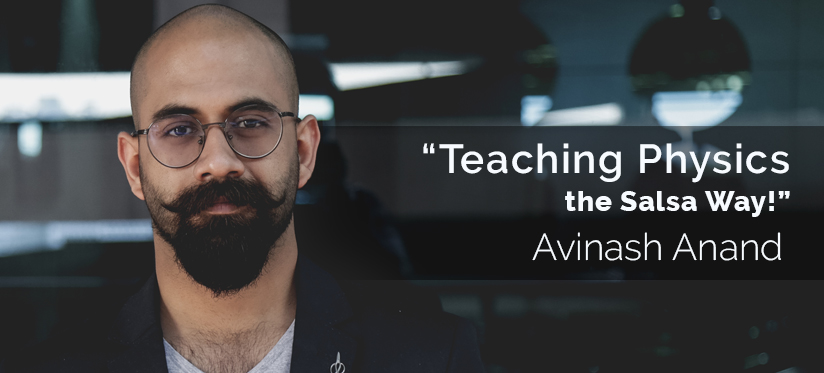 Do you know what is the similarity between 'Charlie and the Chocolate Factory' and our BYJU'S Team? Well, at BYJU'S we have many versions of Willy Wonka who are experts in their field of work. How? These BYJUites go beyond the edge to make their daily work an absolutely remarkable piece of art. Thus, their realm of extraordinary work and passion leads them to becoming the best in the country.
This piece is about one such interesting avatar of Willy Wonka, who makes the world of physics sound magical every time he takes a class. Meet Avinash Anand, who takes the whole chapter of Gravity to a different level through his video lectures. What's even more interesting is to witness how he pulls out his Salsa shoes and grooves to some crazy tunes when he is not thinking Physics.
Click on the video to explore the life of a teacher at BYJU'S
Q. Physics and Salsa – a very unique combination. Tell us about your journey.
To begin with, I was always tagged as the 'Physics Nerd' since my school days [Laughs]. This was probably because of the amount of time I spent  reading Einstein, Stephen Hawking and human psychology. Looking back, books have always been my favorite companion. I love to indulge in analyzing different situations from a psychological point of view.
As for the dancing part, I was one of those kids, who would groove to the tune of any music. It was my way of  relaxing. When I joined NIT, Trichy, I got an opportunity to perform with my college dance troupe. From there on, I never looked back trying out different dance styles.
In 2012, I moved to Bangalore and started my career with Sandvik. The need to socialize and meet the local dancing troops let me stumble upon Salsa. My curiosity about the dance style made me travel to different cities, perform and meet new people. To let out a secret, Salsa helps me with my video shoots at BYJU'S. The amount of energy its musicality has, it helps me keep my tone rhythmic, allowing me to breath out and relax.
Q. So tell us about – 'Avinash the physics teacher'
Although I have always been passionate about the subject, the idea of teaching Physics never crossed my mind, let alone teaching in front of a camera. While I was still with Sandvik, I heard about BYJU'S from my roomie Aanand Srinivas who was already teaching Physics and Math there. We shared similar interest for books and Physics and our discussions on such topics would go on nights after nights. One weekend, he casually invited me at his workplace and after an interview with his manager, a week later; I officially became a part of BYJU'S. I was thrilled about it as the idea of enacting Physics concepts enthralled me.
Q. Stage and camera, do you feel any pressure? How do you waive off the fear?
Dancing helped me get rid of my stage fear. Now, being on stage boosts my confidence and gives me the feeling of being able to do anything in the world [Laughs]. I must confess that joining BYJU'S was very cliché in that manner.
My first video lecture was more of a performance where I ended up doing around 15 retakes for a 2-minute video. From modulating my voice to working on my expressions, gestures and content, I have come a long way.
Q. You have been with BYJU'S for over 3 years now. What according to you makes BYJU'S the ultimate workplace.
BYJU'S is a learning place for all of us. The kind of people, who comes here, bring in their own sets of talents. So each time we work on a new project, we end up learning many things from each other.
When I joined, I was dubious about the whole process of scripting and acting in front of a camera, because I had never done that. But all that nervousness shook off soon due to the never-ending support and encouragement I received from my colleagues. Thus, every morning, when I enter the office premises, I get the positive vibe and the zeal to push ahead and do something different from yesterday. That's what motivates all of us to come back again and again.
Q. To end with, what are your future plans in life?
My wildest dream (which he hopes to fulfill someday) is to be a travelling Salsa instructor in Europe with my Kindle and dancing shoes as my only companions. For me, Salsa is like Yoga, which gives me a pure ecstatic feel after a lot of practice. [Smirks]
On a serious note, being part of BYJU'S I have realized how much I enjoy teaching and how the unique concept of BYJU'S can help change the Indian education style. Ergo, my plan is to be with this company and work towards the goal of bringing in a revolution in the education system and make every child fall in love with learning.

Like this story? Read similar stories at Life At BYJU'S. Follow @lifeatbyjus on Facebook.