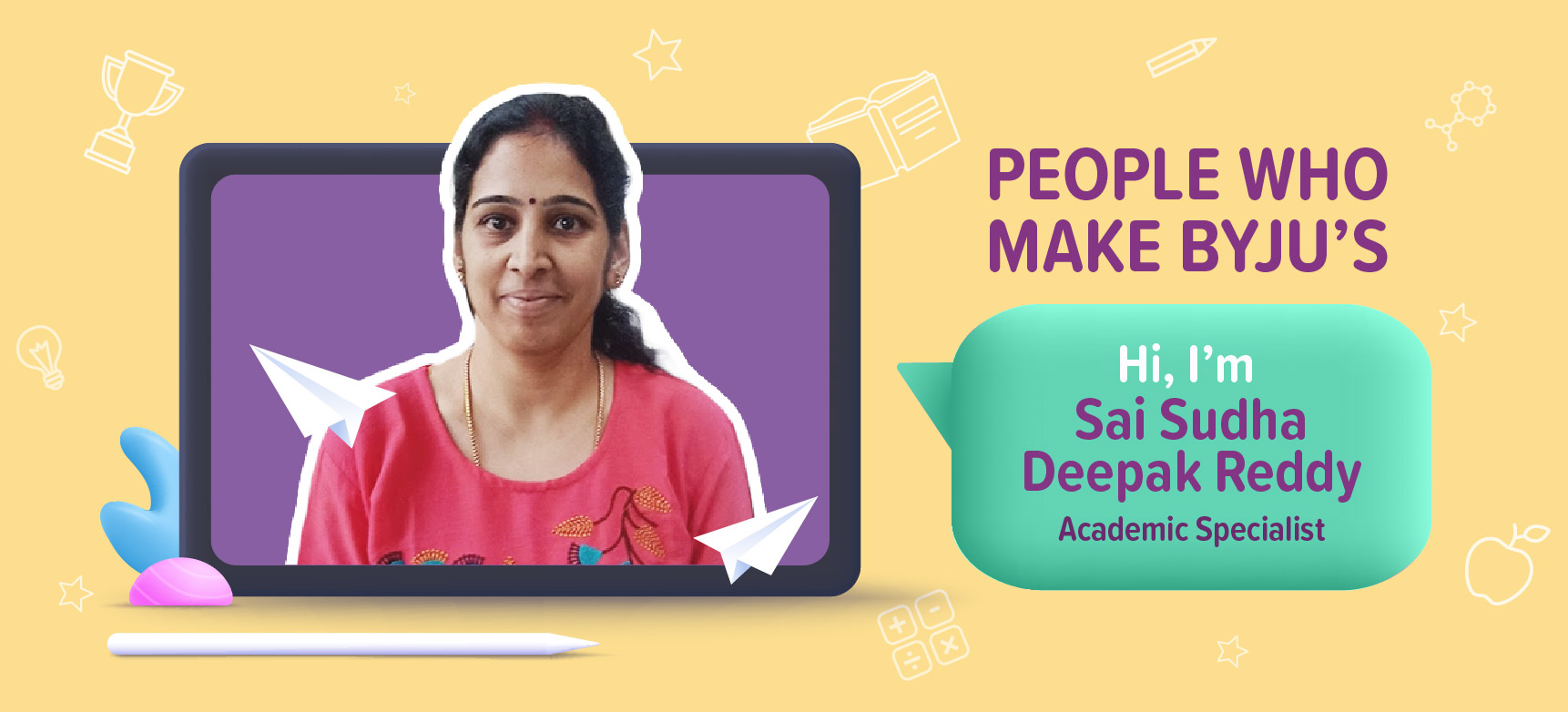 "My son has Down Syndrome and as a special needs family, pursuing a career in teaching was never going to be easy for me. When my son was three, my in-laws told me I wouldn't be able to have a career at all. Having completed a degree in engineering, that was devastating to hear. But it made me determined to prove this perception wrong."
Meet Sai Sudha Deepak Reddy, a teacher and a full-time mother. Sudha's journey into teaching has been guided by a lot of dedication and hard work. After working as a college teacher, she wanted to take a break to embrace motherhood. However, when she decided to return to work, she couldn't find a role that aligned with her needs as a mother.   
"I had to quash the assumption that mothers of children with special needs can't have a career," says the BYJUite. "When I joined the Student Experience team last year, I knew that I had landed a role that matches my skill sets and suits my needs as a mother."
Working at BYJU'S has also translated into an opportunity for her to keep chasing her career goals. "Especially, having access to various employee benefits and health insurance for my child, has been a huge relief for parents like me. It has helped me a great deal as my son needs frequent medical checkups for his social-emotional development," shares Sudha. 
A teacher and a full-time mom
As an Academic Specialist at BYJU'S, Sudha's role entails conducting online sessions on BYJU'S Classes, clarifying doubts, creating a positive learning environment for students, and helping them strengthen their understanding of the concepts in mathematics. 
"What's unique about BYJU'S Classes is that every session is structured to help students learn concepts and also practice and revise them. Concepts are explained with the help of rich visuals and storytelling, so that students can retain information for a longer period. This way, we encourage our students to become self-learners and creative thinkers," she tells us.   
While teaching gives Sudha a sense of fulfilment, she finds peace and purpose in her extraordinary motherhood journey. For her, parenting has never been about sacrificing her career. In her words "her career gives her the strength to fight for her son's future." 
She says, "My teaching journey at BYJU'S is inspired by my son. Though he cannot express his feelings like any other 7-year-old kid, he supports me in ways only an extraordinary child would. For instance, he would bring my BYJU'S T-shirt before each session to remind me to wear it. Even during my sessions, he would sit quietly for hours without interrupting. I am most certainly a proud mother."   
Also read: This Harvard graduate is changing the way students learn with innovative learning techniques
Cultivating trust from day one
Finding the right balance between work and personal life can be demanding for most working parents. But for special needs families, the balancing act gets slightly tricky. Says Sudha, "When I joined, I told my manager that being a mother is equally important to me and that I needed a flexible schedule to be there for my son. To my surprise, she immediately said, 'you don't need to negotiate that — it's a part of our culture.'" 
"Knowing that I can step away from work when I need to be there for my son, and that my team totally trusts me to balance the demands of my work, is invaluable for me," she adds. 
It's this culture of support and trust that has sparked professional aspirations for Sudha and parents like her at BYJU'S. The experience, as she says, has also opened her to avenues for helping out mothers of special needs children in their parenting journey.  
"When I embarked on this path, there was hardly anyone to guide me along the way," shares the BYJUite. "But I decided to educate myself, to be able to help my son. This has really inspired my husband and I to help others. The dream is to one day open a centre for special needs families, to guide them with their children, and to give them the beautiful life they deserve."      
(The story has been put together by our Storyweavers Naqshib Nisar and Damini Goel) 
Like what you read? Head to Life at BYJU'S to learn more about our work, people, and the stories that make us unique. To explore job opportunities, check out Careers at BYJU'S.