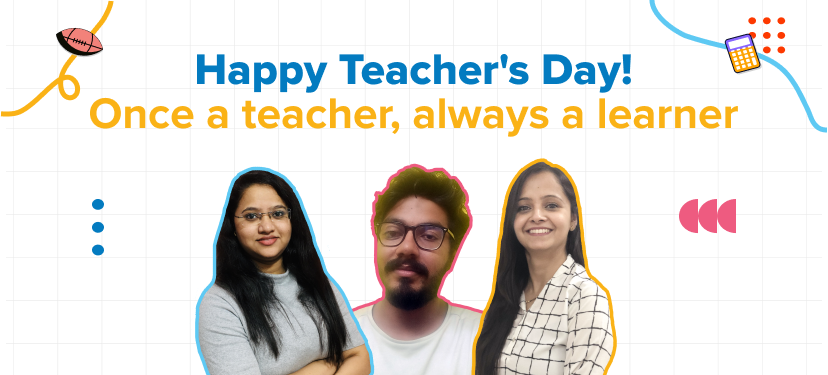 There is a famous saying that "if you want to learn, teach." The truth is, even teachers need to keep learning in order to teach their students as effectively as possible. At BYJU'S, our teachers have been leading continuous efforts to ensure that learning never stops. This means, staying up to date on smart teaching, use of technology in their classrooms, and employing different and creative pedagogical techniques to explain concepts. For some, this also translates into working individually and collectively to find solutions and create new learning environments for learners.
Our teachers, in the truest sense, are shaping young minds while instilling values, morals, and ethics among learners. And this brings to the fore, qualities like teacher leadership, creativity, and innovation. This Teachers' Day, our engineers-turned-teachers share why learning is a lifelong pursuit for them and how they are making STEM learning fun for students.
Using technology to teach and learn
"By embracing a student-like mindset and making self-learning a daily habit, BYJU'S teachers are honing their skills and developing new ones," says Shweta Sharma, as she takes us through her journey of teaching. 
For this Academic Specialist, teaching was always the first choice. Having pursued BTech in electronics and communications from Pantnagar town in Uttarakhand, Shweta started her career by teaching students in a government college. "I have always wanted to help students understand the topic better by blending theoretical knowledge with hands-on practical projects. However, during the pandemic, when we switched to online learning, I found myself tinkering with new technologies. This was quite a challenge because I wasn't very tech-savvy," she tells us.
 The experience drove home an important insight into how technology has become an intrinsic part of teaching and learning today. "I got curious to learn more about how tech tools can help students learn better, which is why I decided to join BYJU'S last year," quips the BYJUite.
Sharing a glimpse into her role, Shweta adds that her team ensures an ideal learning environment for students, where they are encouraged to ask questions and become creative problem-solvers. 
"Every child learns differently and it was truly inspiring when I actually encountered different learning styles to teach the same concept at BYJU'S. For instance: There was a topic on exponents. So I took a piece of paper and asked students to fold it from the centre at least three times. Then, I asked them to open the sheet and count the number of layers between the folds. They counted and got eight. It is simple 23 = 8. This is how we can apply maths in daily life," she explains.  
Becoming a teacher and a learner
With ever-evolving pedagogical tools and technologies, learning and expanding one's skill set is now more crucial than ever. And Sandeep Prakasan, our Academic Success Lead, understands that unlearning and relearning is often the catalyst for innovation. 
The 23-year-old BYJUite, who joined us in 2019, is responsible for crafting unique learning experiences for learners to increase student engagement and their interaction with teachers. 
Breaking down his role to us, Sandeep shares, "I teach physics to students from grade 6-10 on BYJU'S Classes, where one expert teacher, with the aid of strong visuals, will be ensuring conceptual clarity, while the second teacher will be focusing on instant doubt resolution. Many students consider physics tough, so our two-teacher model ensures conceptual clarity and personal attention to every student. We use real-life situations and examples, to engage students in healthy discussions and debates."
Talking about his unlearn-relearn experience, the BYJUite adds that keeping an open mind and learning from his coworkers has been a guiding principle for him. 
"During my college days, I used to teach physics to my friends during group studies but I had no experience in teaching school children. When I joined BYJU'S, I had to brush up on the concepts. During this time, my mentor really supported me and gave me the time to unlearn and relearn my teaching methods. A rapport was established, which enabled me to use my newly-learned skills to teach students the subject more effectively," he shares.
Creating leaders, not managers
Teaching is all about learning every day. Sakshi Jain, Assistant Academic Consultant at BYJU'S, believes a teacher has many roles to play, but the most important one is that of being a lifelong learner. Coming from a family of teachers, Sakshi's inspiration and desire to become an educator comes from her mother, who had a passion for education, and her students.
She says, "I come from the small town of Sanchi in Madhya Pradesh, where we didn't have many opportunities to work. Regardless, my parents have instilled the importance of being independent from a young age and a certain ambition to succeed. I would say, my mother has been my biggest inspiration. Unfortunately, she's no longer with us but I want to continue making her proud by following in her path."  
Sakshi joined BYJU'S in 2019 as a Team Lead; a role that required her to take one-on-one sessions with learners, helping them strengthen their concepts in mathematics. Now, as Assistant Academic Consultant, her role entails training Academic Specialists on how to make sessions more engaging and interactive. 
She adds, "I switched from teaching students to training teachers, which was a great learning experience for me. I learned to engage with teachers from different backgrounds and provide helpful feedback. Over the course of time, our Student Experience Team has built a great working culture where we aim to create leaders, not managers." 
Unlearning and relearning to become good learners and even better teachers is the mission that drives the Academic Specialists at BYJU'S. For these brilliant minds, it's all about translating their passion into something meaningful to drive an impactful change for our young learners. 
Like what you read? Head to Life at BYJU'S to learn more about our work, people, and the stories that make us unique. To explore job opportunities, check out Careers at BYJU'S.