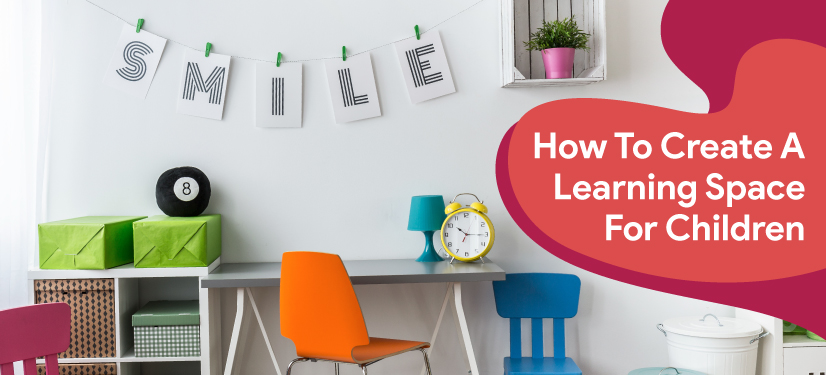 In order to enable their children to learn better, most parents take additional steps to ensure that their learning happens seamlessly. We have previously discussed different things you need to remember while setting up a playroom for children. Dedicated learning space helps children to concentrate better and focus on their study material. However, the process of creating this learning space can be quite challenging regardless of the size of the house and the available resources. 
In this article, we will cover different things to keep in mind while designing a learning space for children.
Questions To Ask Before Setting Up A Learning Space
As a parent, it can be tempting to recreate the elaborate learning spaces at home. What parents need to remember is that the learning space for children need not be fancy; it just needs to help your child focus on the task at hand. The best way to accomplish this is to try to understand how the child learns and what the child's needs and expectations are from this place. That can be accomplished by asking the question: "How does my child study?" 
Do they have a dedicated place or find a new spot every day? 

Do they like quiet places or does white noise help them focus?

Do they prefer a minimalist and tidy place or a colourful and visually stimulating one?

Do they like isolated areas or they want to know that others are around? 
The last question may not apply to younger children as parents should be able to keep an eye on them at all times. 
Things To Consider While Setting Up A Learning Space
Once you know what your child prefers in terms of the learning environment, you can move on to designing a learning space. Regardless of what your child likes or dislikes, here are some tips that will come handy while creating a learning space for children: 
Get a place that is exclusively for learning based on the child's preferences. For example: If the child prefers white noise, the child can study in the living room instead of the bedroom. Like we discussed in the

sleep hygiene article,

after a certain time, children will start associating studying with this place, and it will aid their learning. 

Ensure that the learning space, be it a room or a corner, has adequate natural lighting and is airy to make it comfortable. Get a desk, chair, and bookcase that is suitable for the child's height so that the child has easy access to these resources. Create a separate shelf for storybooks and textbooks, if possible, to help children avoid the temptation.

Invest in a blackboard or whiteboard with colourful markers or chalks so that children can write their weekly agenda and can readily refer to the same. Add a pinboard for slightly older children that can be trusted with pointed pins so that children can make this space their own. For younger children, you can have a magnetic board on which you could stick the pictorial learning schedule. 
These are just a few ways of creating a learning space for children. Parents should run their ideas by their children and get their inputs to make this learning space more productive. Focus on creating an effective learning space rather than a cool or social media worthy one. It will be easier to start off simple and then add different things as and when needed. 
Have you set up a learning space for your child? How was your experience? Are there any tips you would like to share with us? Do let us know in the comments or drop a line at storyweavers@byjus.com.