"Great things come from hard work and perseverance. No excuses."
-Kobe Bryant, former American basketball player
For 18-year-old Divyam Mishra from Jabalpur, Madhya Pradesh, the above saying is quite relatable. The Class 12 student is an ace rifle shooter, who is training day and night to achieve his biggest dream — representing India at the Olympics.
Getting into the sport
Divyam's stint with rifle shooting began in 2015. "I wasn't really aware of the sport at first. When I was young, I used to play with toy guns and toys that required focus. When I turned 11 in 2015, the Gun for Glory Shooting Academy posted an ad in the newspaper about their branch opening in Jabalpur, and my mother took me there to get enrolled. The academy is run by Olympic bronze medalist, Gagan Narang. That's how I got the first-hand opportunity to the sport," shares the athlete. 
Divyam was a fast learner and improved in the sport quite well. When he was just 12, he was one of the youngest players in the national-level school games, which acted as a huge motivating factor for him to continue mastering the sport. One of his biggest achievements was winning the fourth place holder in rifle shooting as a part of the Khelo India Youth Games 2020 (KIYG). KIYG is a pan-Indian multi-disciplinary sports competition for the country's under 17 and under 21 years youngsters. Currently, Divyam has been participating in the Indian team selection trials in 2022 and has qualified for the senior, junior and youth categories.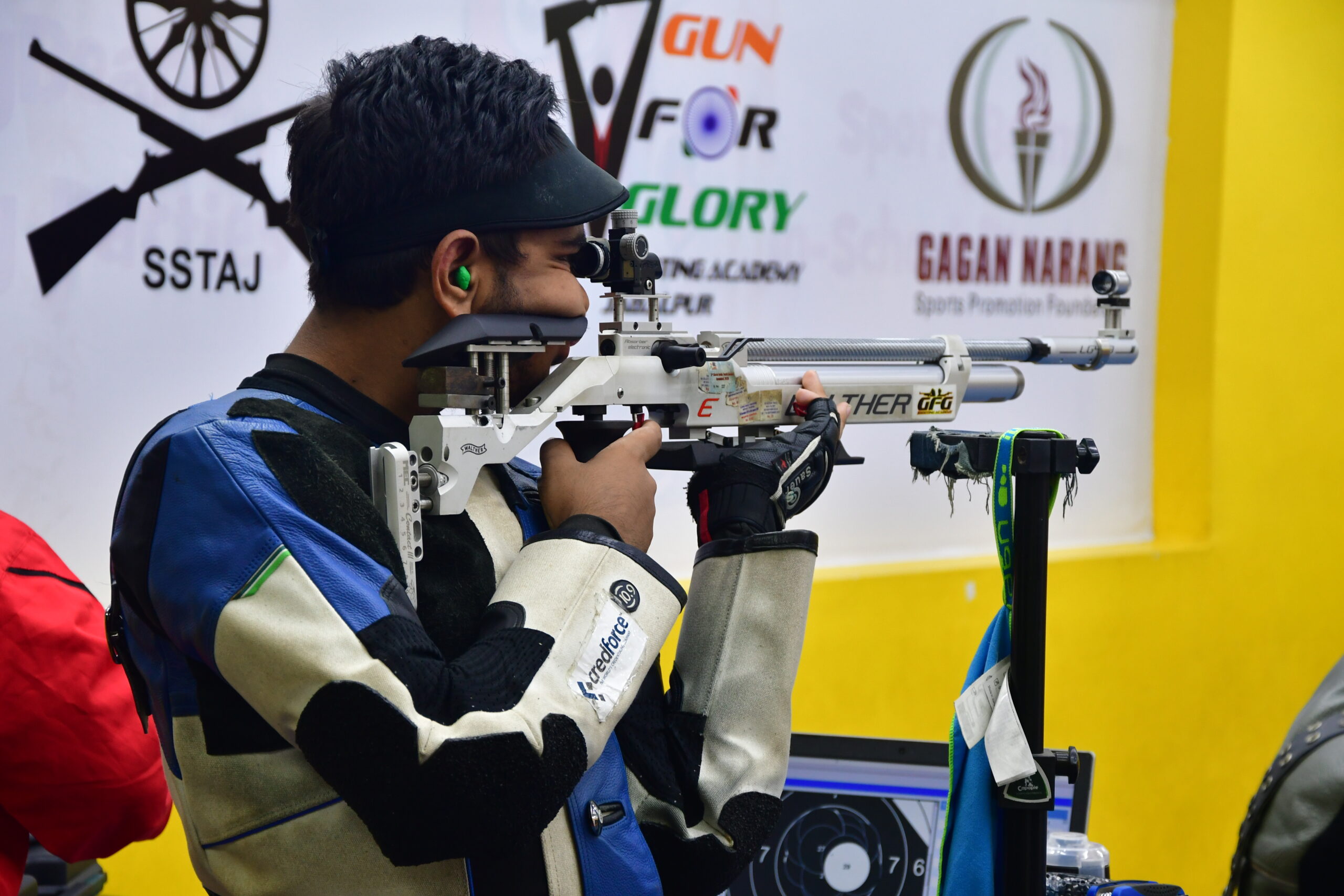 Focus is key
Divyam shares that the initial years of training and practice had been pretty difficult to manage. "When I was in Class 7 or 8, it was really tough to manage my academics with practice. But I guess in a way, eventually, shooting and studies complemented each other. I made a routine to manage my time. It made me more productive. When I needed a break from shooting, I engaged with my studies, and when I needed a break from studies, I practised shooting. Both went quite well together," he says.
Divyam's training schedule is quite hectic. It takes up the entire day and parts of the evening. "The sport requires immense focus and skill development. I go through technical training that spans two to three hours, one to 1.5 hours of physical training, and mental training as well. We get to learn breathing exercises and keep our head centred to avoid pressure on competition day and a lot more," explains the 18-year-old. He learnt time management and concentration through rifle shooting. The sport provided him with a certain level of patience and focus, and his attention span grew. These skills helped him with his academics as well. "I used to go to school early in the morning, then went to the academy directly after school. When I finished my training there, I came home and completed my homework. Hence, all of it just set itself into a routine, and I feel I grew through the sport and my studies," shares the 18-year-old.
My best friend BYJU'S
While Divyam managed both like a pro, BYJU'S came into the picture as a blessing. "I have been a BYJU'S student for the past four years, since 2018. When I began preparing for the India selection trials in rifle shooting, I was not able to attend school regularly. So, I had BYJU'S on my tablet, and I used to study wherever I had to travel for tournaments, or whenever I had time, I could squeeze it in my schedule. It helped me a lot to study regularly and to be at par with what was being taught at school," he quips.
Finally, the budding athlete wants to take up rifle shooting as a career. He also wishes to pursue an MBA on the academic front. "I have a big goal of participating in the Olympic Games. My current short-term goal, however, is to get into the Indian team shooting squad and represent India on an international platform," he concludes.
We wish Divyam all the best for his future endeavours.