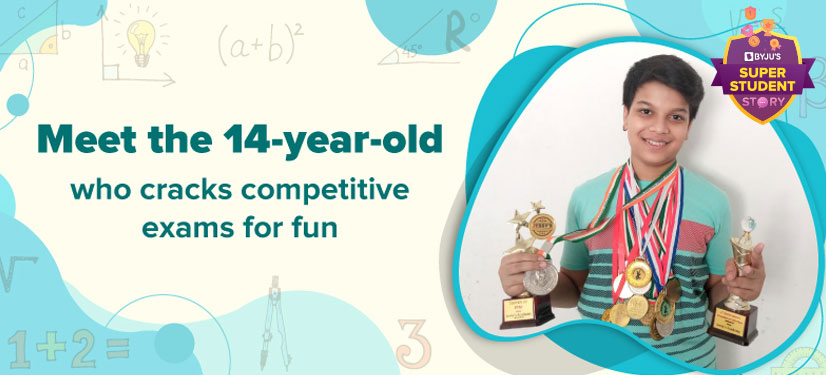 Dhruvil Gala from Swami Vivekanand High School, a self-professed fan of Mathematics, says that it was his interest in attempting the Dr Homi Bhabha Balvaidnyanik Competition along with learning with BYJU'S App that made him fall in love with the subject. "I love everything in maths!" he says, excitedly. "The subject is based a lot on practical lessons, and that's what intrigues me. When I grow up, I want to put my mathematical knowledge into practice and  pursue a career in engineering," says this ninth-grader.
Dhruvil was conferred the title of 'balvaidnyanik' (a Junior Scientist) after he earned a silver medal in the Dr Homi Bhabha competition in 2018. Considered as one of the toughest tests, the competition encourages students to go beyond their school curriculum and think out of the box. Supervised by experts from reputed organisations and institutions, it is designed for students of sixth and ninth standards. There are three stages in the competition, comprising a written test, practical examination, and an extensive project on any relevant environmental issue, followed by an interview. A student who manages to clear all of these stages earns a medal.
Dhruvil's curiosity to learn coupled with his interest in competitive tests played a large role in his success here. Speaking about his performance, he says, "It was a tough one. But I love challenges. I studied a lot and made my conceptual foundation in science and maths  strong.  Since I nearly missed out on winning a gold medal, I am preparing to take the exam again  this year."
Teenage dreams 
Pointing out Dhruvil's other achievements, his mother, Bhavini Gala, expresses pride, while saying, "He has a special interest in competitive exams. You will always find him either researching and learning from online resources, or studying from the BYJU'S app to prepare for some or other such exam. We encourage him to continue doing so as this helps him develop his interest in studies and encourages him to explore more." 
Dhruvil has been consistent when it comes to taking part in International Mathematics Olympiad and Nationals Olympiads for science and language. Apart from this, he has also earned a gold medal in the Prabhutva maths exam, a silver in Pravinya maths exam, and ranked among the top 15 in the CV Raman Scholarship Exam. "So far, he has brought home more than 15 medals from different competitions," his mother states with a sense of pride.
Learning companion to lean on
A student of BYJU'S – The Learning App for four years now, Dhruvil tells us that he is a big fan of the animations in the app, that complement  its practical style of teaching.  He also likes the fact that there's no tracker to evaluate his pace of learning. "With BYJU'S, I get to study in my own style and pace, which helps strengthen my understanding of the basics. The app has an ample number of exercises, quizzes and online tests to keep my understanding of concepts clear."
Speaking about his love for learning, his mother says that she is happy that she introduced him to visual learning through BYJU'S. "The visual animations on the app are really amazing. It boosts his confidence in studies and encourages him to take part in several other competitive exams. Also, his mentor regularly calls him to check on his learning progress and help him clear his doubts in science and maths." 
Just like his parents, Team Storyweavers is also super proud of Dhruvil and his achievements. We are sure that with his curiosity and interest to keep learning, he will surely fulfil all of his dreams. We wish him a bright future.
Meet our other BYJU'S Star Students:
How Shagufta Shaukat became a member of British MENSA?