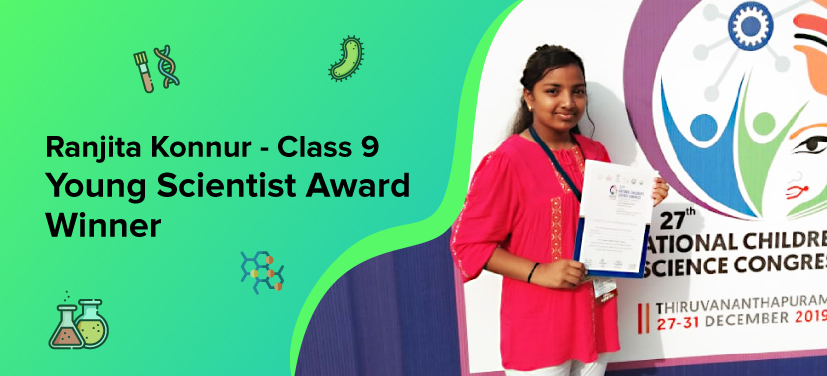 Every year, with the onset of winters, comes the news of increased pollution from crop burning. Towards the end of the harvest season, many farmers burn farm waste and stubble. Some of us, who live close to agricultural fields, may have even seen this blazing event in the past, as plumes of thick toxic smoke clouded the winter sky.
Despite knowing about the perils of this act, how many of us try to stop it? 13-year-old Ranjita Konnur, from Kalaburagi, Karnataka, happens to be someone who did.
Team Storyweaves sat down with her to explore her remarkable journey towards helping farmers reduce pollution. 
Inspiration strikes
Every great idea starts with a moment of inspiration. For Ranjita, this 'aha' moment happened close to home. "I live near a vast area of agricultural land and have walked on those fields since I was little. I would notice that every year, after the harvest season, farmers used to burn their agricultural waste from here. Nobody knew the use of this waste, and those days there wasn't any use for it either. When this burning ensues, dangerous gases like CO2 and carbon monoxide get released,  which are very polluting. Hence, I always wanted to do something to stop this," said Ranjita.
As she entered class 8, Ranjita found the perfect platform to work on this idea —  the National Children's Science Congress (NCSC), an event that helps students carry out research activities at a micro level. "The theme of my project in NCSC was science, innovation and technology for a clean, green and healthy nation. Under this, the sub-theme was  'waste to wealth'. I really felt like this theme was something that could help all of us," said Ranjita. who also credits her teachers for encouraging her to participate. 
She then went on to win the Young Scientist Award at the NCSC for the year 2019. Here's how she did it.
See the Young Scientist Awardee talk about her experiences and journey in her own words below!
The master plan
Eager to make a difference, Ranjita approached the Agriculture Research Station in Kalaburagi. There, under the mentorship of senior scientists, she came up with a simple, yet effective plan to help farmers reduce pollution and increase their income. The solution? Turn farm waste into paper!
"When farm waste is watered, it's moisture content increases and it turns into wood pulp. This wood pulp can be used to make paper. With a little research, we realised that to make one tonne of paper you need to cut six to seven big trees. But you can also get the same one tonne of paper with the waste obtained from just one acre of farmland!" said Ranjita, while explaining the crux of her project.
Not only did she find a way to reduce pollution by avoiding crop burning, but she also helped the farmers find a new source of income. "They can sell these paper products, like paper plates and spoons, to earn more money. They can also reduce disguised unemployment on their farms because they will need people to collect farm waste and turn it into wood pulp," said the young-scientist, effectively hitting two birds with one stone. 
But Ranjita didn't stop there. To make her project more comprehensive, she developed another way to better utilise farm waste. "An anaerobic digester is an underground tank where microorganisms can break down farm waste into fertilisers. We added this component to the project so that farmers had more than one way of utilising their waste. Plus, they could also save money because they will be producing their own fertilisers and pesticides instead of buying them!" said the 13-year-old confidently.
Change in action
With this stellar project in hand, Ranjita began approaching farmers. "In the first round, seven to eight farmers in Kalaburagi implemented my idea. Since then, news of our project reached all parts of Karnataka, and many more farmers started coming on board. As of now, those who have implemented our idea have earned collective profits of upto 10-12 lakhs," reports Ranjita, while speaking about her project's success.
These initial results have bolstered Ranjita to expand on a large scale. "Once I collect more data on our results, I wish to showcase my project to the Prime Minister too. My aim is to fix the problem of unemployment across rural India. I hope that instead of migrating and looking for work, people are able to work and earn a profit in their own hometowns," she added.
Support-system check
As for the support system that helped her think about the world in a different way, Ranjita credits her parents and BYJU'S. "My parents encourage me the most. Right from the beginning, they told me to observe everything around me and to think out of the box. They told me to go beyond my academics and observe everything. They encouraged me to ask questions," said Ranjita about her family, who she believes are her biggest supporters.
Also helping her put this philosophy into action is what she calls her trusted learning companion, BYJU'S. Ranjita elaborates, "BYJU'S provided me with real-life examples, which made me think more. When you like a subject you just study it. But when you love a subject you start thinking about it. This is how BYJU'S works. It inculcates a love for the subject in every student. BYJU'S doesn't tell you to study, they tell you to love the subject so that you can apply the knowledge  better." 
In addition, Ranjita also picked up a new skill while learning from BYJU'S. "I got the hang of presentation skills by watching teachers on BYJU'S. In a way, they helped me present my own project too!" she said.
Read more stories like this here
Reaching for the stars is class 10 topper Malavika!
How BYJU'S & Time Management Helped Ishika Score 98.4% in Her Boards
The BYJU'S student who aced International Mathematics Olympiad with Rank 15