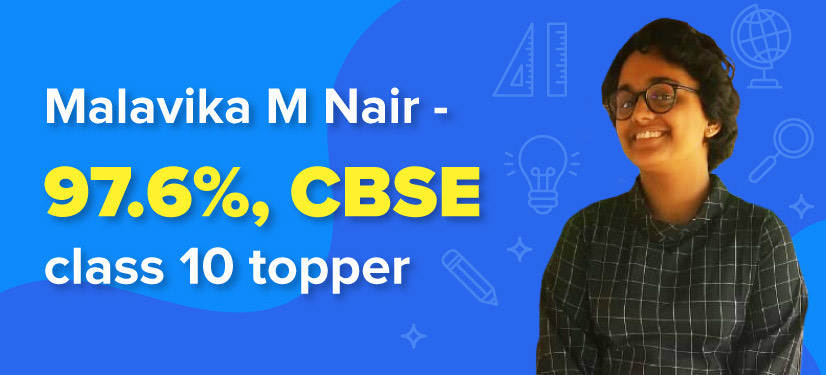 "Every time I find the answer to a question, I feel happy. I really like the problem-solving!" That's Malavika M Nair, a CBSE class 10 topper from Kerala. With an impressive score of 97.6% in the CBSE class 10 board examinations, Malavika spoke to Team Storyweavers about her preparation strategies, what inspires her, and what it takes to be a topper.  
Aiming For The Stars
An intelligent and self-assured student, Malavika's dream is to become an astrophysicist. "I have been fascinated by astrophysics as a child. Working for a space organisation like ISRO has been a dream of mine since I was in class 5," she said.
With maths and physics being the foundation of astrophysics, Malavika has a flair for subjects that most other students find intimidating. "I find maths easier than physics. But I think the concepts in physics are much more fascinating," said the ambitious 15-year old. 
With dreams of reaching for the stars, Malavika told us what helped her study for her important exams, class 10 boards. BYJU'S – The Learning App turned out to be Malavika's trusted learning companion throughout her journey.
Helping Every Step Of The Way
"I have been using BYJU'S since class 9 and it has really helped me in my board exam preparation," said Malavika. "Just before class 10 started, I decided to complete some syllabus in advance. I used BYJU'S for that. When I got stuck in areas and I couldn't remember concepts, BYJU'S was really helpful," she elaborated. 
When it comes to the most useful feature in the app, Malavika says the doubt-solving portal wins hands-down. "Doubt clearance is a great feature in BYJU'S. Whenever I ask doubts on the portal, I get a prompt reply. This really helped me during my final exams," said Malavika recounting the utility of the feature. 
Alongside BYJU'S – The Learning App, Malavika's BYJU'S Mentor was a steady source of support for her throughout her preparation. "My mentor is really helpful. She calls me every month and tells me about the new features on the app and updates me on my performance too. I have taken my mentor's help several times during my preparation," she said.
Full of simplicity and talent, Malavika has some helpful tips for other students preparing for the boards too!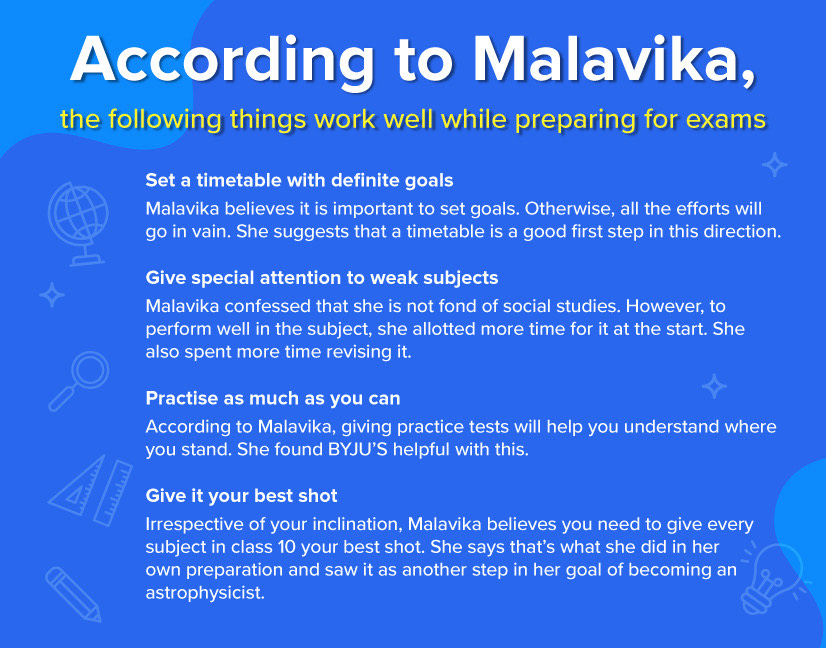 These tips are indeed very helpful, don't you think!
Team Storyweavers wishes the confident and bright Malavika all the very best for all her future endeavours! With all her hard work, we are sure she will achieve her dream of reaching for the stars!
Liked this? Read more stories like this here
Here's How BYJU'S Helped Rahul Top His School
Meet Anupama Verma, CBSE Topper, Singer and Chess Champ!
What Is Shreejeet's Secret To Scoring 98% In The Board Exams?