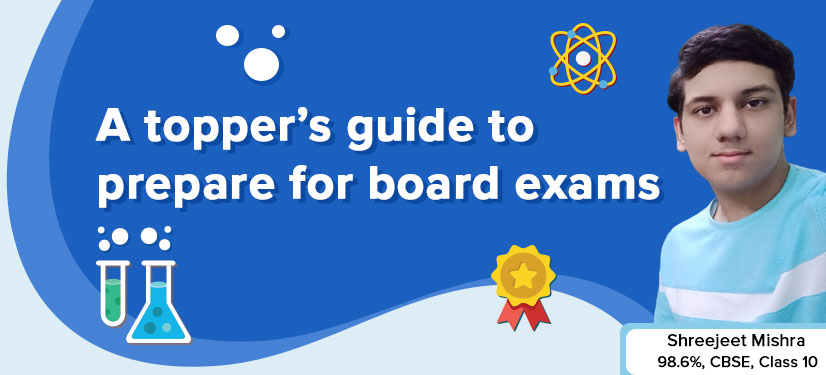 When the CBSE class 10 results were announced earlier this year, Kharagpur's Shreejeet Mishra had more than just one reason to celebrate. Not only did this confident and bright student earn a phenomenal score of 98.6% in the board exams, but he also experienced the pride of watching his name in his school's topper's board.  Given the frequent academic shifts and abrupt relocation, courtesy to his father's many Air Force postings, Shreejeet's excellent performance in the boards came as a sweet surprise for them. "I worked hard enough to score in the 90s but I wasn't expecting a 98.6%," exclaims the 16-year-old.
In an exclusive interview with Team StoryWeavers, Shreejeet spoke about his preparation journey for the boards and how he managed to score well against all odds.
Donning several feathers in his cap
While speaking to Shreejeet, we got a glimpse of the varied talents that this energetic boy harbours. "I am a basketball player and have been playing this sport for the last four years. So far, I have represented my school at the regional level and have bagged several accolades," he says. He further adds, "I even love collecting stamps during my free time and my collection includes around 800 different stamps!" 
Well, that's not all! Shreejeet has more to add in his already impressive list of achievements. He loves reading books of all genres, but you can find books on Indian economy, politics and current affairs at the top of his shelf. "I am a bookworm," he admits happily. "You can always find me sitting in a corner with my Kindle."
His interest in the economy and current affairs have always made him the most suitable candidate to represent his school in numerous competitions. "I especially love taking part in debate competitions as I get to learn a lot about the economy and Indian history at each competition. I was lucky to get the opportunity to represent my school in numerous debate competitions, in both inter school and regional levels," he says with a sense of pride.
But the most striking thing about Shreejeet is his love for learning languages. "I feel, by understanding different languages, I can get a firsthand experience of that country, its culture and history. Hence, I steal every opportunity to learn a new language. At present, I am learning to speak Mandarin and Korean through online classes and movies, while I am halfway through learning French and German," he points out, hinting that these lockdown months at home have been productive for him.
Along with all these feathers in his cap, his consistent academic performance tops the chart. For that, he gives credit to his parents, who have invariably provided him with the best possible environment to tickle his imagination and explore his creative outlets. The rest of the credit he gives to BYJU'S – The Learning App for being his constant learning companion. "I enjoy studying with BYJU'S App because of it's smooth interface. The quality of the videos is excellent and helps me clear even the tiniest doubt. The best part is that, even though I am travelling, I can wholly bank on BYJU'S for my maths and science."
For the love of learning
A unique aspect in Shreejeet's personality is his self-learning nature and his interest in learning beyond the syllabus. He admits, "If a certain topic grabs my attention, I refer to several books and browse through many sites to understand that topic in depth." 
" I spend an hour doing a quick recap of the important topics that were discussed at school that day, practice maths for an hour, and then study from BYJU'S App for another hour to either brush my concepts on a topic or start a new one. "
Being on a constant move due to his father's job, we asked how he copes up with the situation academically. To that, he modestly shrugged it off, stating that he had got used to these changes early in his life. But a closer look at his study routine reveals his secret strategy that allows him to be prepared for any situation. "I wake up early every morning and study for an hour. During that time, I prepare for the topics that my teacher at school would discuss that day. Once I am back from school, I relax a bit before studying again. I spend an hour doing a quick recap of the important topics that were discussed at school that day, practice maths for an hour, and then study from BYJU'S App for another hour to either brush my concepts on a topic or start a new one," he says, giving us quick glimpse of an average weekday in his life.
Study hacks from the Topper
Shreejeet shared with us his study strategies that helped him get 98.6% in CBSE class 10th board exams while scoring 100 on 100 in both science and maths.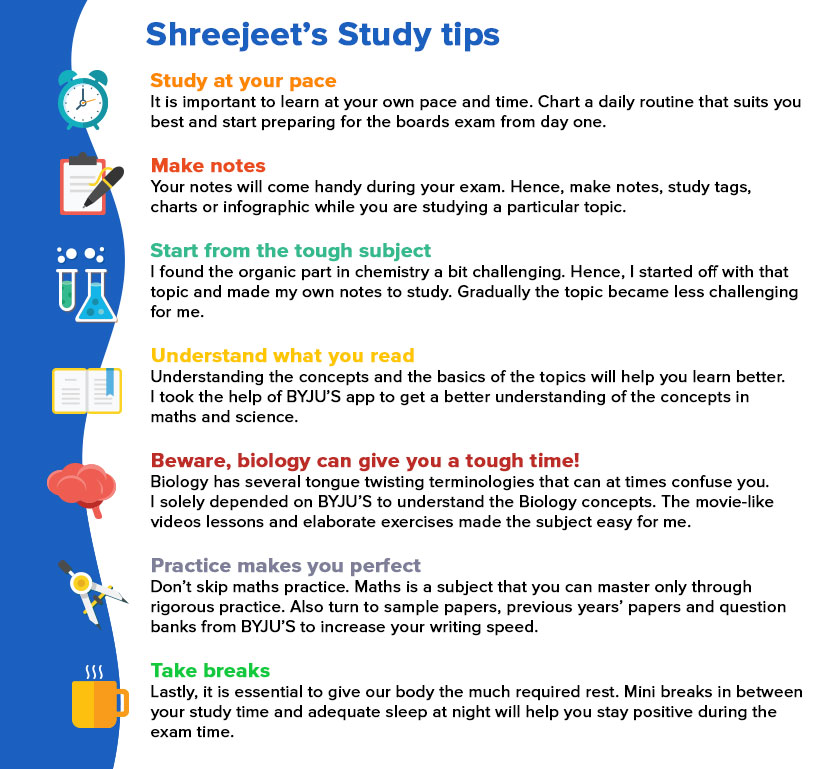 Shreejeeth recently became one of the chosen students of BYJU'S to be part of the prestigious webinar series – 'Hear it from the Topper', where he got an opportunity to meet his favorite teacher at BYJU'S and share his learning journey, exam tips and more. You can watch the episode here:
With a hope to enter the computer engineering field in the future, Shreejeet took the PCM + Computer Science combination for this 11th grade. We are sure that this talented student will surely fulfil his dreams and make us all proud. Team StoryWeavers wishes him the best for his future.
Liked this story? Get more study tips from our toppers: