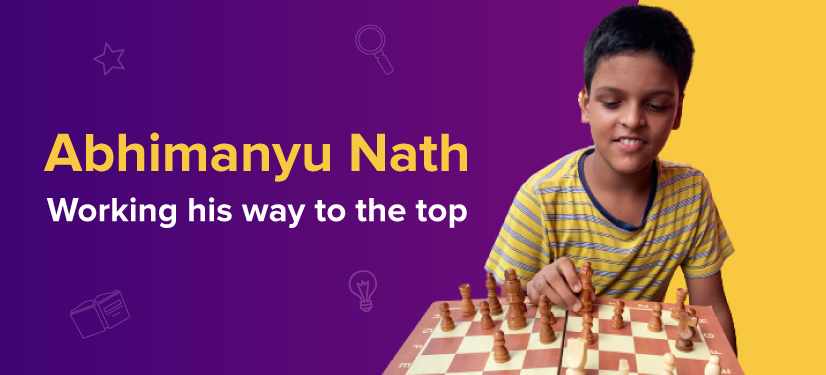 Abhimanyu Nath from West Bengal's Durgapur wishes to join the Indian military when he grows up, and the 11-year-old is keeping no stone unturned to make it possible. "I wish to enter the Rashtriya Indian Military College (RIMC)," he says. RIMC is a military school for boys in Doon Valley, Dehradun, and is a feeder institution for the National Defence Academy, Indian Naval Academy and subsequently the Indian Armed Forces. "Since childhood, it has been my dream to crack the qualifying exam at RIMC," he shares. 
Mission Ramakrishna
For now, the 11-year-old genius is busy studying at Ramakrishna Mission (RK) Vidyapith in Deoghar, the entrance exam for which is considered to be one of the most prestigious among schools in the country. With seats limited to just 80, the qualifying process here features up to 5000 people sitting for three rounds of rigorous exams. Abhimanyu managed to breeze through the tests and is currently studying there in Class 6.
The RK Vidyapith in Deoghar was established in 1922 in Jharkhand and it is the oldest institute of the Ramakrishna Mission, an organisation founded by the 19th-century spiritual leader and scholar, Swami Vivekananda, in 1897. Admission to the institute is based entirely on a student's merit and concurrently places a great deal of importance on excellence. "My classes have already begun. We are already being taught foundation courses for students who wish to get into the elite institutions of the country, such as the IITs, NITs and others," the 11-year-old shares. 
Routine on repeat
Studying at such an institute requires a great deal of focus on lessons. Therefore, Abhimanyu follows a daily routine when it comes to studying. Around seven to nine hours of rigorous learning is what a typical day of his includes. 
A major reason why Abhimanyu could qualify is his immense knack for knowledge and to learn new things, shares his mother Renu Nath. "When he breezed through the RK Vidyapith exam, we became quite hopeful about Abhimanyu's chances of cracking the RIMC exam. He's been attending online classes quite comfortably and he manages screen time remarkably well. Abhimanyu doesn't just complete his coursework on time but he is able to grasp mathematical concepts well in advance. Currently, he is in Class 6 but he is already solving problems from Class 8 textbooks," she adds.
Learning with BYJU'S
This is where BYJU'S has played a significant role in Abhimanyu's learning and development process, shares his mother. "He loves attending BYJU'S classes on his tablet. He is able to grasp concepts better, and has increased his retaining power – all thanks to the app. These classes have helped improve his learning capabilities and hence he has gained more confidence," Abhimanyu's mother tells us.
The 11-year-old also agrees with his mother. "I complete my regular classes at school and whatever I am unable to understand, I prefer clearing them by attending BYJU'S classes. They make it very easy for us to understand and then remember. Recently, I watched a YouTube video on how children learn and retain more information when it is through an audiovisual medium rather than just reading a book. That's exactly how I feel, and that is the reason why I love attending BYJU'S classes," he adds.
Children his age or younger love watching cartoons. So with BYJU'S having tapped into that segment with their audiovisual content, it has made learning concepts much simpler. I personally feel that we parents should enroll their children into more such classes so that they not only learn but also have fun as well.

– Renu Nath, Mother of Abhimanyu Nath
Of future and favourites
Abhimanyu says that online classes might be a probable mode of education in the future, even when the pandemic is over. However, he does like going to school, attending physical classes and interacting with his friends. "Online classes are not 100 per cent fun," he shares, with a tinge of disappointment in his voice. 
That said, the happy-go-lucky 11-year-old loves to play football and is never seen sitting at one place inside their house to study, we are told. His mother says, "You will either see him running or jumping around inside the house or playing with a ball. He just cannot sit still." 
To which, Abhimanyu is quick to add, "I mostly like playing football during my leisure time but I do watch cartoons on television at times. I like painting, reading books, and learning new things from the encyclopedia." 
It's fair to say that his leisure hours are as busy as his study time!