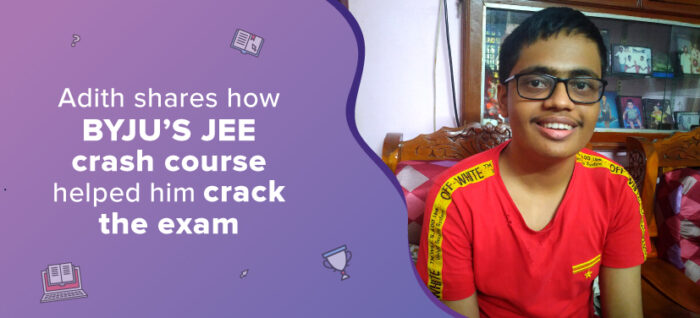 Adith Praveen, a BYJU'S student from Kerala, was elated when he learned that he had scored 99.03 percentile in the JEE Main exam held in March, the results of which were announced just last week.  
He had earlier attempted the exam in February, but believed that he could score more than the 98.5 percentile he had got then. And sure enough, with the help of BYJU'S JEE Learning Program and after devoting additional 7-8 hours for all subjects, Adith managed to get 99.03 percentile in his next attempt in March. 
"I was confident that I could attain a better score than the one I got in February," says the Class 12 student, who performed exceptionally well in subjects like Chemistry (99.67), Physics (98.67) and Mathematics (98.2), and is now gunning for a place in the IITs.
Team Storyweavers caught up with Adith to find out how he balanced time between his school hours and JEE preparation and the role that BYJU'S played in helping him deliver this excellent performance. 
"I opted for BYJU'S JEE (Main+Advanced) crash course while in Class 11 so that I had enough time for my rigorous preparation. This, coupled with my mentor's constant feedback, helped me to prepare well." 
Also Read: How BYJU'S helped Jullian crack IOQM against all odds
Success mantra
"I have always been interested in Science and Mathematics since childhood and thus studying engineering in Class 11 was a rather obvious choice," says the 17-year-old when asked why he chose to attempt JEE. He further adds, "Like most of us, I also dream of studying in the IITs."
In order to kick start preparation for this dream of his, Adith said he followed a strategic plan while preparing for JEE, and that ended up paying rich dividends in the exam. "I have been preparing for the exam since the time I was in Class 11, so it's fair to say I was quite motivated!" he says. 
Talking about how he found the perfect balance between his school hours and JEE preparation, Adith says that he religiously used the BYJU'S app after school every day. "While the first half of the day was spent at school, the second half would be all about coming back home and learning new concepts and clearing doubts on the BYJU'S app," says the soft-spoken boy from  Kasaragod in Kerala.
"My results can be attributed to the stupendous teaching methodologies employed at BYJU'S. Furthermore, my mentor ensured that I understood all the concepts and even offered to conduct extra sessions in order to clear my doubts." 
All in all, conceptual learning and setting daily targets helped him score well, he reveals, a success mantra that was made easy to be followed by using the BYJU'S app. "Even though the JEE score depends largely on a year-long preparation, the last few months remain crucial. This time can be utilised to revise important chapters and pay attention to the more minute details," he said, adding that it was by giving BYJU'S All India Test Series (AITS) that he was able to gauge his performance and improve his test-taking skills.
 With plans to either study Mechanical Engineering from IIT-Madras or Science from IISc Bengaluru, Adith is also making time for programs like the KVPY (Kishore Vaigyanik Protsahan Yojana), the results of which are due this month. 
Also Read: This table tennis champ loves BYJU'S and wants to become a teacher
Chemical turnaround
Chemistry as a subject is not every student's cup of tea. And it was no different for Adith, who despite being a science student, found it hard to understand certain concepts in Chemistry. Things took a turn for the worse when he scored low in the subject in his Class 11 exams.
 But as they say, the night is darkest before the dawn. For Adith, the dawn came in the form of the BYJU'S app, with the help of which he started fine-tuning his understanding of Chemistry basics. "I started doing practice problems and referred several textbooks and then realised that my fundamentals were not clear. That's when I decided to start using BYJU'S- The Learning App," says Adith. 
"The video lessons in the app explained every concept and its fundamentals clearly, and soon enough all my doubts were cleared. It was refreshing to see that the app explained the mechanism of every chemical reaction, which is not clearly explained in textbooks." 
Like many students of BYJU'S, Adith too reaped benefits from the visualisations in the app, which made it easier for him to understand concepts and then apply them while solving a problem. "During online workshops, the teachers taught us how to use different methods to solve a problem. This turned out to be more beneficial than the traditional method of teaching where we are usually taught only one solution per problem," says Adith.