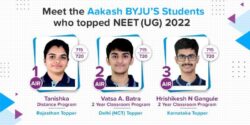 NEET is an exam that tests the mettle of even the most resolute and dedicated of all. Among the several challenges that a student faces, with Aakash BYJU'S, the right kind of preparation is definitely not one of them. The NEET 2022 results are a testament to that. Close to 81,000 Aakash BYJU'S students have aced the exam with flying colours. That's not all, they have also cracked the coveted AIRs 1, 2 and 3. 
Thrice the Celebration
Tanishka from Rajasthan has secured All India Rank 1 in NEET 2022 with a proud score of 715 out of 720! 
AIR 2 Vatsa A. Batra from Delhi, too has secured 715 out of 720! 
Following suit, Karnataka's Hrishikesh N Gangule, has cracked AIR 3 with a score of 715 out of 720! 
Achievers Speak
With several Aakash BYJU'S students in the top 50 AIRs, we spoke to a few of them to know more about their journey and the challenges they knocked out of their way. 
Vatsa, AIR 2 and Delhi(NCT) topper talks about how NEET requires hard work along with consistency. Error analysis brought him closer to achieving his dream score. Studying for multiple intervals of 1.5-2 hours each, he would take short breaks between each interval to rest his mind. His interest in the field can be attributed to his love for the subjects and to his elder brother who is currently pursuing MBBS. 
Hrishikesh, AIR 3 and Karnataka topper had nurtured the dream of becoming a doctor since childhood. He talks about how Aakash BYJU'S became his second home in his preparation journey with constant support and mentorship from the faculty. Avoiding procrastination was one of the key factors that fueled his success. Talking about being overwhelmed by mistakes, he stresses that learning is more about the journey and not reaching a destination. Tests are not meant to test your performance, rather they are meant to help you assess your strengths and weaknesses, he adds. 
Sanika, AIR 29 and Madhya Pradesh topper is popularly known as the hidden gem of Aakash BYJU'S. Born to engineer parents, Sanika wanted to do something that didn't involve looking at the screen the whole day. Her love for biology piqued her interest in the medical field and that's how she embarked on her preparation journey. She is a strong believer in accepting setbacks and moving forward nonetheless. Sanika asserts that one should not miss any step toward their dream. 
It is heartening to see such determined young minds aiming toward their dreams with such passion. With Aakash BYJU'S, their hard work and dedication found a guiding light that shaped their learning journey. Here's to achieving dreams and overcoming every obstacle!