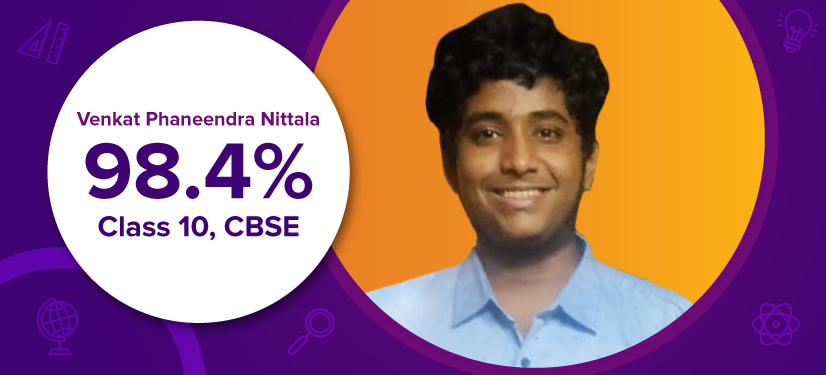 In most school courtyards lies a majestic wooden board that's been up on the walls for as long as students can remember! This board has a long legacy – it houses the names of the students who top important exams each academic year, that too in neat symmetric print. It was when Venkat Phaneendra Nittala, in class 6 at the time, laid eyes on one such board at his school that he decided that he wanted his name up there when he gave his class 10 board exams.
Cut to four years later, the now 16-year-old from Navi Mumbai can proudly say that his hard work has paid off. With an impressive 98.4% in the class 10 CBSE board exams, Venkat spoke to Team Storyweaves to spill the beans on a topper's road to success.
An early start
If Venkat's inspiration to work hard and perform well at the boards started early, his preparation started earlier than most others too. "The day after my final class 9 exam I started my preparation for my class 10 boards," he says. Mind you, that's a jump to class 10 with no break! He further elaborates "I didn't have a timetable as such but I had one rule – I had to study eight hours a day. As long as I could account for eight hours of studies in a day, I could do whatever I want with the rest of the time. That was the deal."
Venkat picked Maths, his favourite subject, to start his board exam preparation with. "I like Maths because of how logical it is. Besides, I think for Maths you need to allocate ample time for practice." Venkat believes this is the key for the subject that most students perceive as difficult. Does he have any other tips for students who are pursuing their class 10? You bet!
Topper tips
Venkat had a methodical approach to his class 10 preparation and he has shared some of its most important aspects.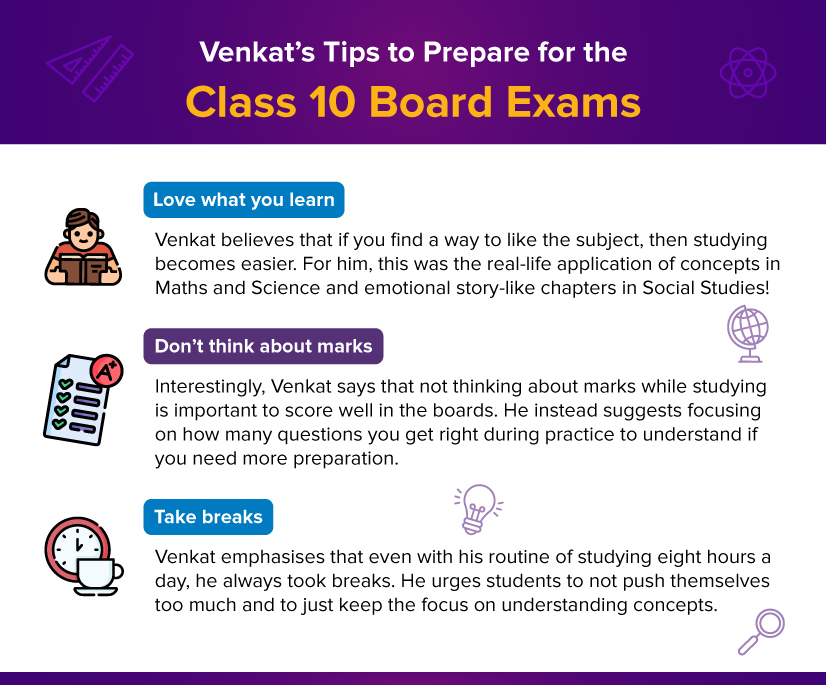 BYJU'S also supported Venkat through studying for the board exam. "In BYJU'S videos, they always answer the core 'why' question of every concept. It communicates well with the student," he says.
Venkat also found the Library Mode on the BYJU'S tablet particularly helpful. The Library Mode helps with quick revision by making concepts easy to be searched and found. "If you are in a class physically and you ask the teacher to repeat something once or twice, there may come a time when they will get frustrated. But with BYJU'S, especially the Library Mode, you can watch a video as many times as you want to till a concept is clear," says the teenager.
Turning sci-fi into reality
With his impressive performance in the class 10 board exams, Venkat has picked Physics, Chemistry and Maths to pursue in class 11. His ultimate goal? To enter the fascinating world of robotics. A sci-fi movie lover at heart, Venkat confesses, "I admire the way in which sci-fi movies are designed. The application of technology seems very real. These movies sort of inspire me and pique my imagination." Venkat has in fact already started tinkering with machines and you can often find him dismantling old contraptions and rearranging them.
With big dreams and ample talent to back it up, Venkat believes robotics has the potential to do social good. "In today's world, it's (robotics) an emerging and a beautiful field. You can do a lot of things there that can be beneficial to the whole community."
His parting words for students who want to pursue their passion and score well in the boards? – "Consistency, passion and practice – these three things are important. If you want to score well, you have to be consistent. You have to be passionate about what you're studying and you have to practice it regularly."
Liked this? Read more here!
BYJU'S Student Adarsh Cracks JEE Main with 99.268 Percentile
How to prepare for all the subjects? Learn at BYJU'S Topper Connect
What's Mohit's Secret to Scoring 98.8% in Class 10 Board Exams?