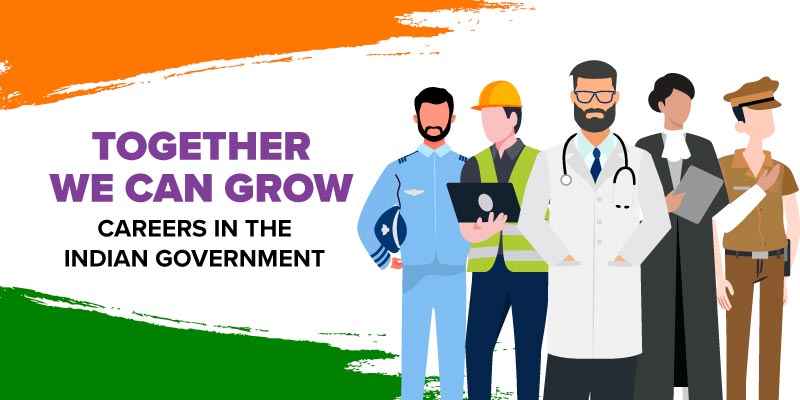 Every citizen of India plays an important role in bringing progress to the nation. So do you. It's time to be the change you want to see in little ways like pursuing a career with the Government of India, paying your taxes, work with NGOs and fighting discrimination too. Discover opportunities that inspire progress for you, and the nation. 
Indian visionaries Homi Bhabha, Nehru, Gandhiji and several other scientists, lawyers, and engineers who worked through Indian independence, played a crucial role in shaping Modern India. With the mindset to contribute to the nation's growth, India is now on the map for shaping progress on a global level too.
Why you should consider a career with the Indian Government
A sense of purpose, a progressive life, and good work-life balance are essentials that most humans wish to achieve while searching for a job. Government jobs provide all these essentials in life, allowing you to work towards the future.
Government jobs often provide the

comfort of having a schedule

, giving room to pursue a passion or explore other interests.

Explore

diverse work environments

based on interest: experience political hubs, urban areas, or even rural communities.

Add a

sense of purpose

to your life while working towards the greater good.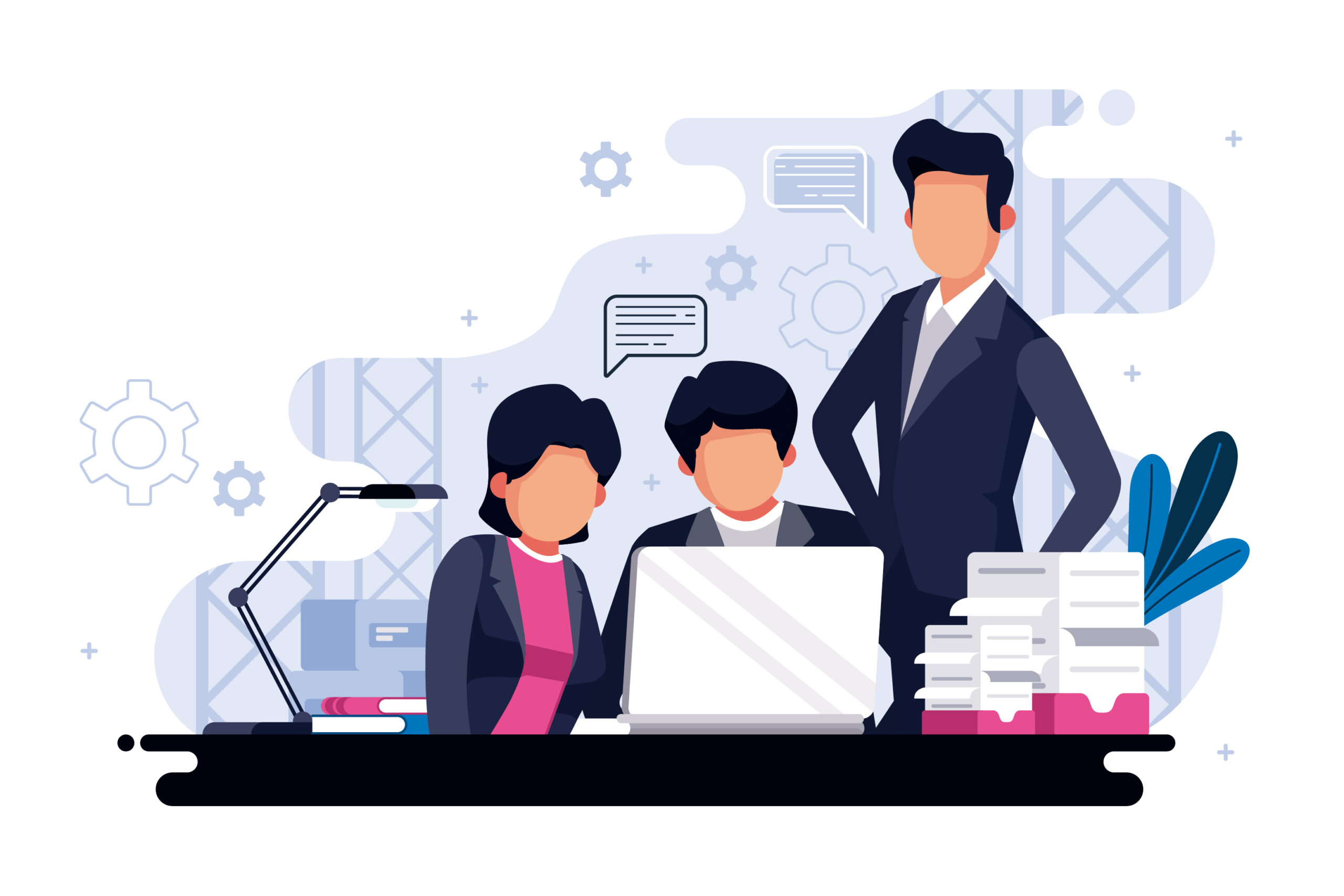 Explore Government Jobs to Inspire Change for the Greater Good
Scientist
Becoming a scientist is more of a continuous learning process than just reaching a job designation. Seek for inspiration from experts in the field like Homi Bhabha or Vikram Sarabhai. Spend your time studying, observing and researching. Alongside, work with top institutions like ISRO, NCDC, and INC to become an aspiring scientist, exploring science for the greater good.
How to become a Scientist?
Once you graduate as an engineer, pursue your MSc or MTech in the field, followed by a PhD or doctorate in CSE; The entire process will help you become a researcher or scientist. Alongside that, explore your area of interest, test assumptions, write papers and clear all academic goals.
Top government institutions recruiting Scientists:
ISRO (Indian Space Research Organisation)

IACS (Indian Association for Cultivation of Science)

NCDC (National Cooperative Development Cooperation)

BARC (Bhabha Atomic Research Centre)

IITM (Indian Institute of Tropical Researcher)

CSIR (Council of Scientific and Industries Researchers)
Public Sector Undertaking (PSUs)
Organisations whose paid share capital is 51 per cent or more are owned by the government, called PSUs. You can secure  Central PSU or State PSU jobs as these services maintain a relationship between the government and its stakeholders. 
Various PSUs hire engineering graduates annually, alongside the federal government and state governments. With increasing vacancies, engineering students apply for these government jobs. Being associated with Public Sector Undertaking jobs spark innovation, making it a reason why most Indians explore PSUs as career options.
How do PSUs recruit?
Most PSUs recruit through GATE, followed by a Group Discussion and Personal Interview. Keep an eye on the notifications released by PSUs on their respective websites.
Central PSUs that BTech final year students can explore:
Gas Authority of India Limited

Indian Space Research Organisation

Indian Oil Corporation Ltd.

Indian Renewable Energy Development Agency 

Bharat Sanchar Nigam Limited
Top PSUs job opportunities:
Assistant Executive Engineers

Government Doctor

Superintendent Engineers

Assistant Engineers

Junior Chemical & Metallurgical Assistant
Defence Services – Navy, Army, and Air Force
Take charge of the country's defences when working towards defence services. The  Joint defence service training institute by the Indian Armed Forces trains cadets across three services i.e. the Indian Navy, the Indian Army, and the Indian Air Force. If you are looking for a job that can give you inspiration for a life of adventure and discipline, this is your way in. Explore careers in the Indian Army, Indian Airforce, Merchant Navy and more such defence institutions. 
What does it take to secure a career in Defence?
Join NDA training by qualifying for 10+2 exam in physics and mathematics, or equivalent examinations from recognised boards. 
Top opportunities in Defence sector:
SSC Submarine

SSC Technical

Special Naval Architect Entry Scheme – SNAES

TGC for Engineering Graduates
Central Government Jobs
Central Government jobs are trending jobs in India. Most aspirants aim for jobs in the central government to explore exciting entry-level job opportunities. Central government jobs have  opportunities across sectors such as Railways, Bank, Police, Defence, PSU, PSC, and more.
How to secure a Central Government job?
Prepare for the upcoming UPSC exam for great central government job opportunities. Engineers can associate with public sector institutions while taking government employment tests such as IPS, IES, IAS, and IFS. 
Top positions in Central Government jobs:
IPS (Indian Police Service)

IAS (Indian Administrative Service)

IFS (Indian Forest Service)

IES (Indian Engineering Services)
Railways
Indian Railways are a prestigious network to be reckoned with. Being the world's second-largest railway network, it is crucial to upkeep at the best costs. The growing operation developed various jobs, including junior engineers, inspectors, trainers, technicians, senior management, loco pilots, group general manager, and more. Secure a job where you can travel around the country and explore various positions in the field.
How to get a job in the Railways?

 
Railway Recruitment Board or RRB organises examinations for recruitment in railways. Apply under the 21 zones that RRB offers, which provide region-wise notifications for exams too.
Explore top positions in Indian Railways for engineers:
Central Engineering Service

Electrical Sectional Engineer

Department Engineer

Sr. Section Engineer

Junior Engineer

Project Engineer

Assistant Divisional Medical Officer

Telecommunication Engineer
SSC (Staff Selection Commission)
Staff Selection Commission is an organisation under the government of India. It recruits people into various posts in the ministries and departments of the government and its subordinate offices. Engineering graduates can explore SSC jobs to work in a dynamic, collaborative workplace. Challenge yourself by exploring a career with SSC.
How to prepare for SSC exams?
Study your theory for exams like SSC CGL while preparing for the applicants' physical ability testing. 
Top Positions in SSC:
Inspector in Income Tax

Scientific Assistant

Assistant Enforcement Officer 

Inspector in Central Excise

Assistant in Central Vigilance

Junior Engineer
Bank PO
A beneficial, efficient, and prestigious job associated with the centralised banking systems shows potential in our nation. National banks often look for Specialist IT Officers, mostly IT/CS and ECE Engineers. PSU Banks, including Bank of Baroda, Reserve Bank of India (RBI), and rural banks, recruit engineers each year. This career path is a good option for people interested in data engineering who understand the Indian financial sector and wish for a stable life with slightly challenging work environments.
How to become a Bank PO?
You can enter via a common entrance examination like IBPS, opening doors to the State Bank of India and Central Bank of India. 
Top Opportunities in Banking:
Bank Manager

Financial Analyst

Management Trainee

Administrative Officer
Government University Lecturer
Inspire learning after graduating by getting appointed as a lecturer in the Central or State University. The Central Govt of India releases notifications to recruit college graduates, diploma holders, engineers and candidates who have completed their master's degree. A great learning experience, become an educator to ensure continuous growth amongst students. Teach your area of specialisation, including medicine, physics, mathematics, and more.
How to get started as a lecturer?

 
Clear the National Eligibility Test (NET) in your area of specialisation to become a lecturer. Apply for central and state government universities to secure a job in your area of study.
Top opportunities in teaching sector:
Lecturer/Professor/Assistant Professor in the area of specialisation

Teacher Assistant in the area of specialisation

JRF, Technical Assistant/ Research Associate
Popular Government Organisations That May Interest You
National Environmental Engineering Research Institute

Indian Space Research Organisation

Bhabha Atomic Research Centre

Central Mechanical Engineering Research Institute

Indian Association for the Cultivation of Science

Central Intelligence Agency
India is our home. We grew up here, lived here, and now have the opportunity to make a living with the nation too. If you are passionate about creating real progress, government careers are the perfect space to explore.
Do you feel inspired? Tell us how you'd want to build a better India.