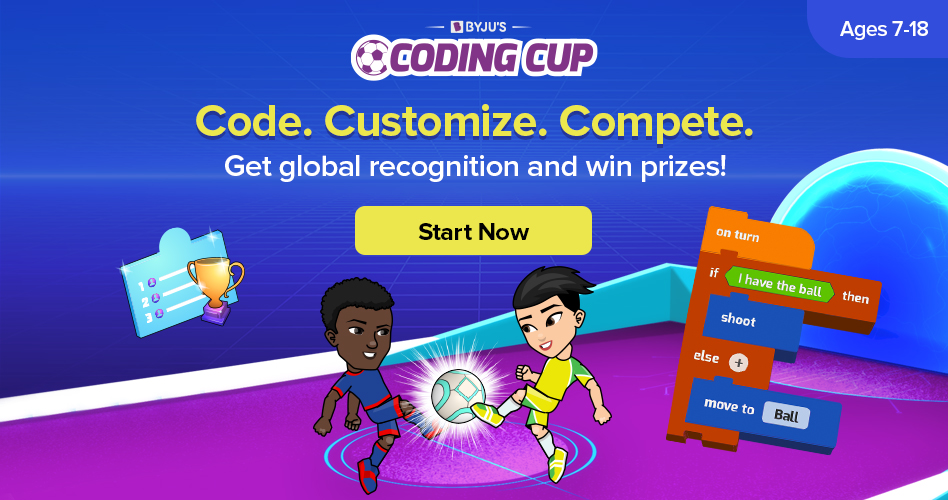 BYJU'S Coding Cup is live! Have you registered yet? 
This is your chance to use your coding abilities and win the BYJU'S Coding Cup. This fantastic game can help you improve your coding skills. So what are you still waiting for?
This article lets you browse all the information you need about the competition. Visit here to learn more about BYJU'S Coding Cup and what makes it unique. 
What are the Eligibility Requirements for You to Participate?
You must be a resident of one of the following nations at the time of entry: Australia, Canada (except Quebec), India, New Zealand, the United Kingdom, the fifty (50) United States and the District of Columbia (excluding Puerto Rico, Guam, the Virgin Islands, and other US territories).
It is straightforward and cost-free to register for the game. You must create an account on the website, select your virtual soccer team, click "Join," and begin playing. 
What is the Game Play?
A skills-based virtual coding competition pits participants against one another on a computerised soccer field to see whose code has the best winning strategy. The tournament winner advances on a global leaderboard based on their coding aptitude.
As a player, you will use code to design and train a virtual team that includes a striker, goalkeeper, and defender.

As a Player, you can compete with your Team or one that another Player has assembled.

All Players begin with a ranking of 1500 points, and as their Team faces off against other teams, they will gain or lose more points.

An Elo-inspired rating system that considers wins, losses, ties, and the opponent's position determines player ranks.

At the contest's conclusion, the player whose Team accumulated the most points will be given the top spot.

Players may only use the code from libraries available on the website. No additional code or libraries are permitted, and no pre-written codes will be approved. Players may only use the website content made available as part of the contest to prepare for and participate in the competition.

Suppose there is a tie for first, second, or third place. In that case, the following criteria for player coding and team logo design will be used by the eight judges to determine the overall winner: Originality will count for 30%, creativity for 30%, and the use of sophisticated coding for 40%.
Awards & Prizing
Three rewards are given based on the overall amount of skill points acquired. The top three winners will get outstanding cash awards!
December 21, 2022, marks the conclusion of the BYJU'S Coding Cup. Results and winners' names will be published on the website and/or blog after the contest.
The FIFA world cup is a massive attraction for people of all ages because it only occurs every four years and is intended for international cooperation and fun. There is an undeniable passion for the sport among children of all ages. It is only a matter of channelling the energy and making learning fun for children. Go ahead and code your way to the goal!
Register NOW at
Click here to view the BYJU'S Coding Cup Official Rules and for additional information.