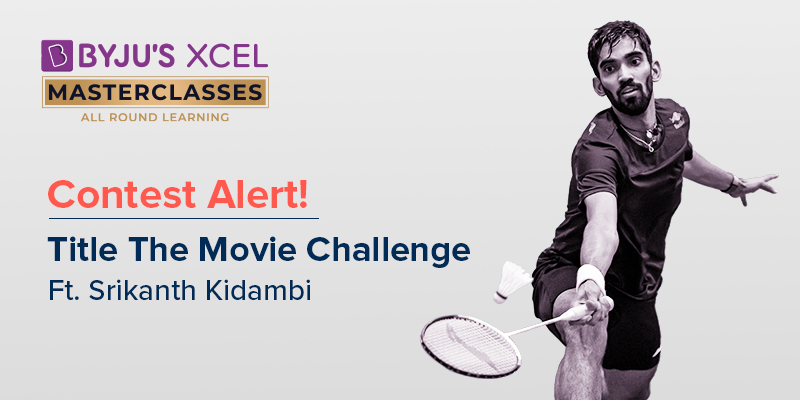 Imagine yourself in the director's chair, working on a big box-office hit film based on the life of a famous sportsperson. Everything is set, but the movie still needs a name that will immediately attract audiences. Well, maybe you don't have to imagine it! This is your chance to come up with an imaginative movie title and win exciting prizes!
The latest edition of BYJU'S Xcel brings yet another opportunity for students to win big! Join badminton champion Srikanth Kidambi, as he recounts his greatest rally, from being a lazy kid in a small town to becoming The World No. 1 in Badminton. Srikanth shares how he smashed away the obstacles in his way and went on to win multiple championships across the globe, including the historic Thomas Cup victory for India in 2022. Join the Xcel masterclass session to learn how you can inculcate this everlasting attitude that will help you ace your goals!
The masterclass session goes live on  Sunday, September 18 at 12:00 PM. You can register for the event by clicking on the link below:
The Xcel Masterclass session will be followed by the BYJU'S Xcel: Title The Movie Challenge. Put on your thinking caps and come up with a creative title for a film based on Srikanth Kidambi's life and stand a chance to win exclusive signed badminton rackets.
How to participate:
Register for BYJU'S Xcel – Smash it Away with Srikanth Kidambi

Attend the session on Sunday, 18 September, at 12:00 PM

After the session, tell us (in 100 words or less): What title would you give to a movie on Srikanth Kidambi's Life? Also, give a short reason explaining why you think the movie title is apt. 
Send your entries via email to creativeminds@byjus.com with the subject line: BYJU'S Xcel Title the Movie Challenge 

Mention what class you belong to, and also share your contact number in the email. 

Entries open immediately after the Xcel session concludes on September 18, 1:00 PM

The last date to submit entries is September 21, 11:59 PM. The best entries will win exciting goodie bags with badminton rackets signed by Srikanth Kidambi.
So what are you waiting for? Register for the upcoming BYJU'S Xcel session and get ready to take your signature racket home! Hurry!
*This contest is subject to terms and conditions. View the full terms and conditions here.