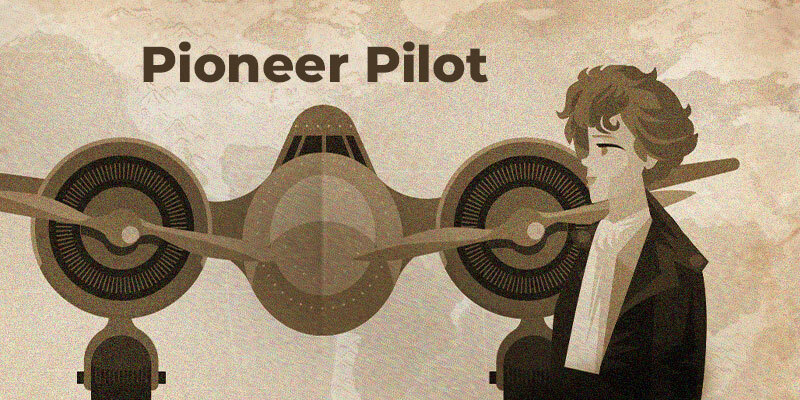 Amelia Earhart was 20 when she attended a stunt-flying exhibition with her friend. The pilot had spotted them watching the skies where men performed daredevil stunts from an isolated clearing. He then dove at them in an attempt to watch them "scamper" as the plane swooped by Earhart; what she felt was pure euphoria with a hint of fear. Earhart would later recount this experience as one of the inspiring moments in her life that led her on the trails of her adventures. One of them was being the first woman to fly solo across the Atlantic Ocean. 
Amelia Mary Earhart was born on July 24, 1897, in Atchison, Kansas, to Amy Otis and Edwin Stanton Earhart. Her younger sister Muriel was born two years later. In her early years, Earhart primarily lived with her maternal grandparents in Atchison and spent summers with her parents in Kansas City. Much to her mother's and grandmother's disapproval – young Amelia spent her time "belly slamming" her sledge downhill, hunting rats with a rifle, climbing trees, and riding imaginary horses. Later, Earhart would keep a scrapbook of newspaper clippings about successful women in predominantly male-oriented fields such as film production, law, advertising, mechanical engineering, etc. 
The half-a-decade between 1910-15 proved to be a turbulent time for Earhart — with the passing of her grandmother, who raised her, her father's alcoholism, and her parents' subsequent divorce. This also had her move to Chicago with her mother and sister. 
The Girl in Brown
In 1915, she graduated from Hyde Park High School, where she excelled in science but had trouble making friends. Earhart's yearbook caption read, "AE — the girl in brown who walks alone". She would go on to attend an exclusive finishing school – Ogontz, where she excelled but did not graduate. Instead, she volunteered at Toronto's Spadina Military Hospital to help nurse wounded World War I soldiers. Around this time, she attended the flying exposition and discovered her interest in flying. 
Earhart terms the incident as a personal awakening, "I did not understand it at the time, but I believe that little red aeroplane said something to me as it swished by." Towards the end of 1920, Earhart attended an air show on Long Beach with her father, where Frank Hawk took her on her first aeroplane ride.
This journey would make her resolve to fly stronger, and a determined Earhart did whatever it took to go up in the skies despite prejudice and financial hurdles on the way. She worked a variety of jobs – driving trucks, photography, stenography – to save up for her flying lessons with Neta Snook, who was a woman of many firsts herself. By mid-1921, Earhart bought her first aeroplane – a yellow Kinner Airster biplane she named The Canary. She used the plane to set her first women's record — rising to an altitude of 14,000 feet in 1922. 
The next year, Amelia Earhart was issued an international pilot's license by Fédération Aéronautique Internationale. She was only the 16th woman to receive this. In the Summer of 1928, Earhart received a phone call that would change her life forever. What was thought to be a prank proved to be an experience of a lifetime. The voice on the other side asked her, "How would you like to be the first woman to fly the Atlantic?"
Of course, Earhart's response was a prompt, "Yes!" The proposal was simple, she was to join pilots Wilmer Stultz and Louis Gordon on Friendship — a 21-hour flight from Newfoundland to Wales. This landmark journey made headlines because at least three pilots had died within that year while attempting to be the first women to fly across the Atlantic. 
Queen of the Air
This journey made Earhart the first woman to cross the Atlantic by air, albeit as a passenger. But, she did not feel deserving of all the praise this brought, "I was just baggage, like a sack of potatoes," she said. In 1928, in partnership with George Putnam, whom she would marry after he proposed to her at least six times, Earhart published her first book, 20 Hrs. 40 Min. chronicling her experience aboard the Friendship. 
The following year, Earhart bought another aeroplane, a single-engine Lockheed Vega, in which she won third place in the Women's Air Derby race from Santa Monica to Cleveland. She also helped found The Ninety-Nines — the first organisation for women aviators. She used her celebrity status to promote the growth of commercial flying in America.
During her rise as a celebrity aviator, George Putnam was heavily invested in promoting Earheart, which in turn helped finance her expeditions. Earhart endorsed products such as Lucky Strike Cigarettes and Modernaire Earhart Luggage. And, later became the Aviation Editor for Cosmopolitan magazine. During this time, she also offered career counselling to women at Purdue University. 
In 1932, on May 20th, Earhart became the first woman and second person after Charles Lindbergh to fly solo across the Atlantic — she took off from Newfoundland to Paris. However, icy conditions, strong winds, and mechanical problems forced her to land in Londonderry, Ireland. "After scaring most of the cows in the neighbourhood, I pulled up in a farmer's backyard," she said of her landing. For her feat, Earhart was presented with the Distinguished Flying Cross — a first for women, by the US Congress. Earhart believed that flying tested the courage and willpower of both men and women equally. 
A Dangerous Dream
In the years that followed, Earhart reached new heights both in terms of her flying expeditions and celebrity status. In 1935, she became the first person to fly solo across the Pacific from Honolulu to Oakland, and later that year, she flew solo from Mexico City to Newark. These feats set the stage for Earhart's monumental attempt to fly around the world just before her 40th birthday. 
After months of preparation, and plenty of promotions, on June 01, Earhart, with her navigator, Fred Noonan, began their 29,000-mile journey around the equator from Miami. They completed nearly 22,000 miles of the flight, stopping in South America, Africa, India, and Lae, New Guinea. 
Frequent navigational troubles made the journey from Lae to Howland Islands perilous. Every non-essential item was removed from the flight to make room for about 274 miles of extra fuel. The pair began the last leg of their journey on July 02 with ideal weather conditions on paper. Instead, what they encountered were grey skies and showers. Earhart called the US Coast Guard patrol boat Ithasca, reporting on the unfavourable weather conditions. The boat responded with steady transmissions, which Earhart was unable to hear, possibly because of a faulty radio on the plane. The communication was unclear and interrupted by static. Her last message indicated that the fuel on the plane was running low. 
An extensive rescue attempt began on June 19 but was later called off by the government when the search went in vain. George Putnam financed his own search until October 1937 without any results as well. 
On January 05 1939, Amelia Earhart was declared legally dead by a Los Angeles court.
What happened to Amelia Earhart and Fred Noonan? This is a mystery rife with conspiracy theories. Some say she camped on an island in the Pacific, or she was captured by the Japanese army. Others say she must have crashed and sunk into the sea. Or, that she was a spy for the US army and post the operation, she lived under an assumed identity. 
What we know for sure is that Amelia Earhart was adored for her courage and achievements in aviation. For shattering the glass ceiling, for inspiring women to go forth and conquer the world. After all, the sky was the limit. She stepped into what was a man's world at that time and paved the way for equality.
In the last letter to her husband, she'd said, "Please know I am quite aware of the hazards. I want to do it because I want to do it. Women must try to do things as men have tried. When they fail, their failure must be but a challenge to others." 
Also read:
Women Pilots Who Conquered the Skies
Two Brothers, One Dream, and a Sky of Possibilities
How Dr Virginia Apgar Transformed Medical Science One Step at a Time
Nikola Tesla: The Unusual Life of a Forgotten Genius