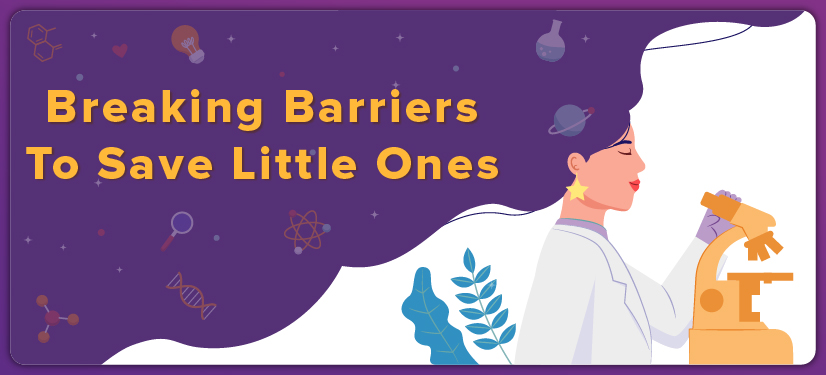 "There's plenty of room in Medicine and Science for women…it's just waiting for women to come." – Via March of Dimes, Youtube
On a usual morning in 1949, a medical student approached Dr Virginia Apgar, while she was having breakfast in the lunchroom, and asked Dr Apgar how she would evaluate the health of a newborn. Being the dedicated teacher she was, Dr Apgar quickly scribbled a list of important parameters to consider on a napkin – these included the appearance of the baby's skin, its pulse, its breathing, and other markers. These parameters went on to become one of the greatest contributions to medical science in the 20th century.
On the International Day of Women and Girls in Science, we bring to you the story of Dr Virginia Apgar, the American physician and trailblazer in neonatal care.
A Woman of Many Firsts
Virginia Apgar was born in 1909, she was the youngest of three children. As a child, Apgar watched her brothers deal with chronic and fatal illnesses and this perhaps made her determined to become a doctor and help people. She graduated in Zoology from Mount Holyoke College in 1929. Then, she completed her MBBS from the Columbia University College of Physicians and Surgeons in 1933. Along with her demanding studies, Apgar learnt to play the violin and sports. She would also act in plays. She was an avid gardener and often collected stamps.
In 1935, she joined as the anesthesiologist at Bellevue Hospital, New York City. By 1937, she was the first female board-certified anesthesiologist. She would later go on to become the first woman to head a speciality division at Columbia-Presbyterian Medical Centre and Columbia University College of Physicians and Surgeons.
While Apgar wanted to be a surgeon, she was dissuaded by Dr Allen Whipple and encouraged to become an anesthesiologist, because he believed that she had the energy and talent to transform and add value to this up and coming field. Besides, Whipple also wrongly believed that women who started out to practice surgery would eventually fail.

Throughout much of the 1940s, she was an administrator, teacher, recruiter, coordinator, and practising physician. She wore many hats owing to the poor staffing situation because of the war. In 1959, Dr Apgar left Columbia to earn a Masters in Public Health from Johns Hopkins School of Hygiene and Public Health. She then began working with the March of Dimes Foundation as a vice president for medical affairs until her death. She was also the director of its research programme where she worked on preventing and treating birth defects.
Pioneer in Perinatology 
Dr Apgar had a stellar career. She contributed significantly to decreasing infant mortality rates. Not only that, in a time when doctors assumed little could be done to save newborns, she came up with a new approach that treated a newborn as a patient. This ensured that the doctors could assess how the baby had endured the delivery through the evaluating system called the APGAR score. This method was published in 1953 and is practised worldwide today.
As a result, Dr Virginia Apgar is credited as the founder of the science of perinatology, the branch of medicine that treats the newborn as a patient. Additionally, Dr Virginia Apgar was also a leader in the field of anesthesiology and teratology – the scientific study of birth abnormalities.
ABCs of the APGAR Score
APGAR score is a clinical evaluation made within 60 seconds of birth. It helps in determining the baby's overall condition and chances of survival. This remarkable invention has saved millions of lives and every newborn in a hospital is viewed through Dr Apgar's perspective.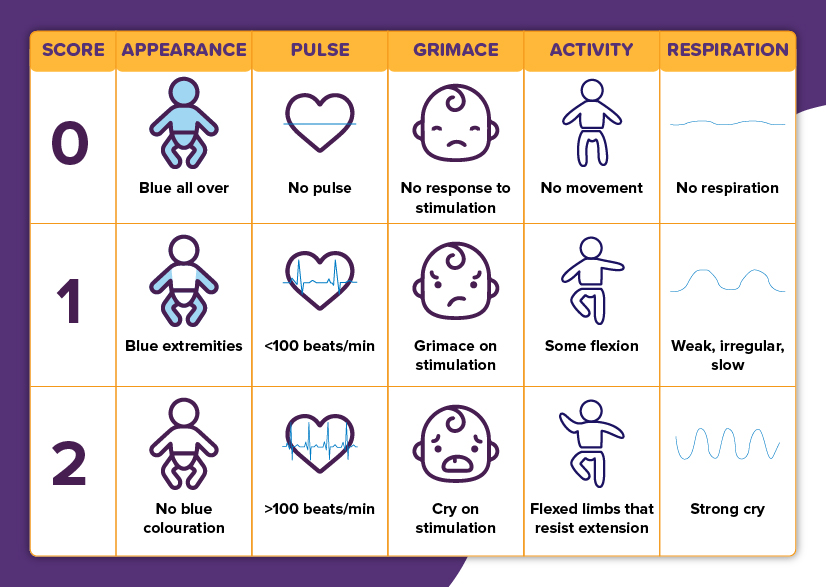 The criteria used in this evaluation is a backronym: Appearance, Pulse, Grimace, Activity, Respiration. The doctors check the baby to see if it's completely or significantly blue under the appearance category. Then, they check the pulse to see if it's strong or weak. Post this, they assess the baby's face to see if it has a grimace upon stimulation — frowning or irritable — while also keeping an eye on the baby's limb movement. Finally, they assess the baby's lungs by making it cry.
Watch Dr Virginia Apgar teaching a nursing student how to assign the Apgar score to a baby
This assessment is ideally conducted twice – at one minute and five minutes after birth. The baby is checked against 5 simple parameters and each has a score ranging from 0-2. This is then added up to give an overall APGAR score between 0-10. A score of 7 or more is normal and a score between 4-6 is considered low. And, a score below 3 indicates that the newborn needs medical attention.
The People Doctor
Dr Virginia Apgar was called the people doctor for her empathy and the ability to connect with almost everyone. She was a skilled teacher and sought to help new mothers and their babies in earnest. She researched a great deal into the effects of anaesthesia on newborns. She dedicated her life to detecting and preventing birth defects. In 1965, she began teaching teratology, the study of birth defects, at Cornell University School of Medicine. She was again the first person to hold a faculty position in this new area of paediatrics.
Furthermore, Apgar was one of the first doctors at the March of Dimes to bring attention to the problem of premature birth. She also promoted the use of Rh testing and advocated for universal vaccinations during the Rubella epidemic. Dr Virginia Apgar would often speak about teen pregnancy and congenital disorders at youth conferences despite these topics being taboo back then. In 1972, she co-authored a book called Is My Baby All Right? with Joan Beck to help new mothers understand the causes and treatments of birth defects. She also discussed precautions that mothers-to-be could take to increase the chances of a healthy baby.
Dr Virginia Apgar died in 1974. Throughout her career, she was concerned about gender inequalities, especially regarding unequal pay. She has famously stated, "Women are liberated from the time they leave the womb." She believed that being a woman did not significantly limit her medical career. Rather, she worked around the system to innovate and get into new fields wherever there was an opportunity to use her abilities. Thereby, through her empathy and intelligence, she made the world a better place for babies and new mothers.
Also read, The Accidental Discovery of Post-It Notes