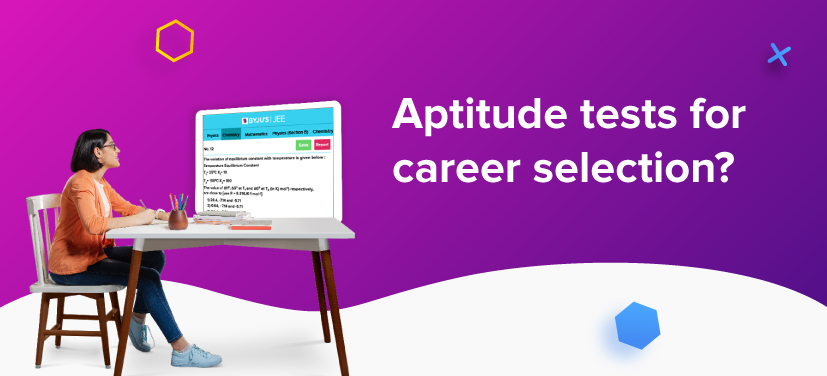 Aptitude tests have always been  a marker to analyse the ability of candidates to perform in competitive examinations, job interviews and other selection processes. This is because these tests reveal a lot about one's strengths and help identify key areas of improvement. Thus, from a student's perspective the results of an aptitude test could act as a great pointer in career selection.
The biggest challenge for any student is in deciding which path to take especially when they are at a crossroads in life. Aptitude tests help them realise their current capabilities and reveal areas that will require improvement in order to achieve their professional goals.
Aptitude tests like BNAT – BYJU'S National Aptitude Test is considered to be a high quality test, particularly useful for students who are targeting the JEE and NEET. The test is extremely useful in helping students identify and measure their application and retention-related learning skills, in this case in the fields of tech industry and medicine. 
Many recruiters or employers require candidates to appear for aptitude tests. Appearing for an aptitude test like BNAT gives students a great experience in this regard in addition to their current level of preparation for JEE and NEET.
Main advantages of going for an aptitude test like BNAT:
From a JEE and NEET point of view, students can analyse their strengths and key areas of improvement.

The aptitude test helps you analyse your understanding of basic concepts.

BNAT is a great platform that allows students to be benchmarked against other students from within the state and across the entire nation.

BNAT allows you to better understand the gaps in your preparation for future competitive exams and take the necessary corrective actions.

Post your BNAT, you will not only be handed a scorecard showing your percentile, but also a subject-wise analytics report along with pointers for  subject-wise improvement.

It helps students to perform in other competitive exams.
BNAT is completely free and all qualified students can register online with their personal details and a valid mobile number. The eligibility criteria for the test requires the applicant to be studying in 11th or 12th class or should have cleared their 12th from any recognised board.
Students who attempt BNAT stand a chance to secure upto 100% scholarship on BYJU'S JEE/NEET classes. Scholarships are awarded based on the scores secured by students.
BYJU'S JEE/NEET classes have been a great success with a large number of students enrolling for the programme. It is a comprehensive and exhaustive five-days-a-week online program that gives  students access to Daily Practice Problems, Practice Sheet Discussions, Personalised Extra Classes, Doubt Solving Sessions, Comprehensive Study Material, Adaptive Practise Tests and the All India Test Series. In addition to this, each student gets assigned a mentor who guides them throughout the course to achieve their goals.
If you have an eye on premier tech/medical institutes in the country then BNAT is a step in the right direction. Even if your motive is to just gain some experience with aptitude tests, BNAT is a great opportunity as well. You stand a chance to explore your full potential by giving BNAT for free. So Enrol now!