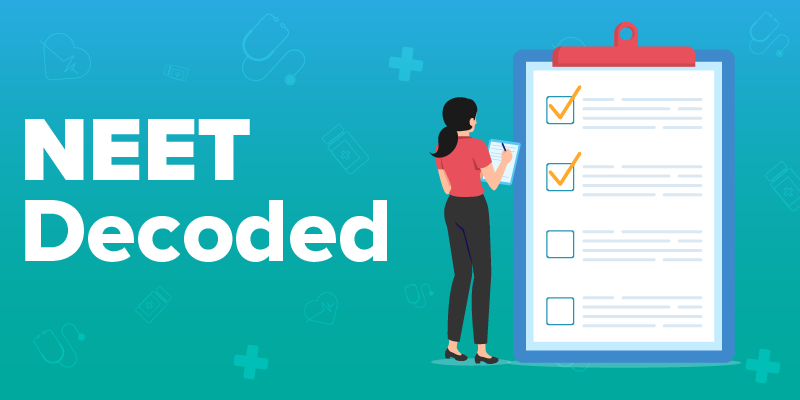 The National Eligibility cum Entrance Test (NEET) is conducted by the National Testing Agency (NTA) for students aspiring to a rewarding career as doctors or dentists. Needless to say, this competitive exam is one of the toughest out there and requires intensive preparation. There are a couple of rules and eligibility requirements — such as how many attempts for NEET are allowed — that students ought to be aware of before attempting the exam. To make the task easy for you, we've answered some of the questions you may have regarding the eligibility criteria, the number of attempts, and more. 
Attempts & Age Limits 
Earlier the number of attempts for NEET was limited to three. However, at present, there is no limit on the number of attempts for students. The students can attempt the exam several times without any constraints. 
As for the eligibility criteria, there are a few codes to choose from. Students are advised to read the application form carefully in order to determine which eligibility code they fall under. 
In the question of the age limit for NEET aspirants: 
| | |
| --- | --- |
| Lower Age Limit  | The candidate should have completed 17 years. Or, must complete 17 years as of 31st December on the year of their admission to the 1st year UG medical course.  |
| Upper Age Limit  | As of now, there is none. It was scrapped by the National Medical Commission recently.  |
Previously, the upper age limit was 25 years as of the date of the exam. There was a relaxation of 5 years for students belonging to SC/ST/OBC-NCL/PWD categories. However, as per the latest updates, the health ministry has removed the upper age limit for NEET 2022. 
NEET Eligibility Criteria
The following candidates are eligible for writing NEET:
Citizens of India
Non-Resident Indians
Persons of Indian Origin
Overseas Citizens of India
Foreign Nationals. 
And, every candidate who has successfully registered within the due dates. 
NEET is also mandatory for students who wish to study abroad and practice in India. 
NEET Eligibility As per NTA
Students must have passed 10+2 or equivalent from a recognised board. With the following core subjects – Physics, Chemistry, Biology/Biotechnology and English.

Candidates appearing for class 12 or equivalent are also eligible. 

The aggregate marks in class 12 should be at least 50% for candidates under the general category. 

The minimum percentage for students appearing under SC/ST/OBC categories is 40% and for PWD it is 45%. 
Qualifying Codes for NEET 
| | |
| --- | --- |
| Code | Description  |
| Code 01 | Candidates appearing for their class 12 board exam in the current year and waiting for their board exam result have to choose this code.  |
| Code 02 | This is for aspirants who are studying for the higher/senior secondary examination or Indian School Certificate (ISC) which is equivalent to the class 12 examination.  |
| Code 03 | Candidates whose class 12 or its equivalent qualifying examination is completed by a state board must also choose this code. |
| Code 04 | Aspirants who have completed a pre-professional/pre-medical examination after passing 10+2.  |
| Code 05 | Candidates who have qualified in the first year of their degree with PCB subjects must use this code. |
| Code 06: | Candidates who have passed the BSc exam from a recognised Indian university with PCB/Biotechnology subjects.   |
| Code 07:  | Aspirants who have qualified for any other examination – in scope and standard – and candidates who have completed the qualifying examination from a foreign country. |
Here Are Some Common Questions Aspirants Have Regarding NEET 
Can NIOS students apply for NEET 2022?
Yes, NIOS students are eligible to apply for NEET going forward.
I want to study MBBS abroad. Do I still need to clear NEET? 
Yes, NEET is mandatory. In this case, the validity of the NEET result will be
three years from the date of its announcement.
One of my subjects in classes 11 &12 was Biotechnology. Am I eligible for writing NEET? 
Yes. 
I have completed BSc in Nursing, can I write NEET? 
Yes. 
We hope that we've answered the questions you have regarding the NEET attempts and eligibility criteria. You can always power up your NEET preparation by taking mock tests and solving sample papers.