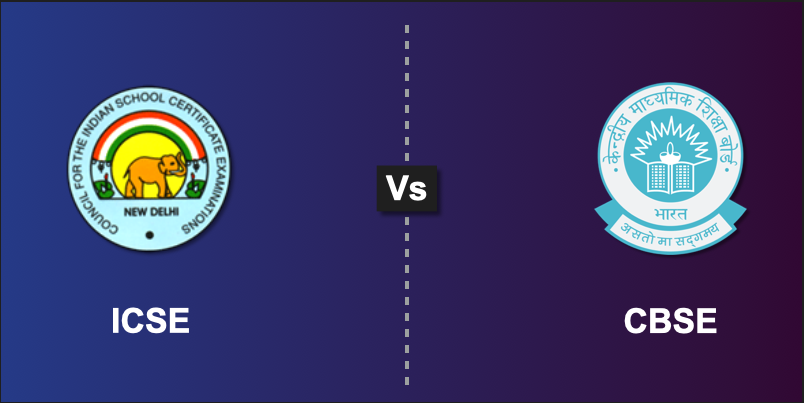 CBSE and ICSE are considered to be among the top board exams in the country for class 10 students. Both are well-received and recognised domestically and internationally. That being said, there are a number of differences between the two exams, and these differences play a vital role in helping students make the right choices when preparing for their 12th board exams and subsequent college admissions.
Let's start with the basics:
What is the full form of ICSE?
ICSE stands for Indian Certificate of Secondary Education. It was made to provide an examination in the general education course in line with the requirements of the New Education Policy of 1986  for English medium schools.
What is the full form of CBSE?
CBSE stands for Central Board of Secondary Education. It is a national-level Indian education board meant for private and public schools regulated and operated by the Indian Union Government.
What is the ICSE board?
ICSE is not a board; rather it is an examination conducted by The Council for the Indian School Certificate Examinations (CISCE), a national-level board for school education in India. They conduct two examinations in India – namely the Indian Certificate of Secondary Education (ICSE) and the Indian School Certificate Examination (ISCE) for Classes 10 and 12 respectively. The board was established in 1958. Over 2,300 schools in India and abroad are affiliated to the CISCE. The board, being privately held, is recognised as a 'Non-Governmental Board of School Education'. 
What is the CBSE board?
The Central Board of Secondary Education or the CBSE is a national level board of education in India for private and public schools. It is managed and controlled by the Indian Government. The board gives affiliation to roughly 26,054 schools in India and 240 schools in foreign countries. The CBSE is amongst the most popular education boards in India and schools affiliated to the CBSE strictly follow the NCERT curriculum. 
What is the difference between ICSE and CBSE board?
Here are the key differences between ICSE and CBSE, based on data from 2020.
| Point of Comparison | ICSE | CBSE |
| --- | --- | --- |
| No. of students who appeared for the exam | 2,07,902 | 18,85,885 |
| Pass percentage | 99.33% | 91.46% |
| No. of affiliated schools | 2,341 | 20,387  |
Advantages and disadvantages of CBSE and ICSE:
Each board has its own set of pros and cons. Let's look into them:
| Point of Comparison | ICSE | CBSE |
| --- | --- | --- |
| Syllabus difficulty | Relatively Harder | Relatively Easier |
| Syllabus structure | Extensive | Compact |
| Number of subjects | Relatively High | Relatively Low |
| Transferability | Low  | High  |
| Private candidates allowed? | No | Yes |
| Medium of instructions | English  | English & Hindi |
| Global recognition | Highly Recognised | Relatively Good |
| Focus on practical knowledge | High | Moderate |
| JEE & NEET preparedness | Moderate | Relatively High |
| English language skills | High | Relatively Low |
| Internal assessment weightage | High | Relatively Low |
| Subject selection flexibility | High | Relatively Low |
| Evaluation or Checking | Strict | Relatively Lenient  |
| Type of board | Private | Government |
| School Fees | Relatively High | Relatively Low |
| Students Enrolled | Low | High |
*Deduced from our interaction with students from both these boards.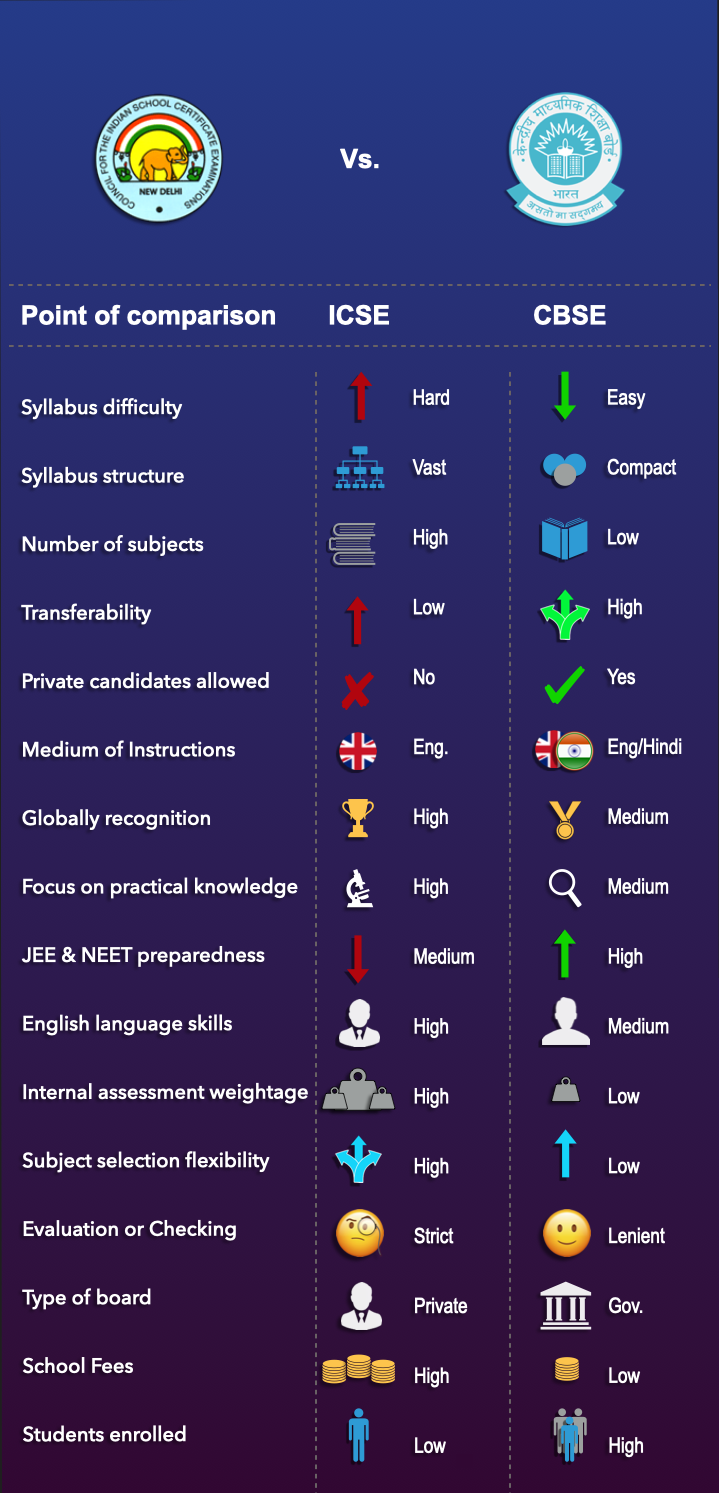 Advantages of CBSE:
Popular competitive exams like JEE and NEET are based on the syllabus of the CBSE Board and follow the NCERT text books.

CBSE Board syllabus is considered to be much easier than the ICSE syllabus. 

The CBSE syllabus has a more compact structure and fewer subjects.

Secondary subjects are not mandatory in CBSE boards.

Subjects like Chemistry, Physics, and Biology are categorised under Science whereas subjects like History, Civics and Geography are consolidated under Social Science.

There are roughly 10 times more CBSE Schools than ICSE Schools. So, if students have to transfer from one town to another, CBSE offers them more choices.

CBSE syllabus focuses more on subjects like Mathematics and Science.
Disadvantages of CBSE:
CBSE promotes practical subjects but the focus is not on practical knowledge. 

Unlike ICSE, the English Language has not been the primary focus of the CBSE board.

Most subjects in CBSE are handled in a theory-based manner and relatively less importance is given to real-life concepts. 

Despite being application-based, the CBSE Syllabus pays less emphasis on in-depth understanding.
Advantages of ICSE:
The syllabus followed by ICSE is both comprehensive and complete and covers all fields with equal importance.

Students who wish to pursue careers in fields of humanities and management will find the curriculum followed by ICSE to be more challenging and interesting at the same time.

The certification given by Indian Certificate of Secondary Education board (ICSE board) is recognised throughout the world, specifically by schools and universities abroad as opposed to the CBSE.

ICSE lays a strong emphasis on English as a result students from this board do have a slight edge over other students under other boards when giving exams like TOEFL and IELTS.

ICSE students tend to perform well in scholarship examinations that are based on English and are more in line with the world education standards. 

Students under ICSE tend to do well in literature and language-based careers.

Internal assessments are at the core of ICSE's child development policy. And so the practical test results are given weightage in the overall scores for the student.

Students also have immense flexibility in terms of selecting specific subjects.
Disadvantages of ICSE:
ICSE subjects are more extensive, right from lower classes, and hence students might feel that the subjects are hard and burdening.

Even though the syllabus is extensive, which can be useful for higher education, the ICSE evaluation or checking is a lot more strict which could affect overall marks.
Difference between CBSE and ICSE:
It is important to understand how CBSE and ICSE differ from each other before opting for either of them. Each board has advantages over the other and depending on what future the student wishes to aim for, the choice might change:
Nature of syllabus

– The CBSE board syllabus is designed for students preparing for major competitive exams like JEE or NEET. CBSE syllabus is strong in imparting theoretical knowledge whereas ICSE syllabus provides a sound foundation of practical knowledge.

Level of difficulty

– Most students who have had a taste of both boards would argue that the CBSE syllabus is simpler, well structured, compact and to the point. ICSE on the other hand covers all topics in depth and follows a very practical approach to learning with high weightage given to internal assessments. And hence much harder for students. 

English language skills

– CBSE does not have a particular English language preference whereas the English language skills required for ICSE is high.

Competitive exam performance

– Students under ICSE have a much stronger foundation in the English language and hence are generally more competitive in language-based competitive exams and foreign tests like TOEFL, IELTS and SAT. Whereas CBSE students are more competitive in exams like JEE and NEET.

Board Recognition

– The marks scored in the CBSE board are widely accepted in nearly all universities in India and abroad. But foreign schools and universities give a higher preference to ICSE Certification.

Level of Explanation

– ICSE Syllabus is known for more extensive subject explanations which is an advantage for some students but a disadvantage for others. On the other hand the CBSE syllabus is generally more precise and to the point.

Transferability

– Transferability is the ease with which students under a particular board can transfer to another school of their choice in case they need to relocate in the middle of their education. The higher the number of schools affiliated to a particular board the easier it would be to get a transfer. Since CBSE has over 26,000 affiliated schools in India as opposed to around 2400 for ICSE it would be much easier for CBSE students to get transfers. CBSE schools are found in literally every nook and corner of the country which makes it easier for these students to find a school affiliated to the board.

Grading Systems

– The CBSE follows an alphabetical-based grading system. Whereas the ICSE uses a marks-based system shown as numbers. The numbers give students a much better idea of how much they have scored.

Regular vs Private Candidates

– Students who have not enrolled under CBSE-affiliated schools or non-regular candidates can appear for exams conducted by the CBSE board. But an ICSE student has to be enrolled in an ICSE affiliated school in order to appear for the ICSE exams.

Medium of Instructions

– CBSE gives instructions in English and Hindi, but ICSE follows only English.

English Language skills

– ICSE students are known to have a high level of English language proficiency. Compared to ICSE, CBSE students usually have a moderate level of skill dealing with the English language.
CBSE vs ICSE: Grading system
The CBSE offers a grading system based on alphabets whereas ICSE evaluates its students based on scores. Grades awarded by the CBSE boards depend on the number of students enrolled under the board for a given academic session. ICSE grades fall in a range from 1 to 9 with 9 being the lowest and 1 being the highest.
ICSE Grading system:
| | |
| --- | --- |
| Grade | Standard |
| 1,2 | Very Good |
| 3,4,5 | Pass with Credit |
| 6,7 | Pass |
| 8,9 | Fail |
CBSE Grading system:
| Grade | Grade Point | Marks Range |
| --- | --- | --- |
| A1 | 10 | 91 to 100 |
| A2 | 9 | 81 to 90 |
| B1 | 8 | 71 to 80 |
| B2 | 7 | 61 to 70 |
| C1 | 6 | 51 to 60 |
| C2 | 5 | 41 to 50 |
| D | 4 | 33 to 40 |
| E1 & E2 | 0 | 21 to 32 |