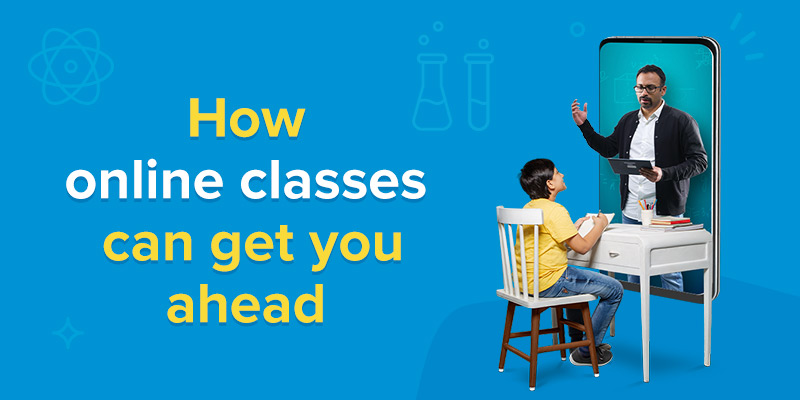 Online learning is not a very new concept. It has been around for some time now. The biggest reason behind the online learning revolution is the pandemic and the advancement of technology and connectivity. Conventional methods of schooling, or learning for that matter, have been the gold standard for quite some time now. It has remained the same since the early days of education itself. Some say that offline classes are better than online classes while others say that it's all the same. So, what is the difference between online and offline education or is there a difference at all?
Online classes vs offline classes:
| | |
| --- | --- |
| Online Classes | Offline Classes |
| Learn from anywhere | Location-specific learning |
| No more getting stuck in traffic jams | Commute can be hectic |
| Saves you a lot of time | Huge loss of time |
| Access to great visual tools for faster learning | Easy access to learning tools is non-existent |
| Highly skilled mentors and teachers | Limited number of teachers to select from |
| Great flexibility with convenience | Rigid learning schedules and inconvenience |
| Better focus | High chances of distraction |
| Convenient doubt clearing sessions | Inconvenient doubt clearing session |
Advantages of online learning:
The biggest advantage of signing up for online classes is that you can literally learn from anywhere you like. There is no compulsion on you to go to a physical classroom or have any such prerequisites other than having your tab or PC with you along with a good internet connection. With BYJU'S app, you can even get most of your learning material preloaded and hence helps with not having an internet connection all the time. With online learning, you have the freedom to learn from the peaceful confines of your room in a digital classroom.
No more being stuck in traffic jams
Going for private tuitions or classes outside demands a lot of energy and time. The commute up and down will take away a huge part of your time and not to mention the risks associated with travel and the energy you end up draining in the process. You can better utilise this time for more productive activities by learning something new or revising what you learned earlier, should you opt for online learning.
Online learning makes use of multiple tools to help you understand concepts and analyse your performance. With the help of BYJU'S App students can now understand complex concepts much better and also recall them easily. This is possible because of the use of multimedia and technology. With an inbuilt access to a library of information students can now view everything as and how they like. This tech-oriented approach to learning has helped students save a lot of time and their testimonials are living proof for this.
Access to great visual tools for faster learning
Visual learning has become the centerpiece of the online learning revolution. The way in which technology has helped ease learning by making use of great graphical elements and videos has never been this good. Visual learning tools have been very helpful in grabbing the attention of learners for a long duration of time. This focus also benefits the students by helping them pick up more concepts in a pretty short period of time.
Highly skilled mentors and teachers
With physical learning, mentors and teachers have to be present in the classroom on location and only a limited number of students could benefit from this. Now, with learning going online, students can virtually be present inside the classrooms of some of the best teachers in the industry. This has immensely benefited students by placing them in the classrooms of the best teachers out there.
Great flexibility with convenience
Online learning offers a tremendous amount of flexibility and convenience. When learning at school you can get your doubts cleared only when you are with your teacher. Whereas online learning helps you revisit your topics and playback videos again and again until you have thoroughly understood the concepts. Moreover there are no time constraints. You are free to choose a time for all your learning activities.
Most of us face a serious focus deficit when learning something. This leads to poor performance and could lead to a serious lack of interest as well. Online learning tools are very effective in capturing the attention of students. Students are able to push through portions much more easily and cover vast volumes in relatively short periods of time. Videos and graphical presentations have all helped in achieving this. All it takes is a pair of headphones to block all the distractions in the surroundings.
Resolving doubts in a conventional classroom is only possible when the student is present in the classroom. Whereas in an online learning environment, students can resolve their doubts quite easily either by accessing the required content or directly interacting with their teachers and mentors. BYJU'S app provides students with the best doubt resolution systems through it's app. BYJU'S online classes give students one-on-one mentor guidance and help facilitate instant doubt resolution.
Great networking prospects
In an online classroom you can find a larger number of students just like you who can be approached for discussions and combined studies. Access to forums also helps with clearing doubts.
In years to come online learning programmes are expected to grow exponentially. With technological advancements and improvements in digital connectivity this form of learning will have reached even the remotest parts of the world. BYJU'S is a global player in this field with highly effective online learning programmes for students in all age groups. 
To find out more about the online learning programmes at BYJU'S follow the link. Which one do you prefer online or offline classes and why? Leave your comments below!