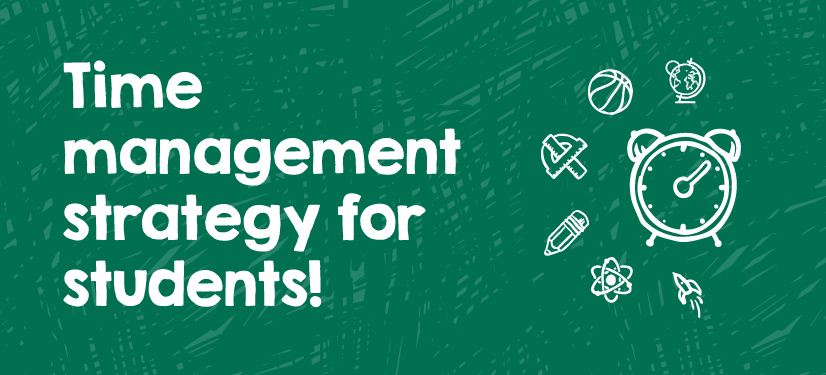 Managing time is important for everybody. It is what helps people deliver their promises on time. It is also what helps teachers clear chapter after chapter and cover their portions before the term ends, and also enables students to improve their odds at scoring good marks in their exams.
For some of you, managing time may be a skill that you have acquired over the years and something that you are good at quite naturally. The importance of time management for students cannot be stressed enough. For the majority of students, good time management skills are still very hard to come by. Today time management skills for students have become indispensable for coming out on top in their classes.
Here are some genuine time management tips for students:
Twenty four hours a day is more than enough to complete all your chores, studies and much more. It is a fact that poor time management is one of the biggest reasons why students feel that twenty four hours a day are not enough to complete their tasks, both academic and otherwise. For proper time management, one would require making conscious decisions prior to every task.
The first and the most effective thing that you can use for time management is a To-Do List. It helps you stay on track and reminds you of your timely tasks in case you forget. Obviously making a record of all the different tasks you need to accomplish is the first step. Then focus on completing each of them one at a time. It would also be a great idea to keep rewarding yourself whenever you successfully complete a task in the list!
Your biggest enemy after having put together a beautiful To-Do list is distraction. Dealing with distractions is a very hard thing for many students and unless they are kept in check little can be achieved even with a great To-Do list. Avoiding distractions could also help you focus on the details and improve your efficiency. For example, while learning, if possible, keep your phone on silent or switch it off. Also have a clutter-free desktop and turn off your TV!
Studying is an integral part of being a student, and setting aside the majority of your time for this purpose goes without saying. Also make sure that those who come in contact with you know that you have to stick to a timetable and that you would not like to be disturbed while at it. Be it family, friends or any other acquaintance, you need to let them know that you are fully occupied. You will need to set aside close to two hours of study time for every hour of a subject done at school. Tougher subjects may need to be allocated more hours and vice versa. This technique is considered to be a part of great

study time management

.
Beware of draining energy and time by indulging in activities like watching TV, playing computer games, and browsing the internet and social media websites. You could pursue these activities whenever you feel like rewarding yourself for having completed something important. It is important to have a balanced timetable and for this reason it is a great idea to throw in some outdoor activities into your mix of tasks to make your day-to-day tasks less monotonous.
Stick to study room ideas that offer a clutter-free and distraction free environment. If you can efficiently find the things that you need, you can improve your productivity and it can save you a lot of time.
Whatever your goals are, always remember that by using proper time management techniques and by following a strict time schedule you will be able to achieve more than the usual. In the beginning, sticking to the time table can be really hard for some people but gradually it becomes a habit and you will be able to continue following it consistently. Following great time management techniques for students is without a doubt indispensable! 
Do you have a study timetable? How well do you follow it? Do leave your comments below!