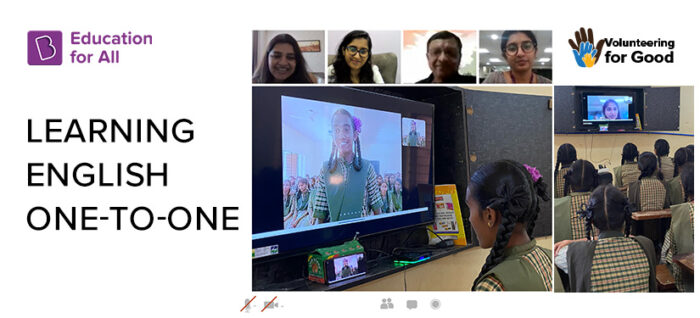 Today, the English language has become the primary mode of communication across disciplines. But India, seeing diversity in its language pool, still has a long way to go. Many children in government schools still take courses in their regional languages and have shown slower progress towards English.
BYJU'S Education for All partnered with the NGO Right to Live (RTL) to reach out to children in need and help them communicate better in English. Through the BYJU'S Volunteering Programme, many volunteers came forward to teach English grammar concepts to many children from a Government Girls High School, Bagepalli, Karnataka.
"When we started this programme, I felt that RTL was doing something unique. And this was the first programme that I was involved with. The entire programme was conducted so professionally by both BYJU'S and RTL," shares Shrikanth, one of the programme coordinators from RTL.
"The child I was connected with was inquisitive and eager to learn. My shift normally gets over by 10 PM, and this young girl would ping me about 5 minutes before 10, which really showed her enthusiasm. It was truly a great privilege to volunteer for this programme," says Jasjeet Kour, Academics.
"While most of these kids don't know me, I have seen them progress over the last couple of months. The mentoring team has put in a great effort in tutoring these children," shares Prashanth, a coordinator from RTL.
"The students I had mentored were very participative. They were also very keen to join the session, despite being the weekend. It was definitely a two-way process – while I was able to teach them new concepts, I was also able to learn many things. Even when I gave them assignments, they would often click pictures and send them to me as soon as they were done," shares Mala E, Human Resources.
Jyoti Tiwari, Digital Finance, shares her experience, "I enjoyed this project quite a lot. The student assigned to me taught me Kannada while I taught her English. While I failed, she did really well! Moreover, whenever she had a problem, I was always ready to help her. We also got really close in these three months."
Jyoti's mentee then shared, "Thank you so much for teaching me how to speak in English," in a perfect sentence.
While this is another milestone we had through BYJU'S Education for All, we hope to do many more such sessions with children. Through our initiatives, we strive to reach children and help them grow with learning.
---
BYJU'S Education for All is on a mission to empower 10 million children by 2025 with education. Through the BYJU'S Give programme, you can contribute to this movement and help children with quality digital learning. You can donate an old device, which we will refurbish, and then use the money raised to buy a new device. In case you do not have a device, you can also donate to an NGO partner, who will use the funds to buy devices for children.
In both cases, we will load our BYJU'S Think & Learn premium content onto these devices and distribute them to children in need.
Also Read: BYJUites Clear the Girgaon Chowpatty Beach, Mumbai