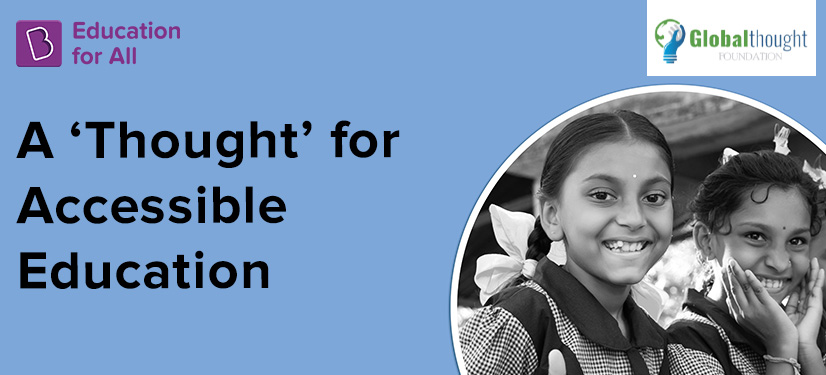 BYJU'S Education for All and Global Thought Foundation have joined hands to ensure that children from all backgrounds access quality digital education.
---
Even today, education is still a choice for millions of children across India. While these children are still out of school for several reasons, including poverty, child labour, lack of sanitary facilities, etc., many NGOs strive to uplift and empower these children with accessible education. Similar is our mission at BYJU'S Education for All, where we impact children across India with free quality digital education to help them get closer to their dreams.
Our NGO partners have supported us in making learning possible for millions of underserved children. One such partner is Maharashtra-based Global Thought Foundation (GTF)
Founded in 2016, Global Thought Foundation has been striving to ensure healthier, educated, empowered and greener communities. It works under the four primary verticals of education, women empowerment, healthcare and environment.
'We started our work in the 1993 Latur earthquake, where we created shelters and provided relief to the affected victims. And that was our inception towards making a difference. Since becoming a registered NGO in 2016, our work is now more streamlined and structured,'Ganesh Desai, Manager (Projects), CSR and Sustainability at Global Thought Foundation, shared.
Empowering with Education
While Global Thought Foundation serves people through its many verticals, education is one of its primary goals. Through its several programmes, GTF aims to impact the rural sector positively, promote girl child education, make education accessible, improve the literacy rate and reduce the school dropout rate.
'Our education programme promotes universal education for underprivileged children, strengthening their ability to cope with the formal education system. It also enables them to emerge as productive assets and lays the groundwork for nation-building,' says Ganesh.
Some of the significant educational projects include a district-level science exhibition, GTF Sports League, Digital Lab to Digital India, Notebook Donation and the Career Literacy Programme.
Global Thought Foundation has reached out to more than 15,000 students across Maharashtra with its learning initiatives.
Apart from education, GTF also runs many programmes in the fields of healthcare, women empowerment, the environment, sustainable livelihoods, elder care, etc. Each of these initiatives is catered to the specific demographic in each category, which empowers them towards a more dignified life.
Global Thought Foundation x BYJU'S Education for All
BYJU'S Education for All and Global Thought Foundation have joined hands to ensure that children from all backgrounds access quality digital education. Together, we have been supporting the beneficiaries of the NGO through one of its educational initiatives.
'In our career literacy programme, we provide career counselling and guidance to the students. We conduct a psychometric test where we analyse each student's abilities. To all these children, especially those facing the most difficulty grasping concepts, we provide the free BYJU'S course to strengthen their understanding. The app has been helping them get answers to all their questions, and is also like home-based tuition for the students,' shares Ganesh
Through the partnership, Global Thought Foundation seeks to bridge the learning gap and empower children from remote areas and underserved communities. With more than 5000 Students benefitting from the same, GTF also made free BYJU'S courses accessible to dependent children of police parents in 10 districts, which covered Latur, Nagpur, Hingoli, Ratnagiri, Nanded, Osmanabad, Parbhani, Aurangabad, Satara and Jalna.
'On the road ahead, we hope to create more digital classrooms with BYJU'S and create more group learning opportunities for children. We want to encourage children, especially those lacking access to digital facilities, to use these classrooms and learn with BYJU'S,' Ganesh signs off.
Like with Global Thought Foundation, BYJU'S EFA has been reaching out to millions of children across India with access to education. With the support of our 175+ NGO partners, we hope to touch the lives of at least 10 million children by 2025.
---
BYJU'S Education for All is on a mission to empower 10 million children by 2025 with education. Through the BYJU'S Give programme, you can contribute to this movement and help children with quality digital learning. You can donate an old device, which we will refurbish, and then use the money raised to buy a new device. In case you do not have a device, you can also donate to an NGO partner, who will use the funds to buy devices for children.
In both cases, we will load our BYJU'S Think & Learn premium content onto these devices and distribute them to children in need.
Also read: How SOS Children's Villages of India is Nurturing over 35,000 Children across the Country